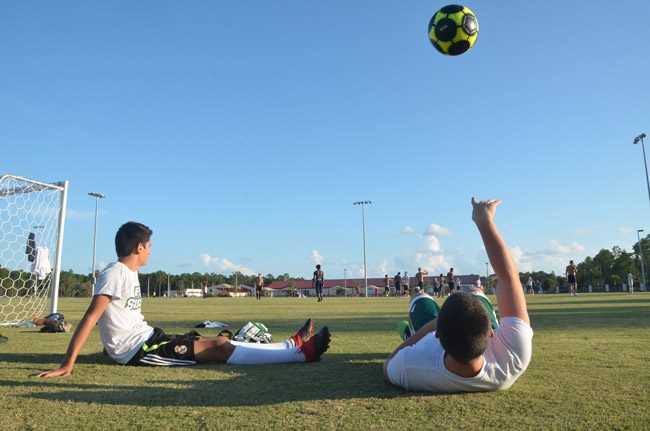 Flagler County Schools and the Flagler County Sheriff's Police Athletic League have approved a joint agreement to launch middle school sports programs organized by the Police Athletic League on district grounds starting this August.
There'll be three seasons. This fall, the program will provide for girls volleyball, boys wrestling and cross-country for boys and girls. In spring, there'll be basketball for boys and girls, and in spring, there'll be boys and girls track and field. The program will feature s "spirit squad" cheerleading program all year, for boys and girls.
Each season will last eight weeks, including five weeks of practice and play within schools, two weeks of practice and play between schools, and an all-star game at the end. Most of the sports will be capped at 48 students each, creating four separate teams for each sport.
Students will be required to pay $60 per sport, and allowed to register for up to three sports per year. If they register for more than one sport, the second and third sport's charge is $50 each. Those fees can go up any time PAL decides. Uniforms are paid for out of that fee, though PAL and the district will work cooperatively to ensure that all equipment is available. (The memorandum of understanding is vague on that account, creating possible frictions in the future if it is not made more precise.)
The program will make scholarships available to students who can't afford the enrollment fee.
The School Board and Flagler County Sheriff Rick Staly applauded the agreement, which the board approved Tuesday evening.
"This is an exciting partnership that we are about to begin together," Staly told the board. "This is about keeping kids safe. It's about giving kids opportunities to not get in trouble by playing sports after school in the middle schools, and an opportunity for deputies and community volunteers and coaches to mentor our youth and prepare them at the middle school level for what they're about to face when they go to high school."
The program is intended to "help to develop a more positive view of law enforcement and expanded awareness about the role of a police officer," among other goals, including providing "organized sports programming in an atmosphere that fosters police community cooperation."
Participation "is a privilege, not a right," the agreement states. "Students who participate are required to meet the standards set forth by the District for participation in middle school sports."
Paul Peacock, the principal at Indian Trails Middle School talked up the program's benefits for students, describing it as "the beginning of a myriad of additional opportunities for our kids to participate in," though he said the program will be tied to attendance and grades.
The agreement also includes a curious allowance for PAL: "The District will provide to FSPAL the report cards/progress reports for all participants, if requested." The district is usually very strict regarding students' privacy, to comply with the federal Family Educational Rights and Privacy Act and state law, which specifies: "Students and their parents shall have the right of privacy with respect to such records and reports."
Though the district is entering into an agreement with PAL, the police league remains an independent agency rather than an arm of the district, and indeed a police agency: parents would not want their child's school records ending up mingled with police records. The district agreement with PAL specifies: "FSPAL shall be deemed an independent contractor and not an agent or employee of the District." Contractors are not provided private student records.
The PAL registration form does include a release allowing PAL "the right to review all records relevant to my child's athletic eligibility including, but not limited to, his/her records relating to enrollment and school attendance, age, discipline, finances, residence and physical fitness." The release does not specify grades and progress reports, and an independent contractor's clause on its own enrollment form does not normally override state privacy laws regarding public school students.
The intent of the clause, routine in PAL applications, is to help students: "Any participant that does not meet the requirement will be given approved information on afterschool/tutorial programs and follow up with their participation and progress." But providing an outside agency student records such as grades and progress reports would be unusually precedent-setting, if not possibly a violation of law—or the trust of parents, who generally do not assume that their children's school records are passed on to organizers of afterschool activities that are not under the direct auspices of state and school-sanctioned athletic programs.
"That is a standard component of their program, but that can't happen unless a parent signs a release, so it's not like it's an open invitation, it's by request only," School Board member Colleen Conklin, whose children participated in PAL for years, said. "That is not a standard operation where the coaches go and access all the teams' student files on a regular basis. Many parents actually like that aspect of the accountability component of the program, to keep their children on track in the program." She added: "That's been a condition of the program since the creation of PAL." Many athletic programs do likewise, she said.
But, Conklin acknowledged, "if it's a concern, it should be raised."
PAL will be responsible for paying the coaches' salaries (up to $750 per sport)and securing referees and other paid or volunteer organizers. PAL will train its volunteers. In exchange, the district is making its grounds available to PAL at no cost, grounds the district will maintain, though PAL will be required to fill and abide by a Use of Facilities agreement with the district. The district will also provide busing the two days a week that practices are held, for a maximum of two hours. (The memorandum does not specify if it is two hours per week or two hours per session.)
Likewise PAL will be responsible for securing all documents required for participation in athletics, such as birth certificate, annual physical signed by the attending physician or nurse practitioner, concussion and heat stroke forms, and so on. PAL will be responsible for insurance and liability, though the district will be named as an additional insurer.
Flagler School Board Policy places certain restrictions on affected students' participation in interscholastic extracurricular activities. The policy states that "a student must maintain satisfactory conduct, and if a student is convicted of or is found to have committed a felony or a delinquent act which would have been a felony if committed by an adult, regardless of whether adjudication is withheld, the student's participation in interscholastic extracurricular activities is contingent upon established and published district School Board Policy."
The policy does not specify grades or progress reports as part of the qualifiers.
School Board member Andy Dance was concerned about scheduling: the program will begin at about 2:25 p.m. So it won't start immediately after school, but students, Peacock said, will have a study hall setting before the program begins.
School Board member Colleen Conklin said the association has been discussed for years, but she asked: "What about football, what about baseball?" She answered her own question, echoing Peacock's words that this is only the beginning.

The Memorandum of Understanding Between the School District and The Sheriff's Police Athletic League (2017)