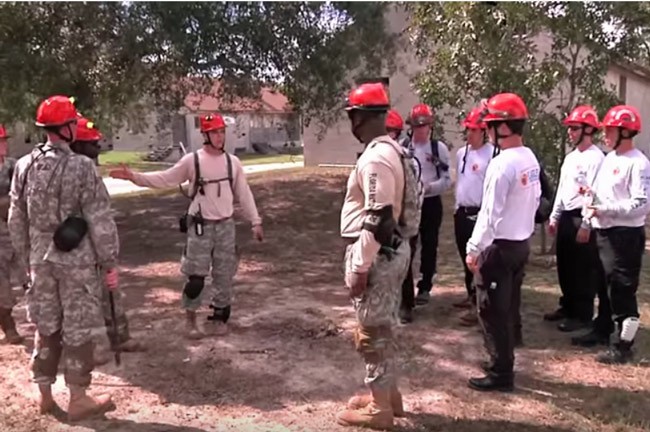 Members of Flagler County's Fire Rescue Light Technical Rescue Team and an Emergency Management all hazards incident management team trained with the Florida National Guard at the Camp Blanding Joint Training Center in Starke.
The seventh annual exercise, dubbed "Operation Integration," involved statewide deployment of urban search and rescue teams from across the state for a unified operation with the Guard's 83rd Troop Command. It included personnel from the Florida Fish and Wildlife Conservation Commission. It's not the first time Flagler County Fire Rescue has joined the exercise.
"This is wonderful training for the members of our Light Technical Rescue Team (a resource within the state of Florida)," said Fire Rescue Chief Don Petito. "We had one of the largest teams present with 15 people attending, so large that we divided into two teams."
The scenario is realistic for Florida: a hurricane with spin-off tornadoes that closes roads and bridges. Instead of live actors pretending to be injured, dummies–who don't run the rik of actually getting injured during the exercise–were the simulated victims.
Teams were flown into the area on Huey and Chinook helicopters with the limited equipment they were allowed to carry.
"Our teams were required to work for 12 hours without any additional help," said Fire Rescue Lt. John Keppler, who also serves on the Light Technical Rescue Team. "We had to find and extricate victims using only the equipment we brought with us."
Lightweight stokes baskets were used instead of stretchers. Rooftop victims had to be lowered to the ground with ropes instead of using staircases. "We had to search a wide area of 30 to 40 acres in the woods," Keppler said. "Some victims were in the trees. It was very realistic."
Teams also had to assess for the typical hazards found when a tornado wreaks havoc on a community, including downed electrical wires and asbestos.
Several members of the Flagler County Emergency Management staff participated as part of an all hazards incident management team – the behind-the-scenes planning that takes place during the rescue and recovery of natural disaster that was simulated for training.
Laura Nelson served as the planning section chief during the training. "For the exercise, we were called in to run the incident, because in the scenario Clay County Emergency Management had a flood event they were working," Nelson said. "We met with Clay County and they handed over the operation to us. "It was a great team environment and it was really helpful to us to use the (documentation) forms and planning the meetings that are required."
Flagler County Public Safety Emergency Manager Kevin Guthrie, on whose watch training of first responders has taken on added urgency, said field training like this validates classroom instruction. "It's wonderful anytime we have the opportunity to exercise elements that will be used when managing an event," Guthrie said. "The classroom is great, but at some point you have to be able to apply what you have learned."
See a brief video of the exercise below.