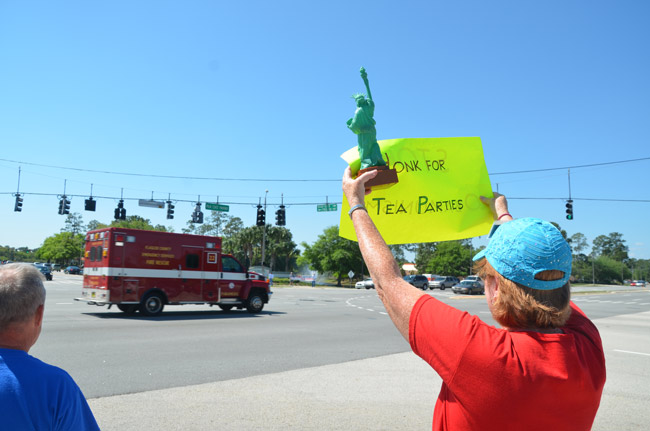 Just as the first day of arguments over the federal health law were concluding before the U.S. Supreme Court at 11:30 this morning, Palm Coast and Flagler County tea party activists were gathering at the four corners of the intersection of Palm Coast Parkway and Cypress Point Parkway for their latest anti-Obama rally. In this case, an anti "Obamacare" rally, as opponents of the federal health law like to call it.
Hands waved. Horns blew. Engines revved. Flags fluttered. Signs showing the president in various stages of disfigurement or giving him and his "Obamacare" a piece of the brandishers' mind bobbed up and down as the activists stood at the four corners of the intersection.
But it was a distinctly thinner crowd than rallies of old: a total of 52 people at noon, a few more a half hour later. Nothing close to the hundreds of people who'd gathered at the biggest local tea party rally yet, two years ago on April 15, when throngs lined up the corners and medians at Palm Coast Parkway and Old Kings Road. Tea party meetings used to pull in big crowds, too, by the hundreds. Lately, it's been by the dozens.
A couple of factors have caused the drop: the Flagler County Tea Party Group splintered, with a break-away group forming a local chapter of the so-called Ronald Reagan Republican Assemblies of Florida. Some members toggle between the two groups. Some don't. Another factor: the tea parties' focus across the country has become fuzzier, its opposition energy either worn down or seeming tired, or out of touch, compared to the more youthful Occupy Wall Street movement. And tea party fans haven't had a presidential candidate they can believe in wholeheartedly. That's cooled their excitement. There's also the delicate matter of age: tea party adherents are overwhelmingly older. They don't live forever.
At the Palm Coast rally, some of the protesters weren't even entirely sure why they were there. "Today I think is a national stop Obamacare rally that the tea parties across the country have. That's what they told me," John Ruffalo said, waving a sign of his own. But like his fellow-protesters, he knew where he stood and what he had to tell the federal government. "They're in my kitchen telling me what I can eat. I can't eat fat. They're in my bathroom telling me to wipe my ass with three pieces of toilet paper. They're in my bedroom telling me what I can do, what I can't do," Ruffalo said. "Stay out of my bedroom, stay out of my bathroom, stay out of my kitchen, stay out of my life."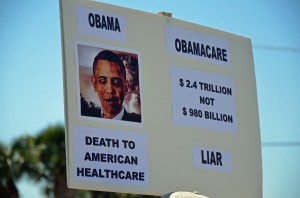 Perhaps nine out of 10 of the protesters, including Ruffalo, were on Medicare, the government health insurance program for the elderly, and pulling in Social Security checks. But all opposed "Obamacare," which would do markedly less than Medicare would when it comes to ensuring coverage, though it would require everyone to buy insurance—even if it's bargain-basement insurance—or pay a fee to opt out. The protesters find that unconstitutional, even though virtually each one had been compelled to pay into the Medicare system for years, and accept Medicare coverage at 65.
How does the new federal health law interfere? "They're overregulating everything. It was never intended to be this regulated," Ruffalo says. Asking for specifics makes a specific answer difficult. Ruffalo, a 75-year-old cancer survivor, finds a way. "My doctor, my prostate doctor, is thinking of getting out of the business," he says. "You know how many lives that man saved? Saved my life. So I'm only going by what he's telling me. He's not happy with it, he doesn't like what's happening, so if he's the prostate doctor who's saving all these lives, and he's getting out of the business, there's something wrong with it."
Asked whether he'd be willing to give up Medicare, Ruffalo was just as categorical: "I wouldn't give a shit one way or another." He waved his sign. Horns blew. He added: "I'd give up Medicare. If I paid the doctor—tell me how much it is, and I'll pay it." He said he'd make payments if he couldn't afford it. "Is that a problem, making payments or something?" Another man on the line says if he'd been able to contribute to a health savings account instead of Medicare since he was younger, he'd have had the money to care for himself.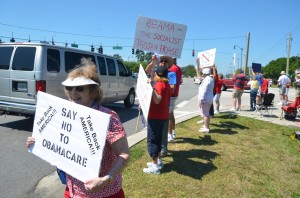 That's true only up to a point, and even if Ruffalo had been able to contribute to his health savings account for 30 years, instead of to Medicare, he would not likely have been able to pay his medical bills. Health savings accounts enable some savings, but the amount that can be saved each year is capped. This year, for example, no more than $3,100 can be contributed to a health savings account by an individual (the family cap is $6,250). The money is used for out-of-pocket medical expenses. Absent Medicare, all medical expenses would have to be paid out of that account, which can be depleted by a single operation or hospital stay because the insurance coverage that comes with it is usually thin and itself capped. The savings can be invested much like a 401(k) plan, in stocks or mutual funds. But they're also susceptible to stock market fluctuations—and steep losses, as anyone with a 401(k) experienced in 2001 and 2008.
A protest line on a street isn't the place for reason or specifics, however: all arguments must neatly fit on a placard, preferably in the cadence of bumper stickers.
Near Ruffalo, a 76-year-old man who wouldn't give his name put it this way: "I have Medicare, I have no complaints. I pay my 20 percent whenever I go to the doctor and I pick up the balance of the tab. I'm not complaining. I'm not looking for full coverage. I'm willing to contribute some." The new federal insurance law would not work much differently, though it's likely to be more expensive than Medicare and afford less coverage. "You should not be forced to do anything you don't want to do," the man says. "And I know, you're going to say to me yeah but then when somebody doesn't have coverage, they get sick, they go to the hospital. They do it today. They do it today." He was sure of one thing: "Under the new law you're going to have options. They're coming. As soon as we take this guy out of office, you'll have your options."
Tom Lawrence, who chairs the local tea party group, was across the street at the northeast corner of the intersection. He wasn't worried about the thinner numbers. The protest was spread out from 11:30 a.m. to 3:30 p.m. Various people signed up for various time slots, Lawrence said, and 50 or so people was a good showing. He'd decided to move the protest from its previous location at Palm Coast Parkway and Old Kings for the greater visibility at the Cypress intersection.
"We're here basically to show support for the people around the country who are saying their prayers that the Supreme Court will find this unconstitutional, because we think it's a bad law in all senses," Lawrence said of the federal health care mandate.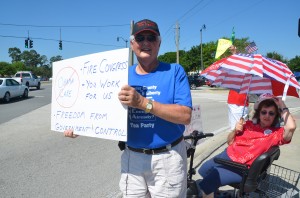 "We think that it's an invasion on personal privacy, personal freedom. If the government can tell us what we have to buy, where does it stop? It's a huge reach for the federal government. So if this is constitutional, then what's next? They're going to start telling me how to raise my kids? Raise my grandkids? Where I can live? To me, this scares me." Lawrence concedes that governments force individuals to buy insurance—auto insurance, for example (and property insurance, with a mortgage), but those are state regulations, not federal, he says, and providers can sell auto insurance across state lines, which brings costs down. Health insurance couldn't be bought across state lines.
Lawrence, too, is happy with his Medicare, but the new federal law "is more sweeping in my mind, because now they're telling you, you have to buy health insurance. I would prefer the federal government stays out of the private sector."
Jean Corra mentions the slouch toward socialism and says Mitt Romney would be her choice to stop it. As for Romney passing what even his Republican challengers call "Romneycare" in Massachusetts, the health insurance program that became the blueprint for the Obama administration's federal version, Corra says "it worked for them,"—meaning for Massachusetts—"but it doesn't necessarily mean it would work in every state, Number 1, let alone the whole country."
Her husband Carl wishes he could give up Medicare, but he doesn't have a choice. Absent the alternatives, he's sticking with it, and paid into it his working years.
John Thomas, 75, stands at the end of the line, hoisting a huge flag with a white flagpole he rests on his thigh. "To me," Thomas says, "it goes back to Madison and Jefferson and Jay, Hamilton. They wrote the Federalist Papers explaining what the Constitution is about. One of the things people were in great fear that the government would overreach. They argued that the Constitution had ample protections against overreaching by the federal authorities, and I think the last three years especially, but ever since Roosevelt, we've proved that that's not the case. The Constitution did not have enough protections to prevent the federal government from overreaching, and this is just an example. A terrible example."

Postscript: Tea party groups in Florida are calling on Gov. Rick Scott to veto the Florida Polytechnic University bill that would create the state's 12th university (SB 1994), along with three other bills the movement opposes. Online news site Sunshine State News reported Tuesday that tea party groups are also asking Scott to veto an energy bill (HB 7117) that would create tax credits for clean energy programs, a measure that backers described as modest, but tea party representatives say is an overreach. "We do not believe the government should be determining the marketplace for renewable energy projects," the group said in the Sunshine State piece.
The group is also calling for a veto of a budget conforming bill (HB 5301) that was controversial because it will require counties to pay the state Medicaid system for money that the counties contend they don't owe. The money in dispute is over bills for treatment of Medicaid patients. Counties argue that the billing system is flawed and they don't trust they're being charged for the correct number of patients. That bill also includes coverage of children of state workers in the subsidized KidCare health care system. The tea party groups also want Scott to reject HB 599, which requires a $100,000 study to merge Hillsborough and Pinellas transit agencies. "The state of Florida should not be dictating to counties what they should and should not do for solving local transit issues," the Tea Party Network said. On the Polytechnic legislation, the group said the move would dilute education funding, and the state should be encouraging the growth of private schools instead of creating new public ones.–News Service of Florida