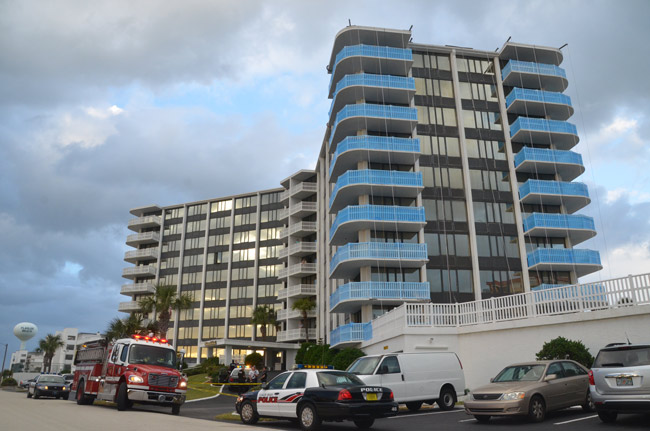 Public suicides are rare in Flagler County. The last took place in April 2011, when a 50-year-old Palm Coast woman jumped to her death from the Hammock Dunes Bridge.
Sunday afternoon, just before 4 p.m., a 49-year-old man hanged himself outside the Nautilus condominiums in Flagler Beach, where he lived with his parents.
The Nautilus, at 3580 Oceanshore Boulevard at the south end of Flagler Beach, is a high rise condominium. The suicide took place when the man tied a rope around a white railing at the foot of the building's southwest side, and jumped. Local residents saw his body and called 911 as the victim hung over the garage entrance to the building. The victim was taken down by rescue personnel, who included members of the Flagler Beach Fire Department. The rope was cut, but its upper portion left attached to the railing.
Flagler County Fire Rescue pronounced the man dead at 4:01 p.m., Flagler Beach Police Office Tim Sturman said. The man's identity had not yet been released. "We just know he's had depression issues in the past," Sturman said.
The victim's body was placed under a yellow tarp on a grassy shoulder not far from the building's west entrance, yellow police tape blocking off the area immediately surrounding the location, as authorities awaited, more than an hour after the incident, the medical examiner due in from St. Augustine. Residents of the Nautilus stood or paced on their balconies, looking down at the scene. Members of the city's police and fire departments huddled and waited.
And on occasion, residents or neighbors of the condominium walked by, wondering what the police presence was about, some unaware of what had taken, others reacting with dismay.