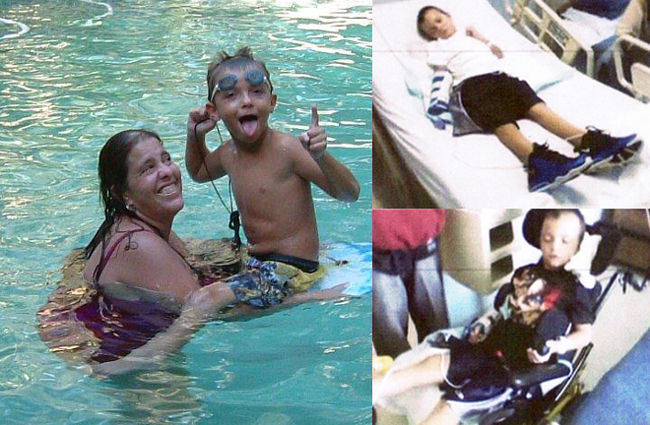 Nate Truelove, the 7-year-old boy involved in the Sept. 19 auto crash on Old Kings Road, is leaving Brooks Rehab in Jacksonville tomorrow (Oct. 28) and returning home to DeLand. He has made little progress in the twelve days he's been in rehab. Nate is awake. But he does not seem to respond much, his great grandmother, Charlene Yazurlo, says.
"We don't know what's there," Charlene said Tuesday evening. "We just don't know what he comprehends at this point in time."
Nate was riding in the back of a Honda Integra his maternal grandmother, Leslie Yazurlo of Flagler Beach, was driving when she lost control of the car on a curve on Old Kings Road and slammed the car into twin utility poles. The car was sheared in half and Nate thrown from it. Yazurlo recovered with minor injuries.
Nate suffered extensive injuries, including two skull fractures, a fractured femur and a fractured hip and jaw. He was in intensive care at Arnold Palmer Children's Hospital in Orlando for almost a month, then transferred to Brooks Rehab on Oct. 16, where Medicaid covered his way only two weeks. His mother and her fiancee, along with his little brother Xavier, 5, and his sister Kahliyah, 3, stayed at the Ronald McDonald House there. Nate is going home Thursday, a day early, so that medical coverage can ensure that all the equipment he's going home with is set up and working properly.
His mother, Heather, and her fiancée, David, have been preparing the DeLand house to accommodate Nate. (The boy's father, Dan, was killed in 2004 while he was trying to help an accident victim on an I-95 shoulder south of Daytona Beach. A car ran into him and two others, killing all three.) Medicaid delivered a bed on Monday. Nate, who has two younger siblings, will be set up in the living room of the rented house, the largest room in the house. Last weekend Heather's father Chuck and his uncle Kevin constructed a deck and a ramp so the home can be wheelchair-accessible.
The family has been struggling financially, and facing eviction, but since Nate's ordeal began, it has also received a lot of community support and donations. A church in DeLand donated $200 to help with the rent. Heather set up a bank account to take contributions in her son's name. Earlier this month she received enough to pay the water bill and part of the electric bill. A friend loaned money for rent.
Heather was due to start a job the week of the accident. She has instead been at her son's bedside, and learning to cope with taking care of a child who, for now, is an invalid, in addition to her two other children.
Nate is fed baby formula through a feeding tube that has been inserted into his stomach. He won;t be fed through the mouth for at least three months. He opens his eyes, but it's not clear what he sees, if anything. He does seem to have certain emotional responses: he doesn't like to be changed, for instance, and when the pins on his leg are cleaned, he reacts unhappily.
"When you read to him he opens his eyes and he looks at you, but he hasn't learned to talk yet," Charlene says. Nate appears to like the "Nate the Great" detective series. He owned one of the books, which he kept hidden from his siblings when he was healthy because he liked it so much and didn't want to lose it. He's received several of the books since, which his mother Heather and others read to him.

JMJ Tobacco Outlet in Flagler Beach (in the Publix Shopping Center) is raffling off a Tiki Man statue to benefit Nate. The 4-footl Tiki Man was carved by a customer. Tickets are $1 each, or 10 tickets for $5. The raffle will be held November 15. Further information can be obtained from Maureen Vitello at 439-0130.
The savings account set up at Bank of America in Nate's name accepts donations at any Bank of America branch to Heather Jenkins or Nathaniel Truelove. Charlene Yazurlo announced the savings account number: 898043396491. Checks may also be mailed to Bank of America, 2599 S. Woodland Blvd., Deland, FL 32720.
For more information on Nate, please contact Charlene Yazurlo, Nate's great-grandma, at 386/439-4583, or email at [email protected]; or Nate's grandma, Leslie Yazurlo, 693-4304, or 868-7993, or email at [email protected]. Both are Flagler Beach residents. Nate went to pre-school at Magic Forest Learning Center on Old King's Road.