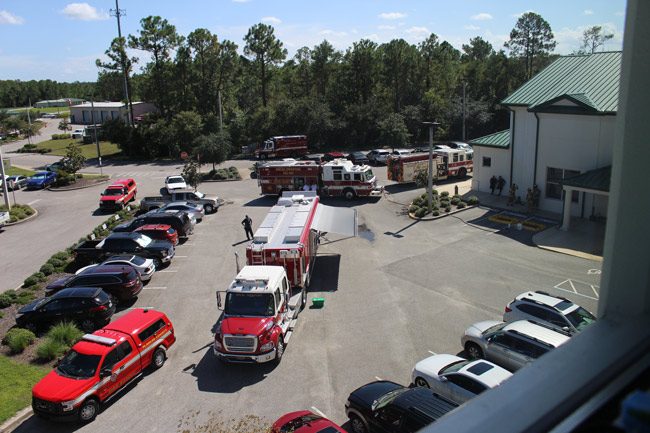 A mysterious black powder that fell out of a mail item in a code enforcement office at the Government Services Building caused that particular area of the building to be evacuated and St. Johns County's hazmat team to be dispatched to Bunnell early this afternoon.
One employee in the code enforcement office was exposed to the black powder. He has been isolated. He is not showing any unusual symptoms. The issue developed just before 2 p.m.
"Code enforcement received a letter from a place that they usually receive letters from," County Fire Chief Don Petito said, "and when they opened it it was black substance." The company was contacted. "We called them and they said yea we sent that letter but when we sent it there was no black powder in it."
The item arrived through FedEx, County Administrator Craig Coffey said. "We think it's copy ink or something," he said, referring to printer toner. "We're taking all the precautions, we think it's safe."
The powder is extremely fine. It got on the employee's shirt and on a table in the office. "Right now we have him isolated until we get the powder tested, once we get it tested we'll figure out what we need to do with him," Petito said. Other employees were relocated to other areas of the building. But the Government Services Building itself, which includes the offices of the Property Appraiser, the Tax Collector and the School Board, are continuing work as usual. The code enforcement office is on the first floor.
Joe King, the county's deputy fire chief, is in command at the scene. The general thinking is that the powder is not toxic or much to worry about, but that out of "an abundance of caution," measures are being taken to ensure all is safe, Petito said.
"They're just standing by until we can figure out what we'll do," he said of employees in the office affected.
St. Johns County has a statewide regional hazmat team with all the necessary testing equipment. It was called in at 1:50 p.m. and was expected in Bunnell at 2:30 p.m.