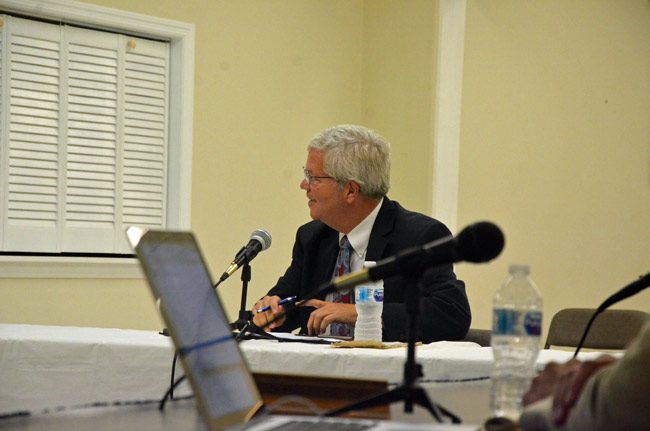 Martin Murphy, the man who had applied to be Bunnell's city manager and got the city commission to agree two weeks ago, however reluctantly, to negotiate a contract with him, had asked to be called by phone tonight once the commission was to discuss his contract. The call was placed. Voice mail came up: "Please leave your message."
Twice. He did not initially answer a text from the city attorney, either.
It was the latest examples in a series of what some commissioners and members of the public described as "red flags" in Murphy's candidacy, not least among them the way he abruptly left the special meeting last week, when the commission had met to discuss his negotiation demands, which did much to sour one of his supporters: Commissioner John Sowell later said another candidate—Alvin Jackson—had been "more gracious" learning that he'd not gotten the job than Murphy had been after being offered the job.
Well into the commission's discussion about Murphy's candidacy this evening, the city attorney finally managed to contact Murphy by text and pipe him in by phone, but it was too late. Commissioner John Rogers had made a motion to reject his candidacy. Appraised of where the matter stood at that moment, Mayor Catherine Robinson asked Murphy if he wanted to say anything. He did not.
Three commissioners had voted to negotiate with Murphy last week—Elbert Tucker, Bill Baxley and John Sowell.
Three commissioners voted against hiring him this evening, with Sowell proving to be the swing voter, joining John Rogers and Mayor Catherine Robinson in opposition. Robinson had been especially put off by the day Murphy had said he'd be willing to start: "He said he wanted to start the last Monday in July, which I was totally surprised about, because on his application he said he would start immediately,"  Robinson said, noting that in budget season, "that's a little late in the game."
"There's some things that aren't adding up for me at the start," the mayor said. "I'm not convinced that this man is the one."
"I don't think Mr. Murphy is a good fit for the City of Bunnell and I don't think the city of Bunnell is a good fit for Mr. Murphy," Sowell said in a statement, adding in person: "What I see here is an enthusiasm gap on the part of Mr. Murphy and on the part of this commission."
Sowell said Murphy should have accepted the job last week, on the spot, after the city had largely accommodated his demands, exceeding its own advertised terms. Instead, he left seeking further negotiations and leaving a start date unmentioned.
Rogers said he'd spoken with Murphy and told him he would not support his candidacy. "I'm just totally disappointed, a man who really wanted this job would be on the phone," Rogers said before Murphy was reached. Rogers had from the start sought to appoint Jackson, the economic development director in Suwanee County—and tried to do so again Monday, again unsuccessfully.
Five members of the community, including Daisy Henry, a former city commissioner, addressed the commission before the vote, all of them raising issues with the Murphy candidacy, and several of them lobbying the commission to hire Jackson. Elijah Emmanuel, long associated with Bunnell's Carver Center, said Jackson, who is black, would provide representation that, for blacks, is lacking in Bunnell's executive ranks.
But Jackson's application had its own issues, among them advanced degrees from a suspect and now defunct divinity school in Jacksonville. Rogers tried to bring him in for a second interview, but that drew resistance from Tucker, who said candidates' qualifications would have to be redefined before the next round of interviews.
Commissioners in the end agreed to come back next Monday at a 6:15 p.m. meeting, each with the name of a candidate to interview, drawn from the batch of 18 applicants who'd applied when Bunnell first advertised the job, assuming the candidate is still job-hunting. Commissioners will then decide what qualifications are to hold sway, and who will be interviewed. Meanwhile, Tom Foster, the former police chief who's been filling in as interim manager, will continue as the interim.
"We're each 20 percent but at the end of the day we're all 100 percent for the city of Bunnell," Robinson said in her final comments at the end of the meeting, speaking appreciatively of her fellow commissioners despite moments that naturally get "intense" at times, and of Foster for continuing in the interim job. She described as "a gift" the fact that the city's proposed budget is starting off balanced–on Foster's watch, and of course that of Stella Gurnee, the finance director and a former applicant for the city manager's job. She had applied two and a half years ago, when certain advanced-degree requirements were not part of the city's job description. Those requirements may be set aside yet again, pending the commission's meeting next week.