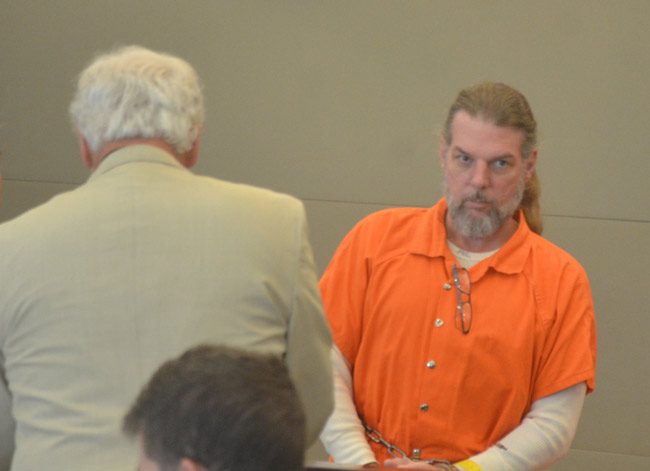 When Michael Cummings appeared in court this morning, he was facing a second-degree murder charge in the death of his ex-wife, Faith Cummings, at her Point Pleasant home in Palm Coast last January. He likely had no idea that a grand jury was hearing his case. He heard his attorney, Ray Warren, tell the judge that depositions are just now being taken, and that the pre-trial should be continued until July. It was.
That was around 10 a.m. this morning. At 4:04 p.m., a grand jury indicted Cummings, 46, on a capital first-degree murder charge.
The more severe charge changes the make-up of the case, particularly with regard to intent. By charging him with second-degree murder, the Flagler County Sheriff's Office had initially gone on the premise that Michael Cummings had gotten into an argument with Faith, 44, that the argument had gotten out of hand, and that he'd allegedly killed, but not meant to do so when the argument began.
The grand jury sees it differently: Cummings perpetrated the killing "from a premeditated design," its indictment found, "by beating and strangling her to death." A capital felony murder charge exposes Cummings to the death penalty. The new charge was served on Cummings at the county jail late today. He's being held without bond.
"At the time of the arrest we had probable cause to arrest Michael Cummings for second-degree murder," Sheriff Rick Staly was quoted as saying in a release issued today. "We had hoped that the investigation and court proceedings would result in an increased charge, which happened today. I hope this brings some peace to Faith's family."
Faith was found dead at her home on Jan. 11. Michael Cummings was arrested and initially charged on Jan. 15. In the interim, as the house was off limits and still being processed, he had stayed with a friend called "Bunky." He'd spoken with his ex-wife of 20 years earlier. The ex-wife had stayed in contact with Cummings and with Faith, getting closer to Faith as time went by: Faith had raised her daughter (the ex-wife's daughter) with Mike. The ex-wife reported to detectives that Mike had been "very upset when he was talking to her and crying until she mentioned she talked to a detective," according to the investigative report.
He stopped crying and said: "What the fuck did you do that for?" She told him she answered the detective's questions honestly. "Great," Mike replied. "Now everyone thinks that I killed her."
Days before Faith's death, Cummings–a musician who spent some of his time on the road in previous years–had posted a message on Facebook accusing her of cheating on him. He'd taken her phone, looked through it (according to an investigative report), and according to him the two then argued. He told investigators he went into a bedroom to play his guitar and she went in to take a shower. He fell asleep, woke up, heard the water still running, and found her in the tub, unresponsive and with blue blotches on her face.