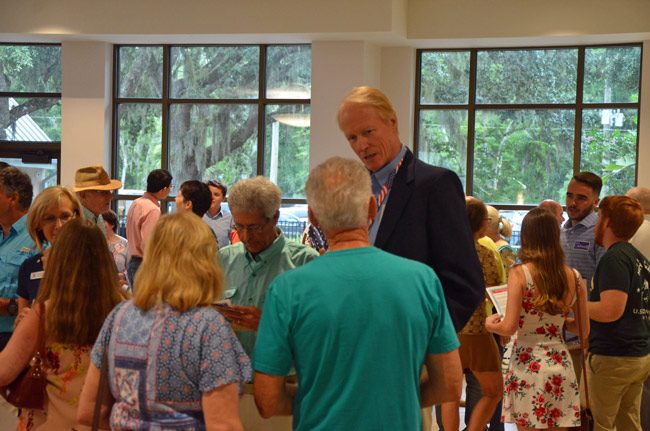 A year ago this week, an administrative law judge ordered Dennis McDonald to pay $59,000 in costs and attorneys' fees to now-ex Flagler County Commissioner George Hanns and the county's attorney's office. The charges were incurred defending against an ethics complaint McDonald filed against Hanns in August 2015, and that the state ethics commission found to be not just frivolous, but maliciously false.
The ethics commission ratified the administrative law judge's order. McDonald appealed the decision to the 1st District Court of Appeal in Tallahassee. Last week (on Sept. 13), the appeals court dismissed the case "for failure to obey the rules and orders" of the court. That means McDonald will have to pay the $59,000 charge.
"The next step is the Attorney General filing a civil suit against Mr. McDonald to collect on the $60,000 judgment," County Attorney Al Hadeed told county commissioners in a Sept. 13 email, forwarding the court's order.
The dismissal takes place as McDonald is engaged in an election campaign, his fifth, against County Commissioner Greg Hansen, a former friend of McDonald's and a former member of the Ronald Reagan Republican Assemblies, the now-defunct far-right group from where sprang numerous electoral challenges and lawsuits against county officials, including the one against Hanns.
McDonald said today the Attorney General has no authority to make him pay.
"It was not worth pursuing because it's nothing more than a money game fighting against the county that has created all this," McDonald said, "because I was one of the guys that dug in on the hospital. That's why all this happened. That's why they're pushing this." McDonald in 2013 and 2014 was critical of the county for buying the old Memorial Hospital that became the Sheriff's Operations Center. The center was evacuated last June, plagued by atmospheric issues that led to illnesses among more than two dozen employees and that have not been resolved.
But the heart of McDonald's complaint against Hanns in 2015 wasn't the hospital. It had to do with Hanns's service on the Flagler County Canvassing Board, and through allegations the ethics commission investigated and "were known by McDonald to be false, or filed by McDonald with reckless disregard for whether they were true or false," a judge's order read. "McDonald worked in concert with other individuals to maliciously injure the reputation of Hanns by filing complaints containing false allegations material to the Code of Ethics with the Commission on Ethics and other agencies."
The complaints against Hanns was one of some 25 such complaints Ronald Reagan club members and ex-Supervisor of Elections Kimberle Weeks filed against county officials. (Weeks was found guilty of seven felonies last April in a case tangentially related to the spree of complaints against county officials.)
There were five ethics commission cases in all that led to judgments requiring those who'd filed them, including Weeks and Mark Richter Jr., to reimburse costs and attorneys' fees. Each case was shadowed by procedural stumbles and lapses as Weeks and McDonald defended against the claims. The same would prove true in McDonald's appeal, which drew several notices from the court in Tallahassee for procedural corrections. The dismissal order resulted from further rules not being followed.
"Quite honestly as far as the legal aspect is concerned," MCDonald said, "the money is better spent on a slapp suit, which at this point can quite easily proven." (A "slapp suit," an acronym for "strategic lawsuit against public participation," is filed by a government agency or a private concern in an attempt to intimidate or silence a critic. The county's contention has been that lawsuits like McDonald's have been malicious attempts to intimidate and discredit public officials.)
"But more important," McDonald continued, "my attorney tells me the state can't collect anything. He says there's no law that allows for it and he's demanded the state show him their authority and they will not respond. I've got one of the best lien guys in the state or in this area." McDonald retained Flagler Beach attorney Scott Spradley, who could not immediately be reached.
McDonald's contention: "The ethics commission has no authority on anybody that isn't a government official or an elected official." But it is no, longer an ethics case at this point, but a matter of cost and attorneys' fees incurred by the ethics cases: the ethics commission determined that the McDonald case against Hanns and others like it were maliciously filed, and in a rare move agreed with Flagler County that reimbursements of costs and fees are proper. McDonald attempted to argue the matter on its merits at the 1st Circuit Court of Appeal–essentially conceding the ethics commission's jurisdiction.
He intended to argue, based on the appeal he filed, that his due process had been violated. But it never got that far as procedural missteps intervened. He never argued that the state had no authority to make him pay, until now. Legally though, now that the appeals court has dismissed his appeal, the ethics commission's order stands, as does the order to pay the $59,000.