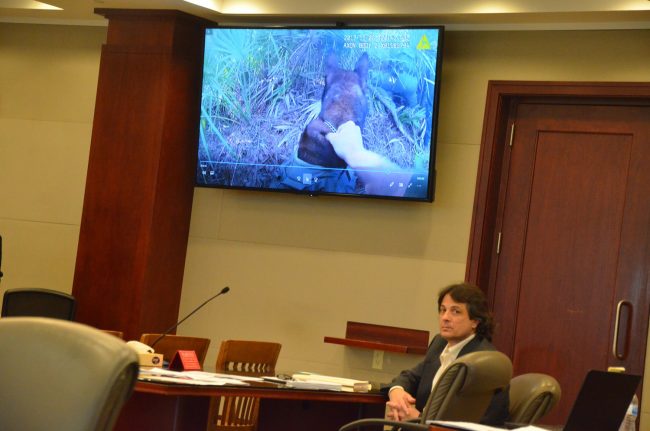 Matthew Nesbitt may have been lucky to be sitting in a courtroom this week, lucky even to have been found guilty on a half dozen felony counts all counts by a jury today, given the alternative: the same jury on Tuesday had watched on courtroom video screens how close Nesbitt came to being shot dead as he was surrounded by Flagler County Sheriff's deputies in a Palm Coast Z-Section neighborhood last November.
They all had their guns drawn and their fingers on the trigger of their Glocks, a police dog was jumping and yapping a few feet from Nesbitt, and Nesbitt, shirtless, as jumpy and as loud as the dog, was brandishing a knife from behind blades of palmetto, pointing at deputies and, according to them–in the videos the threat is not distinctly audible in the brawl of shouts from all sides–threatening to kill them and their dog. The only reason they didn't shoot, deputies said, is not because they didn't have reason to use deadly force at that point, but because they were concerned they might hit one of their own, or hit houses nearby. Self-restraint was self-preservation in that case. But it also likely saved Nesbitt's life. His mother, writing a judge, would later describe his actions as an attempt at suicide by cop.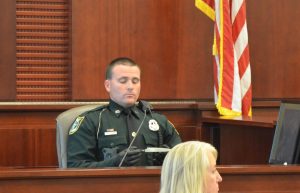 The jury of five women and a man found Matthew Nesbitt guilty on three counts of aggravated assaults on police officers, offense on a police dog, grand theft, fleeing police and resisting arrest with violence in the Nov. 6 incident. He was already a felon coming into this trial (he was due in court the day after the Nov. 6 incident on previous charges: that was one of the audible things he kept yelling at deputies surrounding him that day in the brush–that he was due in court). He's served two stints in state prison.
He faces up to 15 years in prison when he is sentenced at 10 a.m. on Sept. 14. Prosecutors are seeking a sentence that reflects his status as a habitual offender, which would aggravate his punishment.
Prosecutors had a mound of evidence in a case that had started as a vehicle theft and degraded into a chase through the Z-Section, with road closings, the deployment of police dogs, a search helicopter overhead, and innumerable sheriff's units on foot.
Nesbitt's mother had reported to police that he had stolen her company car. Cops soon found him asleep at the wheel of the stolen car. He ignored their directives and drove off, almost injuring a sheriff's deputy in the process. The incident was caught on a body camera. He was tracked down to a Z-Section neighborhood (by now-ex-Bunnell cop Shane Tully) where he had two encounters with deputies and two different K9s, brandishing a knife in the first incident and finally getting apprehended by the police dog in the second. The dog found him in brush, snapped its maw shut on Nesbitt';s thigh and didn't let go until pulled off by a deputy. Nesbitt allegedly punched the dog on its flank meanwhile, apparently in attempts to get the dog to let go: Nesbitt is heard and seen on the body camera, screaming in pain.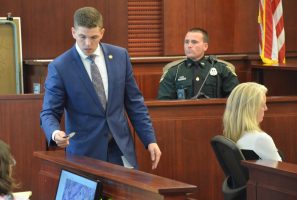 If there was little drama as to the outcome of the trial, it did not lack for drama in one regard, bringing to light as trials rarely do and in great detail the raw emotions, fears, confusions, split-second judgments and calculations of deputies in a potentially lethal confrontation. Several deputies testified to that on Tuesday–from a distance between their jury box to where Nesbitt stood at the defense table that approximated the distance separating them when they'd stood facing him a few months ago, their guns drawn.
"Everything is going through your mind, you're scared to death, you're checking everything," Cpl. Frederick Gimble, a nine-year veteran of the agency and its supervisor of the police dog unit, testified. "It's frightening, it really is." Gimble had been supervising deputy Jonathan Duenas that day. Duenas was on the force more than five years, but he was on his very first deployment with a police dog, which had just completed its hundreds of hours of training. Gimble thought the Z-Section incident would be a good place to give Duenas experience. It was Duenas who first came upon Nesbitt when Nesbit sprang up behind a batch of Palmetto, with a knife. "He didn't know exactly what to do at that point," Gimble said of Duenas, "he just stood right there and didn't back up and didn't do anything, he just stayed within 10 feet or so of this guy yelling at him with a knife."
"In that moment were you afraid?" Assistant State Attorney Michael Stover, who prosecuted the case, asked Duenas.
"I was," Duenas said, after describing the scene he'd found himself in with Nesbitt. "I will say that this is the most aggressive subject I've encountered during my law enforcement career." Moments later he added: "I would venture to say that was the scariest I've been in my law enforcement career." Duenas had made a decision to shoot Nesbitt but for one step Nesbitt did not take: "If the defendant had attempted to close that gap in between where I remained and where he was, then I would have likely been forced to use deadly force," he said.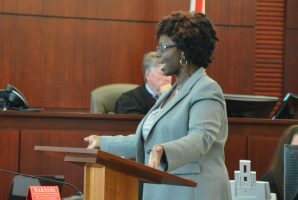 But he'd also seen two deputies in the distance, behind Nesbitt, he could see houses behind him, his dog was jumping up and down in front of him, and other deputies were on his flanks. He held his fire, as did his colleagues.
Gimble had the same perspective from where he stood in the brush. He explained: "I'm realizing myself oh my god I do not have a clear line to use deadly force at all," so he moved to flank Nesbitt, and as soon as he did so, he could see two deputies walking up from behind him. "I was completely stuck at that point."
"So at that point you didn't believe you had a shot," Stover told him.
"Absolutely not," Gimble said, again describing this fear, because "I'm the one who's in front of everybody playing bodyguard for Duenas."
The descriptions would prove necessary for the prosecution to make the case that Nesbitt had been a clear and imminent threat to deputies.
"Is nine feet, three yards, close enough to be considered an imminent threat?" Stover today asked the jury, shortening the distance between Nesbitt and the deputies somewhat than that evident on body cam videos. "Absolutely," Stover answered.
Regina Nunnally, the assistant public defender who represented Nebitt, used the same evidence to argue against the testimonies of deputies and discredit their interpretations. She made a strong–even valiant–case in favor of Nesbitt and against deputies she portrayed with their weapons drawn and in their bulletproof vests as almost invulnerable to harm in that situation. And she portrayed them as overwrought, exaggerating and misleading in the full knowledge that when it comes down to it, it's their word against her client's: no contest.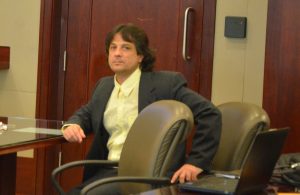 "That's what's sad about this case, they're trying to make more of it than what it is," Nunnally told the jury. "The reason they didn't shoot was because they realized Mr. Nesbitt was not a threat."
"This case is about reasons to doubt," Nunnally told the jury. "The video is the best evidence and should be relied upon as the best evidence. I say that because it's more reliable than the recollection of individuals who are under the stress of the events, individuals who seem not to recollect certain things or have a selective memory of certain things." She was referring to deputies, repeatedly in her closing argument as she had on Monday questioning how the six deputies involved in the incident had all lined up their stories to indict Nesbitt and said things that were not corroborated by the videos: she said video never showed Nesbitt actually gunning his car for deputies, nor even threatening them when he faced them in the brush. He was only pointing his finger at them and telling them to call off the dog.
Nunnally repeatedly returned to the contradictions between deputies' testimonies and video evidence. "All of them didn't hear what the video said but all of them did hear what the video didn't pick up. That's odd," she said.
Duenas had said he did not recall hearing Nesbitt telling him to call off the dog. "It's funny that he doesn't remember those words but the video does," Nunnally said. "The first thing that came out of Mr. Nesbitt's mouth was, call off the dog. Meaning if you call off the dog, I'll comply." Yes, Nunnally said, Nesbitt pointed his finger at the deputies, but he was pointing at the dog and telling them how he'd comply. "But again, they're claiming he was threatening to do violence to them. That's not what he said." She ridiculed the claim that Nesbitt would have been capable of jumping over palmetto and across a distance, get past the dog and hurt deputies arrayed against him with their guns drawn. "It's like when someone brings a knife to a gunfight, who do you think is going to win?"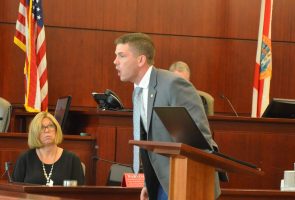 She applied the same doubt to evidence about Nesbitt using the car he'd allegedly stolen to attempt to hurt a deputy. "How in the world can you drive a car at anybody when it's standing to the side of you?" Nunnally told the jury. "Common sense dictate that that was not the case. My client cranked up the car and he left."
"The video contradicts these officers," she said. "Video is not emotional, it just shows you what happens," she said. That was true. But what it showed was infused with emotion–and judgment in the midst of emotion.
Nunnally also tried to discredit the claim that Nesbitt had stolen the car–a car he had owned at one point, and on whose insurance his name had appeared. She conceded that Nesbitt had reasons to be arrested and committed some crimes, "but that does not make him guilty of assaulting officers and beating up a dog," she said. "This case is all over the fact that he took his mom's truck."
Trial rules give the prosecution the first go at the jury in closing. The defense goes next. But the prosecution gets the last word. Stover responded to Nunnally's closing by out-Nunnallying Nunnally. His first closing segment had been a sober, dry restating of the facts as he ticked off elements of the crimes one by one to convince the jury that the prosecution had proved each element beyond reasonable doubt. His second closing was more theatrical, it was all gestured indignation and disbelief at what Nunnally had just outlined. "That is a completely unreasonable restating of the fact," Stover said of Nunnally's closing. "This did start off as just a grand theft of a car. Guess who escalated?"
Stover then went through the incident again but in point-by-point reaction to Nunnally's interpretations, refuting each and telling the jury Nunnally was making up evidence, not showing it. "Let's talk about videos for a second. 'Cause you want to know what the problem is with videos? There is absolutely zero way to quantify what a video can hear versus what a person can hear," Stover said, reminding the jury of the 20 seconds of unintelligible shouting in the video they'd heard before words could be made out.
Of the original encounter between Nesbitt and deputies at a trailer park in Bunnell, where he was discovered at the wheel of the stolen car and instigated the escalation, Stover said: "It wasn't the police knocking on his window" who escalated the incident, he said. "You're surprised when somebody first comes and knocks on your window? Do you start screaming at them and point your finger at them like this? OK, so he didn't know he was supposed to stop. Well, deputy Gonzales gave him a pretty gentle reminder by shattering his windshield. There are deputies holding him at gunpoint. If that doesn't mean stop, I don;t know what does. I told you what was going to happen. She [meaning Nunnally] is going to try to add a ton of evidence."
After a 45-minute recitation of jury instructions by Circuit Judge Terence Perkins, the jury began deliberations at 12:30 p.m. There was no mention of providing them lunch, and there appeared to have been no need: at 1:39 p.m., a bailiff announced the jury had reached a verdict.
"I really just want to say one thing," Stover said after the trial as he walked out of the courtroom. "I was blown away and I am still blown away at the amount of restraint and the professionalism that not only the Flagler County Sheriff's Office showed but that the Bunnell Police Department showed through Officer Tully, I just think that they went absolutely above and beyond the call of duty in this case. I'm proud and I'm absolutely honored to work with them."