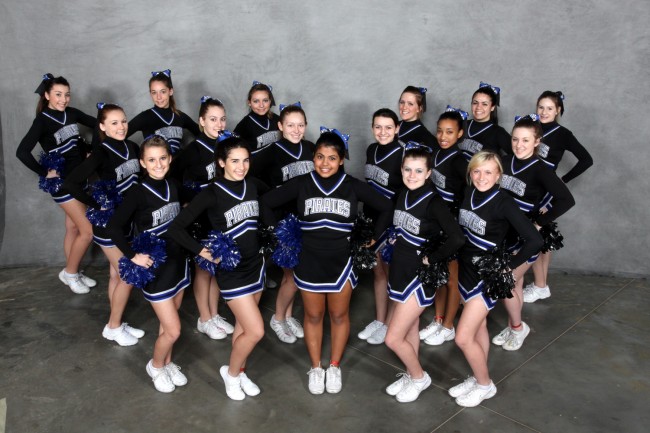 On Feb. 5, the Matanzas High School competitive cheer squad took 3rd place in Florida at the Silver Spurs Arena in Kissimmee as they competed in the 4th Florida High School Athletic Association's competitive cheerleading state series. They'd qualifying earlier through regional competition as one of 68 schools from Region 2 and one of 249 schools overall. The MHS competed in the small, non-tumbling division. The team is coached by Kellie Doucette, a member of the school's Language Arts Department.
The team heads to Orlando this weekend for competition in ESPN's Wide World of Sports national championship. It'll be up against 17 teams, starting at noon on Sunday. With the team's strong state results behind it, confidence should be a booster this weekend.
The team has participated in the state competition every year since its inauguration in 2008. The MHS cheerleaders continue to improve their standings in the state each year. In 2008 they started out ranked 21st. After the past weekend's competition, they ranked 3rd in their division in the state, out of 21 teams competing in the division. This is the second time in the FHSAA state series history that MHS has placed in the top 3. The first time was in the 2009 contest.
The Pirates start their competitive season in August when they assemble their competition team. The competition team is made up of members of the existing Varsity and Junior Varsity teams who wish to try out. Those selected for the competition team attend a stunt clinic in October where they learn elite stunts and are taught the technique they will need for award winning performances. This year's competition team included 15 participants and two alternates.
During football season the competition team practices once a week and on selected Saturdays. The team competes at a Universal Cheerleader Association regional competition in December in order to qualify for the national contest and at an FHSAA regional qualifier in order to be eligible for the state contest; both state and national contests are held in February. After overcoming many obstacles, the squad was able to come together and turn out a performance strong enough to place it third in the state.
Currently, the Matanzas Pirates are ranked 2nd in the nation as they head to ESPN's Wide World of Sports in Orlando to defend their rank.