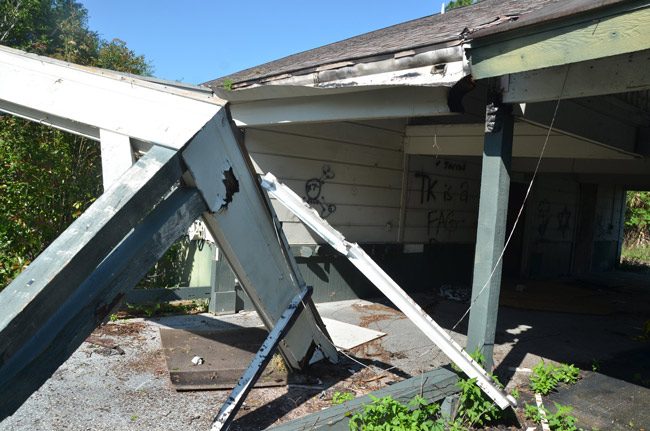 Earlier this week we reported on the settlement Palm Coast government and the owners of the Matanzas Golf Course reached in their long-running dispute, including a suit and a counter-suit, over the state of maintenance at the course and unpaid fines and liens. The city agreed to reduce the amounts owed but set deadlines for certain conditions to be met. If the conditions were met, the suits would be dropped, and Palm Coast would not seek to foreclose on the property.
Group Golf of Palm Coast, as the company that owns the golf course calls itself, had made some installment payments, fulfilling its obligation in so far as its utility debts were concerned. But on Feb. 28, another deadline passed, and the obligation tied to that date was not met: Group Golf had been required either to demolish a cart barn on the periphery of the course, or to repair it and obtain a certificate of occupation. It did not do so.
Debra Babb-Nutcher, one of the city's attorneys, had contacted Michael Yokan, one of the two Jacksonville-based owners of the course, to get a status report on compliance with the settlement. (Stephen Richardson is the other owner.) She did not get a reply.
No plans have been submitted to the city to date regarding the cart barn, and no certificate of occupancy has been issued, according to a letter the attorney wrote Yokan Thursday.
"Therefore," Babb-Nutcher wrote Yokan, "Group Golf has failed to comply with one of the conditions of the settlement agreement and I have been instructed to move forward with having final judgment of foreclosure entered in favor of the City of Palm Coast." The attorney had not yet drafted a final judgment, but told Yokan he would be provided with a copy before it goes to Circuit Judge R. Lee Smith–perhaps a final attempt at compelling a response from Group Golf.
Golfers loved the course. But it closed in 2007. Jim Cullis of Grand Haven Reality had come close to buying it but did not. It sold in 2014 for $267,000 to the Jacksonville individuals, raising hopes among the hundreds of homeowners who surround the course in north Palm Coast that the grounds would be well tended again and the course itself might open again as such.
A non-jury trial had been scheduled before Judge Smith for Jan. 17. That was cancelled, but only on the assumption that the settlement agreement's terms would be fulfilled. The agreement also stipulates that in the event of default the city would move ahead not only with foreclosure, but with recovery of $168,553 instead of the $118,500 agreed to in the settlement. Group Golf has already paid $58,500 of that.