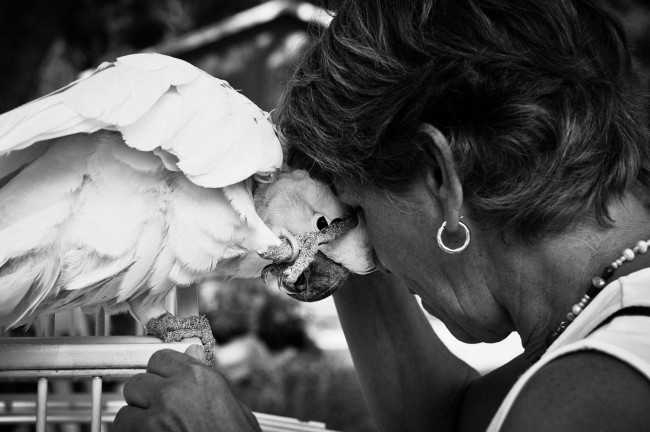 JJ Graham was at the gas station. He was filling up on his way to pick up the U-haul he would use to move Hollingsworth Gallery from Palm Coast to what is soon to be the very different environment. He's recreating his gallery at Bunnell's Nature Scapes, the idyllic nursery, landscaping and garden center. He got a call from his friend Diana Minotti, the art dealer, a mutual friend of his new landlord, Nature Scapes owner Marylou Baiata.
It was an uncomfortable conversation for Graham. He had promised Marylou's son, Chris Baiata, that he would keep quiet about Marylou's very recent pancreatic cancer diagnosis. He didn't know what Minotti knew. He also didn't know the latest on Marylou's health.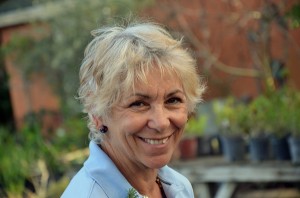 After a few awkward minutes dancing around the issue, it was Minotti who told Graham that Marylou had died the previous evening. That was a week ago.
He knew Marylou's condition was serious. He never thought it would end this fast. The news was a shock, one of those cases of mental whiplash that stuns and angers. The same shock would affect anyone who knew Baiata—whether as a friend or as one of her thousands of customers: her energy and radiance had until just a few weeks ago been more lush than the gardens she grew at Nature Scapes, a 30-year-old business in a town with few businesses half that age. She died on July 25, less than a month after being diagnosed, and weeks from launching a venture with Graham she had described only a few weeks ago as being "on the verge of a really big dream come true." She was citing a quote she looked at every day, and describing her collaboration with Graham on his art gallery taking root at Nature Scapes.
"Every day I look at that," Baiata had said. "And now it's happening."
It'll now be up to her son to make it happen.
Sitting in one of his mother's favorite spots at Nature Scapes—under the shade of surrounding Spanish moss-brandishing oaks, originally planted by the Moody brothers—Chris Baiata, the 34-year-old second generation owner, was all reflexions. "She was a very strong woman, a very passionate woman," he says, occasionally interrupted by the squawking of nearby chickens and the caged parakeet hanging just beside the table: Nature Scapes teems with domesticated animals of all sorts, and birds. Goats help to trim and fertilize the grass and hang out on the other side of the nursery.
"Even though she was very strong on the outside," Chris says of his mother, "she was very loving—a great mother, a great grandmother, very family oriented." She also had a "relentless determination," which helped her take her business to this point.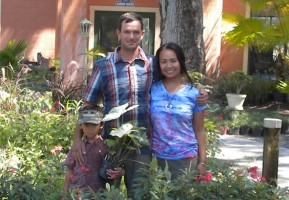 This particular quality gave Chris hope that Marylou would last longer than the six months doctors gave her upon her diagnosis. "I was hoping it would be years," he says. Marylou had always been very healthy and fit, having been active with yoga the last 40 years.
She lived just three weeks more. With a few exceptions, she kept her prognosis to herself and her family. "She didn't want anyone coming over and pitying her. She never wanted anyone to feel sorry for her," Chris says. "I still haven't totally digested it yet."
Marylou was 63. Her legacy continues with Chris, his wife Pasang, who heads Nature Scapes' ecological farm, and their 5-year-old son Tenzin, whom Chris hopes will continue the business after him. Tenzin is already showing a keen and precocious love for nature and gardening, he says. Chris studied environmental horticulture at California Polytechnic University. After a brief stint traveling and semi-professional surfing in California, he moved back to Flagler in 2006, right after his mother acquired the new property off State Road 100. He's operated the business alongside Marylou ever since, he says. "So it will be a seamless transition."
Marylou had always supported the arts, education, the Audubon Society, and many of the gardening clubs and associations. None of that will change, he says. It'll only grow, namely with the immediate addition of what was once Hollingsworth Gallery, which Graham founded at City Marketplace in 2010.
A couple of alterations as a result of the gallery moving in: "We're going to focus more on landscape education, we're going to continue to be the source for organic gardening, landscape design—basically we're going to be a source of information," Chris Baiata says. "That's going to be one of the focuses."
He wants the community to be able to come and get inspiration from the property, emphasizing that what they do is "landscape artistry," which is why Nature Scapes is the perfect home for artists. "I want to reassure the community and get the word out that we're moving forward. We're not closing our doors and we're going to take it to the next level."
It's Graham who has to think transition now.
"I was really looking forward to working with Marylou," Graham said this week. "But as far as the lease agreement and stuff like that, I'm just going to press on with Chris," who Marylou had been grooming to take over the business for the day when she would retire. "I just kept going out there because something felt right, you know," says Graham. "I think a lot of that is just the energy that she and her family have put in there. I think I'm at a place in my life that that's the environment that I need to be in and some of the other artists feel the same way, I think, because they're coming with me," he says. "I'd just really gotten to like that whole family."
Graham's new home will be a coral pink, 6,000-square-foot building with 25-foot high ceilings, to be called, in its new incarnation, the Salvo Neoteric Art Project, i.e., a celebration of the "new."
Marylou, who, before signing the lease, Graham had only really known from seeing her occasionally at one of his openings, was a "big personality with a fighter's spirit," he says.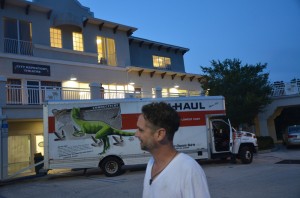 Marylou moved to Flagler from Long Island when she was 19. Here, she met her husband Mario Rich Baiata. The two opened a shop on A1A called Down to Earth, which sold pottery, plants, driftwood and the like. She also worked for Gamble Rogers State Park as a park ranger before she started the nursery. Mario Richard, or Rich as he went by—who also happened to be a painter—had also launched his own business, Red Carpet Homes. He built houses and Marylou landscaped them. Rich died six years ago of diabetes.
Marylou originally started the company on a much smaller one-acre nursery on Briarwood Drive in 1984. She later moved to State Road 100 and had a 99-year-lease with the Board of Realtors, but then those landlords decided to tear down her buildings and rebuild. A technicality in the lease forced the Baiatas to look for a home elsewhere. Auspiciously, the current five-acre Nature Scapes property had just become available. The Flagler economy was booming at the time and Nature Scapes expanded with it.
"It was a happy occurrence," Chris says. "When my mom and my dad both found the property, they decided they loved it and they saw the opportunity here—they just loved the space," though they struggled some with the fact they were no longer along the main drag, especially when the recession hit.
Chris saw that the same spell was cast on Graham when he and his entourage first came to scout the grounds this past Mother's Day. Graham had been approached by Marylou at one of his Second Saturday openings. She had read that he was looking at a building owned by the Flagler County School Board on State Road A1A, after the new City Marketplace landlord, John C. Bills, had opted to raise his rent.
"They had an energy about them that I think my Mom always wanted to bring to this place. I could tell that he liked it—they were all walking around in awe. Anyone who steps foot onto this property gets a sense of how awesome it is and he immediately picked up on that."
The symbiosis of art and nature speaks to another stated Baiata goal: "We want this to be a fun place for people to go and hang out—enjoy nature and enjoy art and I think that's what my Mom always wanted. She really wanted it to just be a good time. And that's what we want, too."
Knowing the hands she was leaving the business in gave Marylou peace in her final weeks, Chris says. The Baiata clan isn't alone feeling that way.
"I think in a way that she knew something might've been wrong with her," says Graham. "She was pressing me hard to sign that lease and I think us being there—we would be a good tenant to her son and our success is going to be intertwined."

A memorial service for Marylou Baiata will be held at the chapel of Craig-Flagler Palms Funeral Home, 511 Old Kings Road South, Saturday, August 2, from 12:30 p.m. to 2:30 p.m. Donations for the establishment of a bird sanctuary in honor of Marylou can be made to Nature Scapes, 313 Old Brick Road, Bunnell, FL 32110-2059.