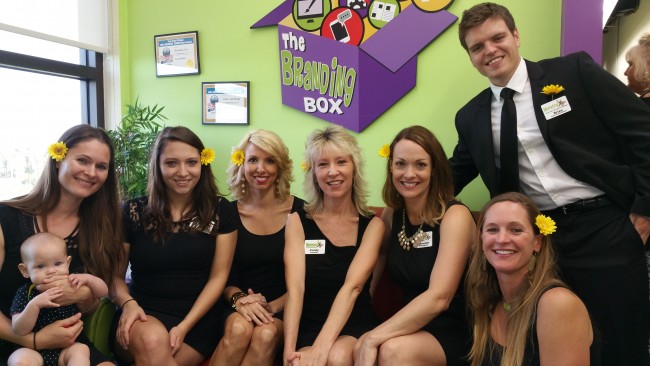 Cindy Dalecki has reason to celebrate. The owner of Marketing 2 Go just marked the fifth anniversary of her new-media company, going from a one-person operation in 2010 to three full-time and three part-time employees today, working out of new digs as well. Dalecki's Marketing 2 Go highlighted its new office at 145 City Place in Palm Coast's Town Center Thursday with a ribbon-cutting.
Dalecki launched Marketing 2 Go After being laid off from the News-Journal in May of 2010. "As little as one in ten businesses make it to the five-year mark so we feel truly blessed and grateful for our amazing team, all of our families, and our loyal customers that have continued to trust us with their marketing needs these past five years," Dalecki said. "I feel that we have a vision and a commitment and truly care about our customers." She credited the Palm Coast Business Assistance Center for helping her along the way.
Kim Fitzgerald's Curley Tail Design, also located in the same building, celebrating 17 years in business on the same occasion. The two companies held a co-anniversary celebration promoted as the 'Branding Box Bash' at their new office> Some 200 people attended and enjoyed live music, food from the soon-to-open Island Grille Restaurant (where Blue used to be), drinks and fun. In keeping with new media's current trends, there was a 'Selfie Station' and attendees took their picture and posted to their social networks with the hashtag #BrandingBoxBash. The event was co-sponsored by Chiumento Selis Dwyer, Intracoastal Bank, Pioneer Title, Wise Tax & Accounting Services, Marlin Consulting, Southeast Media Productions, and The Holley Group.
Marketing 2 Go continues to grow to keep up with an expanding client base, adding Ciji Cline this month. The majority of clients are in Flagler and Volusia Counties, but national and international clients are signed up as well.
---
Helping companies navigate and increase their footprint in the bewildering world of social media.
---
The company has seen a steady increase in business over the past five years. Marketing 2 Go's niche has been helping business owners create a buzz about their business via social media and public relations. Marketing 2 Go assists a wide array of businesses and non-profit organizations in different industries such as financial, medical, real estate, restaurants, education, government agencies, politicians, attorneys and more.
"Public relations is so important to a business – businesses need to stay in front of the public eye in a positive way and we help get the word out about their growth, new employees, remodeling, anniversaries, and more," Dalecki said. Experienced business owners realize that it's sometimes best to partner with someone that specializes in certain aspects of a business such as accounting, bookkeeping, and even social media and marketing. This allows the business owner to focus on what they do best.
Marketing 2 Go implemented Salesforce with the help of Coastal Cloud last year, a beneficial step in keeping track of tasks and keeping a growing customer database organized. The company is passionate about local non profit organizations such as The Rotary Club of Flagler Beach, The Flagler Beach Historical Museum, the United Way Women's Initiatives, Teens in Flight and more in our local community.
According to current statistics, there are now one billion Facebook users worldwide with Twitter's active users skyrocketing to 560 million. There are more than 240 million registered users on LinkedIn, and YouTube has over a billion users, with new social media networks such as TALKiT popping up on a consistent basis. Marketing 2 Go helps companies make sense of the maze and broaden their imprints within that social media world.
For its part, Curley Tail Design has been voted the 'Best Advertising Agency' in Flagler County from 1999 to 2014, while Fitzgerald was chosen as "One of the Most Influential Women in Business" for 2013 by the Volusia Flagler Business Report. The company offers logo design and branding, collateral and direct mail, advertising design, marketing strategies, full-color printing, advertising specialties, t-shirts, polo shirts and hats, package design, websites and ad banners, e-newsletters, special event promotion, signage, and more.