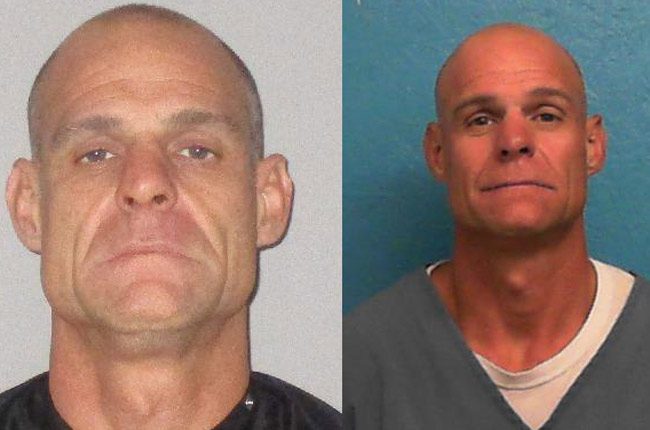 Mark Wardell, a 47-year-old resident of 4th Street in St. Augustine wanted on four warrants from three surrounding counties, was arrested in Palm Coast Monday shortly after a bank robbery in Ormond Beach where he was the suspected robber.
Wardell spent most of the past 25 years in state prison. He was released from a 12-year sentence just last May.
Flagler County Sheriff's deputies received a be-on-the-lookout from Ormond Beach police in early afternoon. The sheriff's dispatch center advised patrol deputies to look for a motorcycle with red rims or a Chevy Cobalt sedan.
A patrolman ob served one such sedan pass on the on-ramp at I-95 northbound. The deputy pulled over the car at mile marker 293. At about the same time, Flagler County Fire Flight, the emergency helicopter, was placed on standby in case it was needed for a broader search.
Tina Heinrichs, 46, of the same 1120 4th Street address as Wardell, was at the wheel. She provided a Florida ID card, but did not have a valid driver's license. The deputy asked the lone passenger for his ID card. The passenger did not have one, but identified himself as Mark Wardell. The bulletin deputies had received from Ormond Beach included a picture of Wardell, who was asked to step out of the car.
"While frisking the subject for weapons I was able to plainly feel large sums of cash in his front left and right pocket," the arresting deputy wrote in Wardell's arrest report.
Body camera footage shows deputies on the side of I-95's northbound lanes with their gun drawn approaching the older-model vehicle, handcuffing the suspect and telling the driver to get out as well without reaching for anything.
Wardell, whose aliases, according to the Florida Department of Corrections, include the name "Sewer Rat," is on probation in St. Johns County through August 2020 on convictions for robbery and grand theft, among other charges. He had four warrants out for his arrest, including a larceny charge in St. Johns, two robbery charges in Volusia, and a robbery charge in Jacksonville. He had previous convictions for burglary, grand theft and other charges.
Heinrichs was booked at the Flagler County jail on a misdemeanor charge of driving without a license, second offense, and held on $2,000 bond. Wardell was arrested on the four warrants and is being held on $175,000 bond.
"As soon as we were made aware of the bank robbery and BOLO from Ormond Beach, our units utilized intelligence-led policing tactics to begin the search for him," Sheriff Rick Staly was quoted as saying in a release issued this morning. "It was like
finding a needle in a haystack, but our deputies did a great job in locating him and the vehicle he was in and taking him into custody without anyone getting hurt."