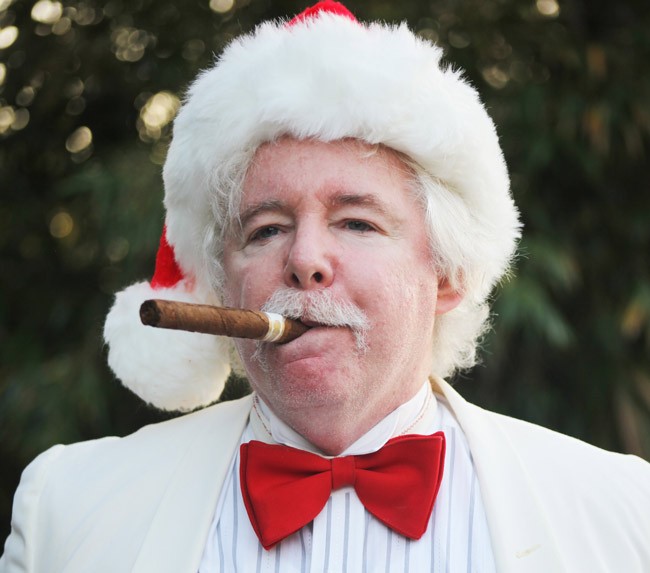 See the words "Mark Twain" and "Christmas" together, and even a casual fan of literature will think the author must have been the been the original Grinch — especially the acerbic, cynical, elderly Twain who penned "Letters From the Earth" as he was reeling from the deaths of his wife and one of his adult daughters.
But not so fast with the Grinch stuff, said actor Robert Gill. The Palm Coast resident will portray the celebrated author in "A Mark Twain Christmas" on Saturday and Sunday (Dec. 12 and 13) at City Repertory Theatre in Palm Coast. The Saturday performance is sold out.
"Twain was not so much a Grinch, but he really didn't, in his words, cotton to the idea of the holidays and the commercialism of it," said Gill, who has been portraying the writer he calls "the American Shakespeare" since 2000.
But, Gill added with a hearty chuckle, "The Twain monologues I do for the holidays do have a sarcastic slant to them."
Like the other one-man Twain shows Gill has created, "A Mark Twain Christmas" is composed of about 75 percent of the author's monologues and writings recited verbatim, and about 25 percent is Gill's creation, including an introduction and material connecting the monologues.
While Twain's exalted place in American literature was cemented by such classics as "The Adventures of Huckleberry Finn," "A Connecticut Yankee in King Author's Court," "The Innocents Abroad" and many other works, the favorite son of Hannibal, Missouri, didn't pen much about the Yule holiday season.
"I really pulled out just about everything I could find on Christmas and New Year's," Gill said. "He seemingly didn't waste his time on those subjects very much. But I pulled out the cream of the crop and they are pretty sarcastic and very entertaining."
Yes, Gill is confident Twain's acerbic wit will connect with today's audiences and won't get the author dismissed as a mere Scrooge.
"One of the lines is the approach of Christmas brings harassment and dread to many excellent people," Gill said. "And then I ask the audience, 'Do you find that to be true of yourselves?' It's an excellent starting line to describe the holidays: harassment and dread. How much more truthful can you be (laughs)?"
Born in Manhattan, Gill pursued theater after moving to Florida in 1978. He studied acting during a 12-year stint in Los Angeles from 1984 to '96, when he returned to the Sunshine state. Gill served as director of Peabody Auditorium in Daytona Beach from 2000 to 2005, and he also has performed with numerous area theaters, including productions of Yasmina Reza's "Art" and Eric Bogosian's "Sex, Drugs, Rock & Roll" both at City Rep.
For the past five years Gill has pursued theater full time as an actor and producer, including work with his own dinner theater company and his one-man show portraying Henry Flagler, the late 19th-century Florida industrialist, railroad magnate and developer.
As for Twain, Gill confesses he wasn't an aficionado when Stetson University education professor and Twain scholar Cindy Lovell recruited him to portray the author in 2000.
"I had read some of his stuff but I had never even thought of the idea of portraying him live," Gill said. When area theater people heard that Lovell needed an actor to portray Twain in a retrospective she was creating for Stetson, they recommended Gill to her.
A person working on the retrospective "called me and said, 'We need Mark Twain — can you come?' " Gill recalled. "I actually recommended somebody else to do it. I had never performed him before. At that time of course Hal Holbrook was still going strong (portraying Twain), so I figured there's enough Twain people in the world for now."
But Lovell was persistent.
"When we met I just happened at the time to have longer hair and a mustache and of course it's all white now," Gill said, chuckling. "They immediately saw the resemblance and said, 'You should do Twain.' That's really the roots of it all.
"Dr. Cindy is quite a brilliant published author and Twain scholar as they call her. I always credit her as my creative source because without her I would not be doing this."
During Gill's early years of portraying the author, Lovell was a frequent advisor as he crafted different themed shows.
Although Gill hasn't been in touch in recent years with Lovell, he noted she currently is executive director of the Mark Twain House & Museum in Hartford, Connecticut. That's the very place where Twain land his family lived from 1874 to 1891 — and where he penned "Huckleberry Finn" and many other of his most acclaimed works.
John Sbordone, City Repertory Theatre co-founder and director, is hesitant to say he's "directing" Gill in "A Mark Twain Christmas" — so much has Gill honed his channeling of Twain over the past 15 years.
"He usually doesn't do it on a stage," Sbordone said. "He usually does it in a room. We did his 'Mark Twain Birthday' three years ago at Hollingsworth Gallery (adjacent to City Rep's performing space at the time) and set it up as a cabaret and cocktail hour."
And so Sobordone will say only that he's "helping out" as Gill prepares the Christmas show for City Rep's stage.
For Gill, Twain is a man for all seasons.
"Once I immersed myself in the material, that's what won me over — the pictures that are painted in your mind from this wonderful, brilliant writing from this man who was acerbic and thoughtful and philosophical," Gill said. "When I first got into his writings I thought, 'This is the American Shakespeare.'
"And now today, 15 years later, when I'm preparing a show I still sit back and get tingles after rehearsing a monologue and say, 'My God how brilliant this is and what a privilege it is to be able to do it.' I'm hooked for life. I'm planning to do his 70th birthday lecture when I'm 70. It's something to look forward to, you know."

Robert Gill will star in "A Mark Twain Christmas" at 2 p.m. Sunday Dec. 13 at City Repertory Theatre in City Marketplace, 160 Cypress Point Parkway, Suite 207B, Palm Coast. The 7:30 p.m. Saturday Dec. 12 performance is sold out. Tickets are $25. Information: 386-585-9415 or crtpalmcoast.com.