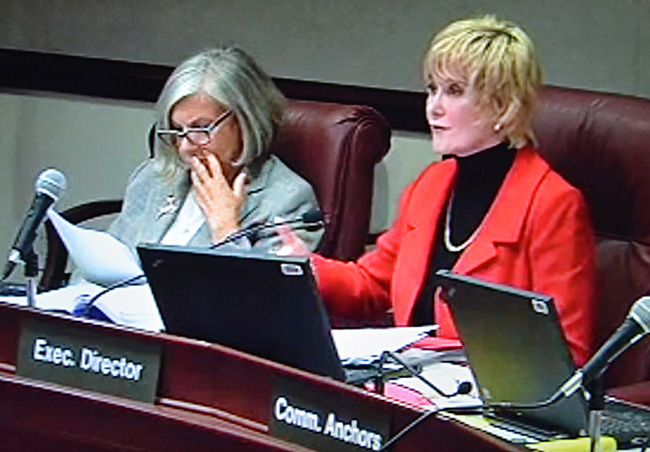 Citing an incomplete investigation and raising numerous questions about Flagler County Sheriff Jim Manfre's use of government property or tax dollars for personal purposes, the Florida Commission on Ethics on Friday rejected an agreement that would have reduced three alleged ethics charges against Manfre to one and asked for a renewed investigation, placing all charges back in play.
In a pair of 7-2 votes, the commission at the end of an hour-long hearing asked investigators to seek answers to questions about what policies were in place—or not—when Manfre is alleged to have violated ethics rules, whether he was motivated to correct the alleged violations on his own or because he was facing sanctions, and whether his then-finance director, Linda Bolante, who brought the ethics charges against Manfre, was forced to resign as a result of her complaint, among other matters.
Along the way, Manfre's practices and claims of innocence until cautioned otherwise came under withering criticism by several members of the commission. They were incredulous at a high public official claiming not to know basic rules of spending the public dime and the use of public property, regardless of policies in place or not in place.
The commission does not set a timeline for its investigations. Sid Nowell, Manfre's attorney in Flagler—he was not at the commission hearing Friday—said the decision starts the process back at zero.
On May 16, Bolante, who'd worked at the Sheriff's Office for 14 years starting in July 2000, filed an ethics complaint against Manfre, citing at least three instances where Manfre used a sheriff's vehicle for personal travel out of state, charged personal meals, including alcohol, to his sheriff's issued credit cardused the under-sheriff's time-share property without reporting the gift, and once asked for a paycheck to be issued early. After an extensive investigation, the commission advocate initially recommended that the commission find probable cause of ethics violations on three of the four counts. The matter of the paycheck was dismissed. That would have potentially exposed Manfre to three penalties and several thousand dollars in fines.
The advocate and Manfre's attorney, Tallahassee-based Linda Barnett, then negotiated a settlement, much as a prosecutor and a defense attorney negotiate a plea agreement. Manfre agreed to admit to one of the three remaining counts—taking a trip to Tennessee with a sheriff's vehicle. The other two counts would be dropped, leaving the sheriff facing a $1,500 fine, but also an admission of an ethics violation. It was that so-called "stipulation agreement" that was before the ethics commission when it met last Friday.
---
Audio: Full Hearing of Ethics Commission on Manfre Charges (62 mn)[media id=382 width=300 height=200]
The commission could either accept or reject that agreement. It could not amend it, accept it in part or reject it in part, as one of the commissioners sought to do. So it rejected it.
Along the way, commissioners' discussion made clear that the rejection was not because there was too much doubt about the veracity behind the charges, but because there was too much discomfort, among commissioners, in setting aside two of the three charges—if those charges were found to be true. In other words, the commission is taking a tougher stance against Manfre, appearing less disposed to settle out the charges.
Playing into the commission's discussion was a last-minute, four-page, single-spaced letter by Bolante, which was handed out to the commissioners just as they were beginning the discussion. Manfre's attorney had not had a chance to respond to it. But Bolante's letter was a response to Barnett, Manfre's attorney, who had painted a portrait of Bolante as a disgruntled ex-employee who had failed the sheriff by not keeping him on the right side of his department's ethics rules. Barnett repeatedly said that whatever mistakes were made, Manfre had shown no "corrupt intent."
Bolante emphatically rejected Barnett's interpretation, calling it defamatory, and disagreed with the settlement. She said Barnett's claim that there was no corrupt intent "is incredible given that, as I reported and the investigation is aware," Bolante wrote, "Mr. Manfre engaged in the same type of conduct during his initial term as Flagler County Sheriff and was specifically advised of the wrongfulness of the conduct. I was the Finance Director then as well and specifically brought the issues to his attention then so he would act compliant with the law. Hence, I found it obviously purposeful and unethical for him to engage in the same behavior (unlawful expenses and unlawful uses of public property), when he became sheriff again. If one has already been advised of wrongful conduct and engaged in it again, and notwithstanding this prior knowledge, they do so willfully. When such an actor is a sheriff, that is corrupt."
"I think that letter unfairly played into the discussion because there are a lot of misstatements in that letter, which we're going to address," Nowell said.
Much of the discussion of the ethics commission centered on the unusual nature of the settlement: throwing out some charges and accepting others is not something the commission does routinely. The advocate could recall one such instance in the past, though it predated almost all current commission members' tenure. That gave commissioners pause.
"I don't understand the basis for dropping counts three and count four," Linda Robinson, who chairs the commission said.
"I just thought at this point it would be best for a cost-analysis in order to go with this stipulation," Melody Hadley, the commission's advocate, said.
That didn't sit well with Commissioner Susan Maurer of Fort Lauderdale. "I just think it's inappropriate for this body and have consistently tried to avoid what charges we move forward on and not move forward on and how we rule and what we take to DOAH based upon a cost-benefit," Maurer said, using the acronym for the Division of Administrative Hearings. "Your terminology of the cost-benefit of the risk of being able to prove it completely at DOAH is not a standard that's critical to me. I think we're charged with certain duties and responsibilities by the Legislature, and that's how I try to vote on these things. I'm not persuaded by that. I just don't think that's our job. If it appears more than likely that there was inappropriate conduct, then we should move forward on that and take the risk on whether it's proven at DOAH or not."
Commissioner Tom Freeman, a retired judge from DeBary and one of two votes dissenting from the rest of the commission, referred to his experience as judge as he spoke of the commonality of settlements. "In the criminal justice system," he said, "the discharge of one or several criminal counts happens 99.9 percent of the time. There'll be seven or eight charges against the defendant, what happens is he'll plead to two out of the seven and those are accepted by every circuit judge and every county judge in Florida and the matter is resolved and they go forward. The criminal justice system would completely collapse if you had to adjudicate every single charge brought by every single prosecutor."
Discussion then turned on particulars of the investigation's findings and the timing of when the sheriff was told of having committed a potential violation, and what he affirmatively did about it. But even those particulars did not sway some commissioners. Commissioner Matthew Carlucci, a Jacksonville insurance agent, was concerned about the repeat nature of the violations, which would diminish claims on the sheriff's part that he was not aware of breaking policy. (Manfre signed a general order on credit card use in January 2014.)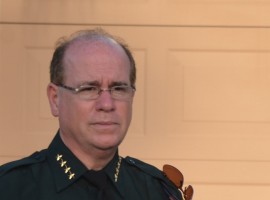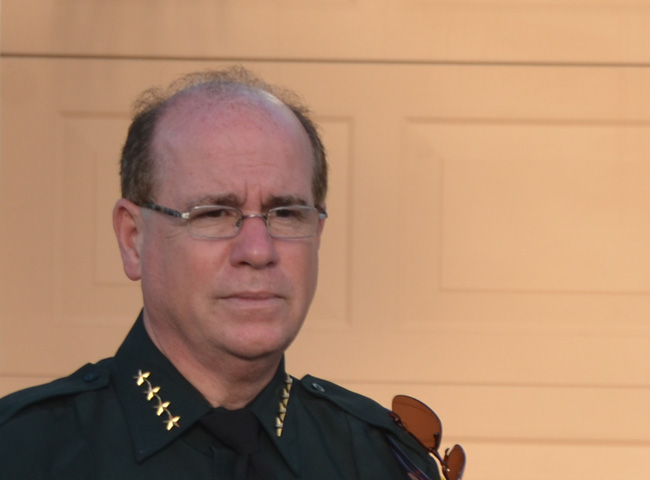 "I have some real credibility questions in my mind," Mauer said, "related to whether policy existed or not, whether rational folks, publicly elected to positions, a sheriff, would not be aware that they cannot freely spend on the credit card and hope that their budget officer notifies them when they're over their per diem. I don't know anybody who serves in government today who doesn't understand that you need to turn in receipts, you need to mark the itemized receipts, who you were with, what you spent it on. I mean, that occurs in government, that occurs in private practice, and it just seems to me that there was free-wheeling expenditures going on here."
"I think most people that reach the level of becoming sheriff have common sense on what's the appropriate use of a credit card or not, whether there's any written guideline or not," Carlucci said.
Barnett addressed those points directly: "If there was anything wrong with his behavior, and he believes that it could have been done better, he changed his behavior, and not only that, changed the policy in January of 2014. So again if there is brought to his attention a mistake was made, he changed the policy because it was unclear to him, and with regard to the comment about common sense, perhaps common sense should have been exercised at that point. But the lack of common sense doesn't equate to corrupt intent under the policy. If throughout the reading or throughout the report of the investigation he believed that he was following what the complainant had advised him of the policy, so again, the biggest issue that came forward through this report or through the advocate's recommendation is that there does not appear to be evidence in the investigation of a corrupt intent, and that's the standard that applies in this instance."
But repeatedly, various commissioners referred to the importance of the case because of the importance of the position. The commission's most frequent cases deal with lesser elected officials, such as city or county commissioners or school board members.
---
Commissioners question the sheriff's credibility on matters of common sense and common practices.
---
"Ultimately in my mind," Commissioner Martin Ford of Vero Beach, said, "we need to do some more investigation into those two counts, because we're not talking here about the undersheriff or a captain or lieutenant, we're talking about the sheriff, and I think that the sheriff has a higher obligation to adhere to, and the fact that there is an undated order in the record concerns me. So I don't think we've completely fulfilled our obligation to investigate the matter completely."
Freeman ridiculed the notion of a sheriff having to be held to a higher standard than any other public official. "It's the same standard: did they violate the ethics code?"
Commissioner Michelle Anchors, a Ft. Walton Beach attorney, joined Freeman in dissent.
None of the investigative matters from this point forward are covered by confidentiality, as was the case in matters leading up to the hearing. The reason: by agreeing to the stipulated agreement—even though the agreement was thrown out—Manfre waived all confidentiality.
"Confidentiality has been waived, so there is no confidentiality from this point forward," Virlindia Doss, the commission's executive director, said emphatically.
"But that has been rejected, that has not been accepted by the commission," Barnett said.
"Once confidentiality is waived, it's waived," Doss said.
Doss then explained what happens next: "The commission itself doesn't direct the investigation. What will happen is we will go back as staff and look at all the questions the commission members have, and the investigators will go back out and try to resolve all of those questions. And any ancillary questions that they see come up, so that the commission will have as full a body of knowledge to draw from as possible. But that's something that the investigators and the staff attorneys will have to work out in the course of this. But we do look, and we go back to the tape so that we can try and make sure that we have—I always push the wrong button—so we have everything covered that we possibly can. And of course in the course of all of this you and the sheriff are able to submit whatever documentation and information you would like to submit."
Nowell, Manfre's local attorney, said that at this point, with all charges again in play, Manfre has not taken a position as to his responsibility or guilt regarding each. "I think he's going to wait for what they come back with to determine whether or not he agrees or disagrees with," Nowell said.
"The respondent may not want to arrive at those same terms in a subsequent stipulation," Doss also noted.