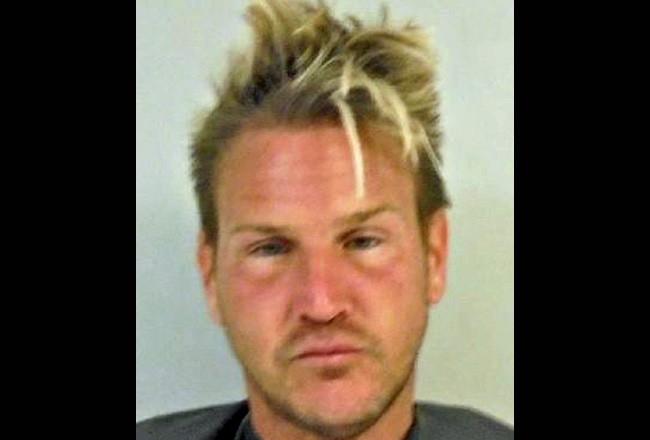 The 69-year-old Palm Coast resident and client of Charles W. Hines, 42, told police Wednesday that he'd requested Hines's presence at his Woodlawn Drive house for an hour of sex in exchange for $200. But once there, Hines, his alleged victim claimed, stayed for four hours instead, against the client's will, and became belligerent and violent.
The client claimed he told Hines to leave several times, but Hines refused, that Hines had allegedly choked him, and thrown his phone across the room when he first tried to call for help. By the time the victim called 911, he was telling the dispatcher that the suspect was "very strong," "psychotic," was holding him down on his bed against his will and that he–Hines–was trying to kill him.
Deputy George Hristakopoulos responded to the Woodlawn Drive house to find the victim outside and a black VW registered to a woman in Fernandina Beach parked outside. Hines, 42, is a resident of Grand Park Boulevard in Fernandina Beach, a coastal town 100 miles north, just south of the Florida-Georgia border. Joined by another deputy, Hristakopoulos got the client's consent to enter his house and remove Hines.
Hines was in the master bedroom, naked, drunk, and refusing to obey Hristakopoulos's multiple requests that he put on some clothes and speak to him about the incident. Hristakopoulos notes in the arrest report that he asked Hines four times to get dressed and calm down, only for Hines to to yell and throw things around the room.
So Hristakopoulos took out his Taser, raised his voice and pointed the Taser at Hines's naked chest, ordering him to put his hands behind his back and walk out of the bedroom. Again Hines refused according to the arrest report.
"I physically pushed him out of the bedroom," Hristakopoulos reports, "where Deputy Crosbee successfully placed him into handcuffs," and proceeded to physically push him out of the house and to the front yard, as Hines kept refusing to leave on his own. Hristakopoulos explained why he did not fire the Taser: "Due to the fact that Mr. Hines did not make any overt attacking motions towards us, the fact that we outnumbered him, and the fact that we were certain he did not have weapons on his person, I opted against using any force at this time."
But Hines, once outside the house and as soon as he laid eyes on his client, "began screaming, cursing and pulling away from law enforcement once again," Hristakopoulos wrote. He did so for so long that neighbors gathered at the intersection of Woodhaven and Woodlawn, and at least one more call to 911 was placed because of the commotion.
It took several minutes to get Hines from the front lawn into Hristakopoulos's patrol car, during which time Hines allegedly continued to curse and at one point yelled, "I'll kill everyone in jail."
"At no point was any force beyond what was absolutely necessary to place Mr. Hines under arrest used against him," Hristakopoulos reports. "No intermediate weapons, 'take down' maneuvers, or pain compliance was used against Mr. Hines at any time." Pain compliance is a police euphemism for force, namely the use of force on a person's joints or pressure points to cause pain enough to cause the individual to comply. The Taser "was pointed at Mr. Hines several times in order to gain compliance, but was never 'sparked' in any way," Hristakopoulos reported.
Another deputy documented with photographs the redness around the client's throat, and got a statement from him that he had been allegedly sexually battered by Hines.
Hines was charged with battery on a person 65 or older, a felony, resisting arrest, tampering with a witness and disorderly conduct, the latter three misdemeanors. He posted $6,500 bond and was released.
Though prostitution is theoretically illegal, neither the client nor Hines were charged with prostitution-related crimes.