Weekend: Breezy, cool, high in the upper 60s, lows in the upper 40s. Enjoy the last blast of winter. Details here.
Drought Index is at 357.
Today's tides: at the beaches, at the Intracoastal Waterway.
Today's document from the National Archives.
The OED's Word of the Day: bookish, adj. and adv..
The Live Community Calendar
Today's jail bookings.
Today's Briefing: Quick Links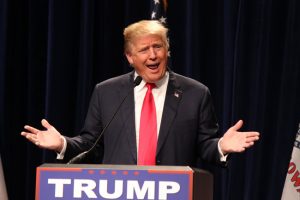 "His fact-challenged remarks come from a wide spread of sources – New York friends he talks to late at night on the phone, people he meets at parties and events, television segments he consumes every night, blogs that are printed out and given to him, videos he is shown on his computer, and aides and advisers, who compete for his ear. He is not interested in lengthy briefings or long meetings where issue experts pass along information about the world's problems. He likes to ask questions and soaks it in. "If you're talking to him the most, you can control the information," one longtime adviser said. "He is a sponge," another longtime friend said. This person said Trump will take information of dubious value and believe it is true "if it conforms with what he already believes." This person said Trump is less likely to believe information if it contrasts with what he thinks, and that some aides feed into his worst impulses by giving him questionable information that meshes with his worldview. He has repeated cable news chyrons word-for-word on Twitter, and repeated dubious broadcast reports, as he did with the claims of the terrorist attack in Sweden. "That the president regularly sits in the White House and watches television and sees a story that intrigues him and decides to make that executive branch policy is a frightening prospect," Jeffries said."
.
–Josh Dawsy of Politico, from a Feb. 25 article.

Note: all government meetings noticed below are free and open to the public unless otherwise indicated. Many can be heard or seen live through each agency's website.
The Sheriff's daily incident reports and jail bookings are posted here.
Keep in mind: March is Women's History Month.
Take the Palm Coast Citizen's Survey : City government wants to know how the city is doing, providing services, not providing them, addressing economic development or not, and so on. Fill out the 15-minute survey here.
Take the Flagler County School Superintendent Survey: The school district is inviting residents, including students and faculty, to fill out this survey, letting school board members know what kind of superintendent you want to replace Jacob Oliva, who is leaving in June. This survey will be live until early March. It takes about 10 minutes. It's anonymous. Fill it out here.
Free For All Friday: Host Brian McMillan, editor of the Palm Coast Observer, sits in for David Ayres and welcomes Palm Coast City Council member Nick Klufas and Flagler Humane Society Executive Director Amy Wade-Carotenuto, starting with a commentary by FlaglerLive Editor Pierre Tristam on Palm Coast City Manager Jim Landon's mishandling of a proposed radio show featuring Mayor Milissa Holland.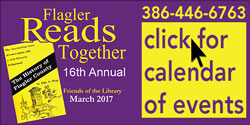 Friday: It's the kick-off of the annual Flagler Reads Together, the Friends of the Library's annual communal reading event that focuses on a single book and encourages everyone in the county to read it. This time it's as local as it gets: the book is the late Jack Clegg's "The History of Flagler County," in conjunction with Flagler County's centennial celebrations. The month-long Flagler Reads Together kicks off today at 2 p.m. at the Flagler County Public Library's main meeting room with a presentation by the Flagler County Historical Society's Sisco Deen. It's free.
Friday: Fourth annual Flagler County Job Fair, from 11 a.m. to 3 p.m. at the Palm Coast Campus of Daytona State College, 3000 Palm Coast Pkwy SE, Building 3. There are more than 40 businesses registered, with more signing up daily, offering over 360 jobs. Last year over 400 job seekers attended the event, which was hosted by the Flagler County Department of Economic Opportunity, CareerSourceFV, Daytona State College and the Flagler County Chamber of Commerce. A full listing of companies is available at www.flaglercountyjobfair.com or by accessing the mobile app by searching the app store for Flagler Volusia Job Fair Plus.
Friday: Ribbon-cutting to mark the deck expansion of Captain's BBQ at Bings Landing in the Hammock, 5862 N. Oceanshore Blvd., at 4 p.m.
Friday: Flagler Beach's 10th Annual Pinewood Derby Race, as part of Flagler Beach's First Friday. Awards will be presented for the fastest and most creative designed cars in the adult and children's categories. Get your kit and then… Design it, build it, race it. Rules are here, and your registration form is here.
Friday: The Hit Men return once again to the Flagler Auditorium, 7:30 p.m.
Saturday: Flagler Audubon Society Bird Walk, 8 a.m., at Long Creek Preserve, Palm Coast. Long Creek Nature Preserve is the newest jewel in the City of Palm Coast's park system. This nine-acre preserve and nature walk provides great habitat for wading birds, hunting grounds for raptors, rest areas for migrating waterfowl, and plenty of trees for migrating songbirds.
​
Saturday: Second Annual Walk for Food at 10 a.m. at Flagler Palm Coast High School.
Saturday: 13th Annual Stamp and Coin Show and Chinese Auction, 10 a.m. to 3 p.m., Elk's Lodge #2709 53 N. Old Kings Road, Palm Coast. Flagler County Stamp and Coin Club, Inc. will hold its 13th Annual Stamp and Coin show This show is open to the general public and everyone interested in stamps and coins. There will be dealers to give free evaluations of your stamp collections and silver and gold coins. Come early and bring your friends. Door prizes every 30 minutes, beginning at 10:30 a.,m. and ending at 2:30 p.m. All proceeds from the Chinese Auction support the FCS&CC youth programs. Hugh variety of items to submit bids. The club is a 501(c)(3) non profit and is the only non profit stamp and coin club in Flagler County. Free parking and admission. Visit the web site for more information and contact.
Saturday: First of two kayaking trips organized by Flagler County's Centennial Committee, this one, the Haw Creek paddle, is scheduled for launch at 9 a.m. from Russell Landing County Park. Registrations are needed in advance and registrations for the trip close on February 20th. The registration is $15 and each person registering will get a competition style tee shirt commemorating the County's Centennial. When kayakers arrive at Bull Creek Park a special lunch will be offered for participants who opt for the $11 lunch. Registration for both trips, instructions and detailed directions can be found on the www.flaglercounty.org website or on facebook at www.facebook.com/FlaglerCountyCentennial. Interested kayakers can contact the committee at [email protected]. The second trip is planned for a 9 a.m. launch Saturday April 22 from Longs Landing City Park.
Saturday: 6 p.m., First Amendment Vigil, at International Speedway Boulevard and Beach Street in Daytona Beach, Concerned citizens will dress all in black and carry candles. Masking tape will cover participants' mouths to symbolize the consequences of inhibited speech. All supplies will be provided – candles, masking tape, signs, etc. Details here.
Sunday: Staying Alive and Always Abba, at the Flagler Auditorium, 7:30 p.m.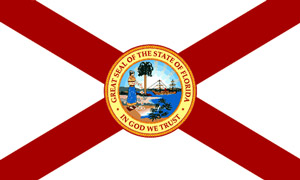 Mostly useless information: Friday (March 3) is Florida Admission Day, the day the weirdest hanging chad in the Union was admitted to the Union, becoming the 27th state in 1845, coincidentally the same day (but in 1931) when the Senate passed a one-sentence bill making "The Star Spangled Banner" the National Anthem. The House had passed the same bill a year earlier. It's not clear what took the Senate so long to take it up. The bill was sent to President Hoover who, in this case, managed not to ruin it. On the same day in 1935, Paris adopted a plan to synchronize its traffic lights, following a model set by New York City. "Because of the complicated way in which Paris streets wind about and cross each other at every angle," a front-page story in The New York Times reported, "it has been impossible to apply synchronization as used in a geometrical city like New York, but the scheme the French police will try out will open three or four blocks to continuous traffic on the principal thoroughfares." Why Palm Coast hasn't adopted the same approach, in 2017, is beyond us. Today in 1923 is also the very first time Time magazine was published. "The cover subject was the now-obscure Joseph G. Cannon (the former House Speaker)," Time's current website notes. "The whole thing was only 32 pages, including the front and back covers. There are only a few photographs or illustrations, and nary a chart or graphic in sight." The magazine The magazine "contains word of the first helicopter, a possible change in divorce laws, the release of the film 'Adam's Rib,' a new one-cent cigarette tax in Indiana and the latest figures in German reparation payments—not to mention a critical trashing of 'The Waste Land,' the poem by T.S. Eliot. Time claims you can click a link to read the whole issue. Not true: the magazine wants you to subscribe first. "What are the roots that clutch, what branches grow / Out of this stony rubbish? Son of man,/ You cannot say, or guess, for you know only / A heap of broken images…"

In Florida and in State Government:
Note: Some proceedings below can be followed live on the Florida Channel. Most legislative proceedings can be followed through the Senate or House websites.

The Revenue Estimating Conference will hold what is known as an "impact" conference. (Friday, 9 a.m., 117 Knott Building, the Capitol.)
The University of Central Florida Board of Trustees is scheduled to hold a retreat. (Friday, 9 a.m., University of Central Florida, Fairwinds Alumni Center, Orlando.)
•
–Compiled by the News Service of Florida and FlaglerLive

In Coming Days in Palm Coast, Flagler and the Occasional Beyond:
♦ March 5-10: It is National Procrastination Week.
♦ March 6: Teddy Bear Picnic – Monday, Feb. 6, 10-10:30 a.m. at Palm Coast Linear Park, 31 Greenway Court. Children ages 2-5 will bring their favorite teddy bear for story time, game playing or craft and a snack. This month's theme: St. Patrick's Day Gold Hunt and Leprechaun Fun. This monthly program offers a unique experience for toddlers and their parent. Free, but must pre-register by 10 a.m. March 4: www.palmcoastgov.com/register. More info: 386-986-2323.
♦ March 6, 13, 20: Women's Self Defense – Three-week class on consecutive Mondays, March 6, 13 and 20, 6-8 p.m. The March 6 class will be at Palm Coast City Hall, 160 Lake Ave., and the other two classes will be at Frieda Zamba Pool classroom, 339 Parkview Drive, Palm Coast. Women, ages 12+, learn effective methods to ward off attackers from Sgt. Michael Lutz of the Flagler County Sheriff's Office. Become more aware of your surroundings and the methods to protect yourself. Classes are free, but pre-registration is required by 6 p.m. March 4 (while space available) at www.palmcoastgov.com/register. More info: 386-986-2323.
♦ March 7: Bunnell and Flagler Beach hold their municipal elections.
♦ March 10: Flagler Reads Together event (the Friends of the Library's annual communal reading event that focuses on a single book and encourages everyone in the county to read it: the late Jack Clegg's "The History of Flagler County," in conjunction with Flagler County's centennial celebrations). The March 10 event, at 2 p.m. in the Doug Cisney Room at the Flagler County Public Library on Palm Coast Parkway, is a presentation by Bob Stone addressing the Cattle industry in Florida. Folklorist and media producer Bob Stone's multi-media presentation explores and celebrates the history and culture of the nation's oldest cattle ranching state from the colonial period to the 21st century. You will see and hear all aspects of Florida cattle ranching traditions including material culture such as Cracker cow-whips and unique ranch gate designs, swamp cabbage and other foodways, cowboy church and Cracker cowboy funerals, Seminole ranching past and present, occupational skills such as roping and branding, our vibrant rodeo culture, side-splitting cowboy poetry, feisty cow-dogs, and much more.
♦ March 10: Movies in the Park – Friday, March 10, 7:45 p.m. in Central Park at Town Center, 975 Central Ave., Palm Coast. Families will enjoy a family friendly movie on the park's giant outdoor movie screen. This month's feature: The Jungle Book. Bring your blanket, lawn chairs and snacks and invite your friends and neighbors to join you at this free, monthly family activity offered by Palm Coast Parks & Recreation and Flagler Schools. More info: 386-986-2323 and www.palmcoastgov.com/movies.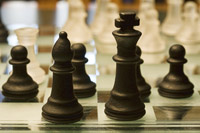 ♦ March 10-12: 2017 Florida State Scholastic Chess Championship, at the Wyndham Hotel on International Drive in Orlando. This is also the qualifier for the Denker, Barber and National Girls Tournament Champions. This year each of these 3 events are awarding a $5,000 scholarship good for any university or college in the Country to the top finisher in each event. The top finishers will also get qualifying spots in the World Youth Tournament. Online entry and more information are available at www.floridachess.org.
♦ March 11: First Aid and CPR/AED – 9 a.m.-4 p.m. at Frieda Zamba Swimming Pool classroom 339 Parkview Ave., Palm Coast. This class is a 7-hour course (one hour for lunch) designed to meet OSHA regulations and teach administering CPR to children and adults, using an Automated External Defibrillator (AED), using a mask or barrier device, assisting with bleeding, broken bones. $5/person with pre-registration required by 9 a.m. March 9. Sign up at www.palmcoastgov.com/cpr. More info: [email protected] or 386-986-2300.
♦ March 11: The Women's Missionary Society of First Church of Palm Coast, pastored by the Rev. Gillard S. Glover, has scheduled the food giveaway from 1 to 3 p.m. at the church, 91 Old Kings Road North, Palm Coast. For further details, call the church at 386-446-5759.
♦ March 17: Lunch N' Lecture Series 11 a.m.-12:30 p.m. at Palm Coast City Hall, 160 Lake Ave. This month's topic: "Can I recycle this?" The lecture and lunch are free, but pre-registration is required (while space available) by 11 a.m. March 15: www.palmcoastgov.com/register. More info: 386-986-2323.
♦ March 18: NCCAA Youth Sports Clinic, 9 a.m. check-in, with clinic from 9:30-11:30 a.m. at Indian Trails Sports Complex, 5445 Belle Terre Pkwy. and Palm Harbor Golf Club, 100 Cooper Lane. 6-16 year olds will enjoy free soccer, baseball, volleyball, basketball and golf instruction offered by professional coaches and collegiate athletes representing the National Christian College Athletic Association. Register online at www.palmcoastgov.com/register . More info: 386-986-2323.
♦ March 21: Food Truck Tuesday, 5-8 p.m. at Central Park in Town Center, 975 Central Ave, Palm Coast. Purchase and enjoy delicious cuisine available from food trucks situated along Park Street next to Central Park. Free entertainment is also provided. Proceeds this month will benefit the Parks & Recreation summer camp scholarship fund. More info: www.palmcoast.gov.com/foodtruck or call 386-986-2323.
♦ March 22: The boy Scouts Council holds its Golden Eagle Dinner at 6 p.m. at Hammock Beach Resort, honoring Bob Cuff, now a Palm coast City council member.
♦ March 28: The Flagler Forum, the discussion group organized by Ed Fuller, hosts a panel discussion featuring Flagler County's local media, including Palm Coast Observer Editor Brian McMillan and FlaglerLive Editor Pierre Tristam, at the Hilton Garden Inn, Palm Coast, at 6:30 p.m.

David Remnick, Claudia Rankine, Salman Rushdie, and Tony Kushner talk about bigotry among Trump voters: https://t.co/K4qLJiw8GO pic.twitter.com/dXLs2Y50h1

— The New Yorker (@NewYorker) March 2, 2017
Meanwhile today, you may have missed Egypt's Mubarak going free of all charges in Arab Spring killings. My latest: https://t.co/oDaoiciZrc

— Robbie Gramer (@RobbieGramer) March 2, 2017
The real causes of the worst drug crisis in US history https://t.co/7tqAfvMO04

— Vox (@voxdotcom) March 2, 2017
Americans' Challenges with Health Care Costs (@KaiserFamFound) details: https://t.co/Wcdz1SAJeo pic.twitter.com/Ixii4BE7NY

— OpinionToday.com (@OpinionToday) March 2, 2017
This scathing indictment of Israeli society by a local TV host has gone viral >> https://t.co/EEy71spiLu pic.twitter.com/NCyDBAqGoT

— Haaretz.com (@haaretzcom) March 1, 2017
Cornel West on Why James Baldwin Matters More Than Ever | @lithub https://t.co/UEtHh6VP2Q

— Publishers Weekly (@PublishersWkly) March 2, 2017
Can reading make you happier? https://t.co/g7TSpXt3RV #WorldBookDay pic.twitter.com/9QGczf1C6d

— The New Yorker (@NewYorker) March 2, 2017


Palm Coast Construction and Development Progress Reports
The following is an update of ongoing permitting, construction and development projects in Palm Coast, through Feb. 24 (the city administration's full week in review is here):
Click to access development-february-22-2017.pdf

Road and Interstate Construction:

C. A. de Beriot, scene de Ballet, Daniel Shindarov, violin, Sergey Silvanskiy, piano
Previous Codas: