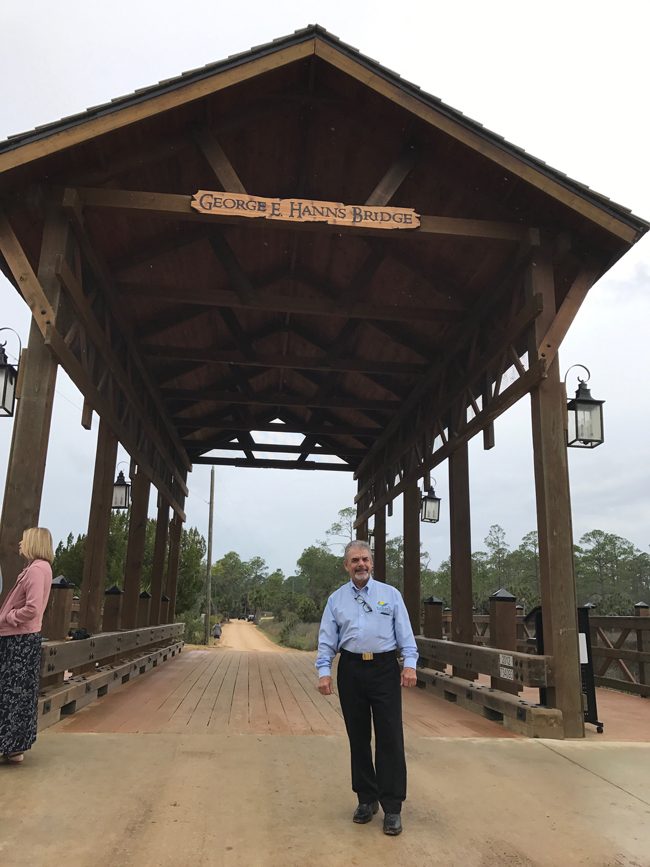 Today: Breezy. Mostly cloudy. Showers likely and slight chance of thunderstorms in the morning, then chance of showers and slight chance of thunderstorms in the afternoon. Highs in the mid 70s. Northeast winds 15 to 20 mph with gusts to 35 mph. Chance of rain 70 percent. Tonight: Partly cloudy. A 20 percent chance of showers in the evening. Lows in the lower 60s. Northeast winds 10 to 15 mph.
Details here.
Drought Index is at 398.
Today's tides: at the beaches, at the Intracoastal Waterway.
Today's document from the National Archives.
The OED's Word of the Day: Ragnarök, n..
The Live Community Calendar
Today's jail bookings.
Today's Briefing: Quick Links

"It was 4:20 a.m. on the day of our Lord, December 21, 1919. I felt dizzy, visioning a transport of politicals doomed to Siberia… Russia of the past rose before me… But no, it was New York, it was America, the land of liberty! Through the port-hole I could see the great city receding into the distance, its skyline of buildings treaceable by their rearing heads. It was my beloved city, the metropolis of the New World. It was America, indeed America repeating the terrible scenes of tsarist Russia! I glanced up–the Statue of Liberty!"

–Emma Goldman, from Living My Life (Penguin Classics)

Note: all government meetings noticed below are free and open to the public unless otherwise indicated. Many can be heard or seen live through each agency's website.
The Sheriff's daily incident reports and jail bookings are posted here.

Take the Flagler County School Superintendent Survey: The school district is inviting residents, including students and faculty, to fill out this survey, letting school board members know what kind of superintendent you want to replace Jacob Oliva, who is leaving in June. This survey will be live until early March. It takes about 10 minutes. It's anonymous. Fill it out here.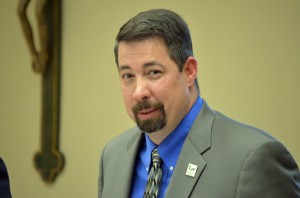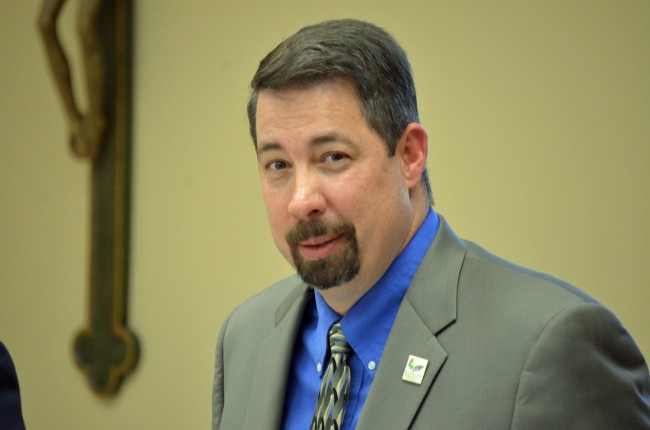 County Administrator Craig Coffey is the speaker at the Flagler Chamber's Common Ground Breakfast Series at the Hilton Garden Inn, in Palm Coast. Registration begins at 7:45 a.m., breakfast is at 8 a.m. $20 for members in advance. Email [email protected] or go here for more information. Details here and here.
1st Annual African American Read-In at Belle Terre Elementary School, taking place in all classrooms to mark Black History Month, 9:30 a.m.
The Flagler Beach City Commission meets at 5:30 p.m at City Hall.Commissioners will hear a proposal to increase the municipal business tax rates by 5 percent. A proposal at the Legislature, filed by Rep. Paul Renner, who represents Flagler County, would cap such increases. City Manager Larry Newsom is also expected to update the commission on Hurricane Matthew recovery efforts.
Town Hall Meeting with Flagler County Commissioner McLaughlin, at Hidden Trails Community Center, 6108 Mahogany Blvd., Bunnell, 5:30 p.m.
Wadsworth Elementary School Talent Show, 6 p.m. at the school cafeteria.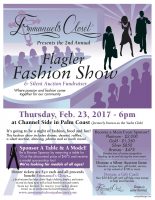 Emmanuel's Closet's 2nd Annual Fashion Show and fund-raiser. All proceeds benefit Emmanuel's Closet, a local mission that helps clothe children, single parents, families, seniors and homeless men and women in Flagler County. The fundraising event includes dinner, dessert, raffles, a silent auction, a fashion show, dancing, photography and more. From 6 to 9 p.m. at Channel Side, at 1 Yacht Club Dr. in Palm Coast (the old Yacht Club). Details here.
Mostly useless information: Feb. 23, 1455 is the date ascribed the first printing of the Gutenberg Bible, the first book using movable, metal type, marking the beginning of the Northern Renaissance and fueling the Reformation. Many Germans reacted with the usual preference to wait for the movie. The Battle of the Alamo began on this day in 1836. In 1898, Emil Zola, the French novelist and essayist, by then at the height of his fame but long past his publication of the 20-novel cycle of the Rougon-Macquart, is imprisoned for his publication of "J'accuse," a newspaper column in which he accuses the French government of wrongfully imprisoning Capt. Alfred Dreyfus, who'd been falsely accused of spying for the Germans. The Dreyfus Affair unmasked a deep strain of anti-Semitism in French society and government, dividing the country in Dreyfusards and anti-Dreyfusards. By the time of Zola's intervention the case against Dreyfus was already unraveling, but Zola ensured that justice, at least in his case, would prevail. French anti-Semitism did not abate but was rather a hint of the genocide to come. In 1998 on this day, a string of tornadoes struck Central Florida, killingh 42 people.

In Florida and in State Government:
Note: Some proceedings below can be followed live on the Florida Channel. Most legislative proceedings can be followed through the Senate or House websites.

Teen suicide: The House Children, Families & Seniors Subcommittee will receive a briefing on the investigation into the death of foster child Naika Venant, who hanged herself and broadcast it on social media. (9:30 a.m., 12 House Office Building, the Capitol.)
Constitutional changes: The House Oversight, Transparency & Administration Subcommittee will take up a proposal (HJR 321), filed by Rep. Rick Roth, R-Loxahatchee, that would make it harder for voters to change the Florida Constitution. It would require ballot measures to receive the support of two-thirds of voters before going into the Constitution. That would be tougher than the current requirement of 60 percent support. (9:30 a.m., Morris Hall, House Office Building, the Capitol.)
Campus speech: The House Post-Secondary Education Subcommittee will receive a presentation about free speech on college campuses. (10 a.m., Mashburn Hall, House Office Building, the Capitol.)
Collective bargaining: The Joint Select Committee on Collective Bargaining will hold a hearing about issues at impasse. (4 p.m., 17 House Office
The Florida Supreme Court releases its weekly opinions at 11 a.m.
–Compiled by the News Service of Florida and FlaglerLive

In Coming Days in Palm Coast, Flagler and the Occasional Beyond:
♦ Feb. 25: Third Annual Flagler Schools Flagship Showcase, when you can visit Flagship Program (or school-to-work program) at Wadsworth Elementary and Buddy Taylor Middle School, including early registration for kingerdarten. At the two schools' cafeteria, from 10 a.m. to 1 p.m.
♦ Feb. 27: Flagler County Stamp and Coin Club holds its monthly meeting at the VFW Post 8696 47 N. Old Kings Road. Doors open at 4:30 p.m., the meeting starts at 6. The 90 minutes before the meeting is for anyone wishing to buy, sell or trade stamps and coins. The club's meeting is from 6 to 7:30 p.m. There is a live auction of coins and stamps at the end of the meeting. The club is open for members and the general public who are interested in stamp and coin collecting and investing. Free stamp and coin evaluations at all our meetings. For more information visit the web site here.


♦ Feb. 28: Join the Flagler County Education Foundation's 14th annual Mardi Gras gala at Halifax Plantation, 3400 Clubhouse Drive, Ormond Beach, at 6 p.m. This is one of the foundation's annual fundraisers. Tickets are $100 per person. Click here to register or call today at 386/437.7526 for event details. Get a chance to talk to Joe Rizzo, the new executive director, and learn more about Flagler county schools.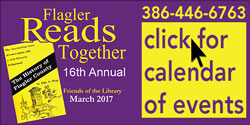 ♦ March 3: It's the kick-off of the annual Flagler Reads Together, the Friends of the Library's annual communal reading event that focuses on a single book and encourages everyone in the county to read it. This time it's as local as it gets: the book is the late Jack Clegg's "The History of Flagler County," in conjunction with Flagler County's centennial celebrations. The month-long Flagler Reads Together kicks off on March 3 at 2 p.m. at the Flagler County Public Library's main meeting room with a presentation by the Flagler County Historical Society's Sisco Deen. It's free.
♦ March 3: Fourth annual Flagler County Job Fair, from 11 a.m. to 3 p.m. at the Palm Coast Campus of Daytona State College, 3000 Palm Coast Pkwy SE, Building 3. There are more than 40 businesses registered, with more signing up daily, offering over 360 jobs. Last year over 400 job seekers attended the event, which was hosted by the Flagler County Department of Economic Opportunity, CareerSourceFV, Daytona State College and the Flagler County Chamber of Commerce. A full listing of companies is available at www.flaglercountyjobfair.com or by accessing the mobile app by searching the app store for Flagler Volusia Job Fair Plus.
♦ March 3: Flagler Beach's 10th Annual Pinewood Derby Race, as part of Flagler Beach's First Friday. Awards will be presented for the fastest and most creative designed cars in the adult and children's categories. Get your kit and then… Design it, build it, race it. Rules are here, and your registration form is here.
♦ March 4: 13th Annual Stamp and Coin Show and Chinese Auction, 10 a.m. to 3 p.m., Elk's Lodge #2709 53 N. Old Kings Road, Palm Coast. Flagler County Stamp and Coin Club, Inc. will hold its 13th Annual Stamp and Coin show This show is open to the general public and everyone interested in stamps and coins. There will be dealers to give free evaluations of your stamp collections and silver and gold coins. Come early and bring your friends. Door prizes every 30 minutes, beginning at 10:30 a.,m. and ending at 2:30 p.m. All proceeds from the Chinese Auction support the FCS&CC youth programs. Hugh variety of items to submit bids. The club is a 501(c)(3) non profit and is the only non profit stamp and coin club in Flagler County. Free parking and admission. Visit the web site for more information and contact.
♦ March 4: First of two kayaking trips organized by Flagler County's Centennial Committee, this one, the Haw Creek paddle, is scheduled for launch at 9 a.m. from Russell Landing County Park. Registrations are needed in advance and registrations for the trip close on February 20th. The registration is $15 and each person registering will get a competition style tee shirt commemorating the County's Centennial. When kayakers arrive at Bull Creek Park a special lunch will be offered for participants who opt for the $11 lunch. Registration for both trips, instructions and detailed directions can be found on the www.flaglercounty.org website or on facebook at www.facebook.com/FlaglerCountyCentennial. Interested kayakers can contact the committee at [email protected]. The second trip is planned for a 9 a.m. launch Saturday April 22 from Longs Landing City Park.
♦ March 7: Bunnell and Flagler Beach hold their municipal elections.
♦ March 10: Flagler Reads Together event (the Friends of the Library's annual communal reading event that focuses on a single book and encourages everyone in the county to read it: the late Jack Clegg's "The History of Flagler County," in conjunction with Flagler County's centennial celebrations). The March 10 event, at 2 p.m. in the Doug Cisney Room at the Flagler County Public Library on Palm Coast Parkway, is a presentation by Bob Stone addressing the Cattle industry in Florida. Folklorist and media producer Bob Stone's multi-media presentation explores and celebrates the history and culture of the nation's oldest cattle ranching state from the colonial period to the 21st century. You will see and hear all aspects of Florida cattle ranching traditions including material culture such as Cracker cow-whips and unique ranch gate designs, swamp cabbage and other foodways, cowboy church and Cracker cowboy funerals, Seminole ranching past and present, occupational skills such as roping and branding, our vibrant rodeo culture, side-splitting cowboy poetry, feisty cow-dogs, and much more.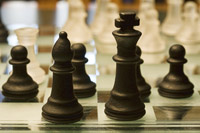 ♦ March 10-12: 2017 Florida State Scholastic Chess Championship, at the Wyndham Hotel on International Drive in Orlando. This is also the qualifier for the Denker, Barber and National Girls Tournament Champions. This year each of these 3 events are awarding a $5,000 scholarship good for any university or college in the Country to the top finisher in each event. The top finishers will also get qualifying spots in the World Youth Tournament. Online entry and more information are available at www.floridachess.org.
♦ March 22: The boy Scouts Council holds its Golden Eagle Dinner at 6 p.m. at Hammock Beach Resort, honoring Bob Cuff, now a Palm coast City council member.
♦ March 28: The Flagler Forum, the discussion group organized by Ed Fuller, hosts a panel discussion featuring Flagler County's local media, including Palm Coast Observer Editor Brian McMillan and FlaglerLive Editor Pierre Tristam, at the Hilton Garden Inn, Palm Coast, at 6:30 p.m.

Trump Slumps As American Voters Disapprove 55% – 38% Poll Finds; Voters Trust Media, Courts More Than President https://t.co/KPDD6h5wga

— Quinnipiac University Poll (@QuinnipiacPoll) February 22, 2017
Republican voters trust Trump more than GOP leaders in Congress, @ckmarie reports https://t.co/ZzaeiIRFcf pic.twitter.com/MoZKSrgQAq

— The Atlantic (@TheAtlantic) February 22, 2017
People in this country illegally prepare for the possibility of deportation https://t.co/NjoAe9YVYt pic.twitter.com/Mb36LkYSSP

— Los Angeles Times (@latimes) February 22, 2017
Good News! One of World's Longest-Imprisoned Journalists is Freed https://t.co/R38cyam4Ik by @steveswerdlow #pressfreedom pic.twitter.com/CwkkWmuxOO

— Human Rights Watch (@hrw) February 22, 2017
Around a nearby, cold, small star we found 7 rocky Earth-size planets, all of which could have liquid water – key to life as we know it. pic.twitter.com/C2JWjDfBdK

— NASA (@NASA) February 22, 2017


Palm Coast Construction and Development Progress Reports
The following is an update of ongoing permitting, construction and development projects in Palm Coast, through Jan. 13 (the city administration's full week in review is here):
Click to access developments-feb-3-2017.pdf

Road and Interstate Construction:

The Temptations and the Four Tops in a Motown Medley
Previous Codas: