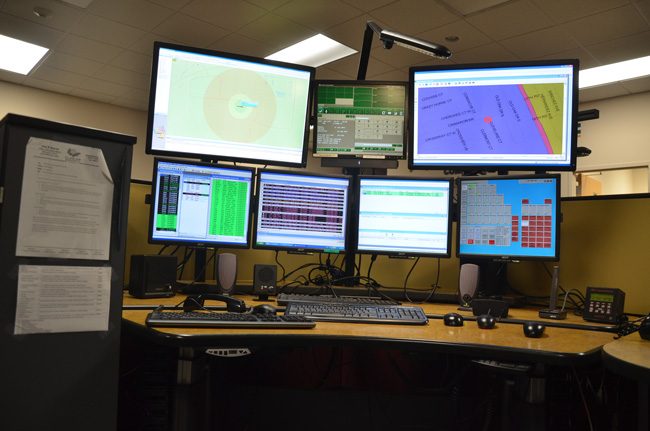 Today: Partly cloudy. A 20 percent chance of showers and thunderstorms in the afternoon. Highs in the mid 90s inland…in the lower 90s coast. South winds 5 to 10 mph. Heat index readings 100 to 104. Tonight: Partly cloudy. A 30 percent chance of showers and thunderstorms in the evening. Lows in the mid 70s. South winds 5 to 10 mph. Details here.
Today's fire danger is moderate. Flagler County's Drought Index is at 465.
Today's tides: at the beaches, at the Intracoastal Waterway.
Today's document from the National Archives.
The OED's Word of the Day: Anthropocene, n. and adj..
The Live Community Calendar
Today's jail bookings.
Today's Briefing: Quick Links


"Letters are commonplace enough, yet what splendid things they are! When someone is in a distant province and one is worried about him, and then a letter suddenly arrives, one feels as though one were seeing him face to face. And it is a great comfort to have expressed one's feelings in a letter — even though one knows it cannot yet have arrived."
–Sei Shonagon, in The Pillow Book of Sei Shonagon, composed in Japan about 1000 to 1010 a.d.
Note: all government meetings noticed below are free and open to the public unless otherwise indicated. Many can be heard or seen live through each agency's website.

The Palm Coast City Council meets in workshop at 9 a.m. at City Hall in Town Center. The council has a light agenda, just four items, but a proposal to consolidate so-called computer-assisted dispatching, the real-time computer-communication system cops and firefighters use to communicate with 911 dispatchers and vice versa, might lead to some discussion about the city's ongoing issues with the county over emergency communications. The proposal before the council is a joint agreement with the county, which pays for the system, for maintenance of the CAD system. 911 operators, however, are sheriff's office employees.
Michael Stavris sentencing: Ex-Bunnell cop Michael Stavris was arrested in 2014 on two charges of computer porn and a charge of criminal use of someone else's personal information. In a deal, he pleaded to felony child abuse. He is sentenced today before Circuit Judge Matthew Foxman at 1:30 p.m. in Courtroom 401 at the Flagler County Courthouse.
The Flagler County School Board meets at 5:15 p.m. in board chambers at the Government Services Building to set its tentative property tax rate for 2016-17. The school board has no say in the rate: it's set by lawmakers in Tallahassee. The rate would fall to its lowest level in 22 years, or $6.952 per $1,000 in taxable value, down from $7.255 this year.
The Flagler County Centennial Committee meets at 1:30 p.m. in the third-floor Financial Services Conference Room at the Government Services Building.
Backbones and Bodies, a Zoo to You Outreach Program from the Jacksonville Zoo: Children can learn about the parts of the human body: the skeleton, muscles, heart, lungs and brain. Learn how they compare to other vertebrate animals using examples from the vertebrate classes – fish, amphibians, reptiles, birds, and mammals. Program includes a variety of animals and artifacts that provide for hands-on learning. Children must be accompanied by an adult caregiver. Three sessions: 9:30-10:15 a.m. for ages 3-5, then 10:30 to 11:15 for ages 6 and older, and 11:30 to 12:15 for all ages.

Updated jail bookings and day and night shift incident summary reports are available here.
Bunnell's Tucker Upsets Colleagues With Surprise Bid to Merge Fire Department With County: Elbert Tucker on three occasions in the past few years–in 2010, 2011 and in 2014–had been pushing for the city's police department to be dissolved, and for the sheriff to take over policing in the city. The commission rejected the proposal each time. Now, fresh from his re-election victory and at the beginning of what he says is his last three-year term, Tucker wants to do dissolve the fire department.
Forest Grove Drive Access to Old Kings Road North Closes Permanently: Forest Grove Drive access onto Old Kings Road North, near Matanzas High School, is closing permanently effective Tuesday morning, July 26. Motorists will no longer be able to access Old Kings Road North directly from Forest Grove.
Dena Minning Grayson Hopes to Keep Alan's Central Florida Congressional Seat In Family: The wedding gave the contest its second power couple, put the last name of the outgoing office-holder on the ballot, and in the eyes of at least some outsiders made three of the four candidates — instead of just two — viable in Democratic-leaning Congressional District 9, which covers Osceola County and parts of Orange and Polk counties.
Frank Meeker, County Commission Workhorse and Tenacious Optimist, Is Dead at 61: Frank Meeker, who spent the last 10 years as a workhorse of the Palm Coast City Council, then the Flagler County Commission, died this morning after a rapid deterioration from cancer. He was 61.

In Florida and in State Government:
Note: Some proceedings below can be followed live on the Florida Channel.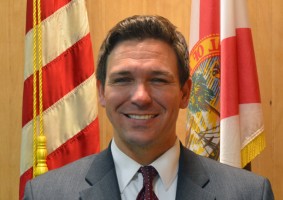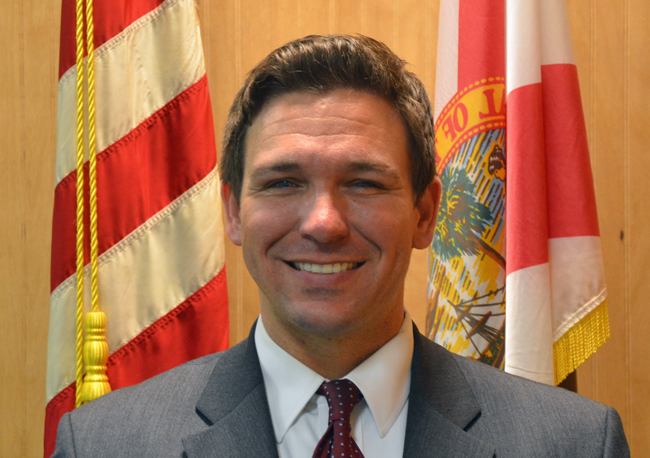 U.S. Rep. Ron DeSantis, who is running for re-election in Congressional District 6, will speak to the Lake County Republican Executive Committee. (7 p.m., Tavares Civic Center, 100 East Caroline St., Tavares.)
The Florida delegation to the Democratic National Convention will hold a breakfast, with speakers expected to include U.S. House Minority Leader Nancy Pelosi of California, U.S. Sen. Bill Nelson of Florida and U.S. Reps. Lois Frankel and Kathy Castor of Florida. The convention session later in the day is expected to include an address by former President Bill Clinton. (Breakfast at 8:30 a.m., Philadelphia Marriott Downtown, 1201 Market St., Philadelphia. Convention session expected to begin at 4 p.m., Wells Fargo Center, Philadelphia.)
Medical pot: Trulieve will hold a news conference to discuss receiving state approval to begin selling a type of medical marijuana that purportedly does not get users high but is believed to alleviate conditions such as severe seizures. (2 p.m., Trulieve, 800 Capital Circle S.E., Tallahassee.)
–Compiled by the News Service of Florida and FlaglerLive

In Coming Days in Palm Coast, Flagler and the Occasional Beyond:
♦ July 27: Heritage Crossroads: Miles of History meet at 3 p.m. in the Government Services Building, 1769 East Moody Boulevard, Building 2, Bunnell, in the 3rd Floor Conference Room. Sisco Deen of the Flagler County Historical Society will speak. The public is invited. For information call 386/439-5003.
♦ July 28: Flagler County School Board's District Strategic Plan Steering Committee meets at 5:30 p.m. in the third-floor main conference room of the Government Services Building in Bunnell.
♦ July 30: Solar Plunge to benefit the Flagler Beach National Flight Academy Scholarship. Registration will be $10 per person and includes a t-shirt and goody bag. Late registration will be from 7:30- 8:30 a.m. in Veterans Park followed by The Plunge at 8:45 a.m. After the Plunge enjoy music in the park and light refreshments.
♦ Aug. 10: School resumes for all students in the Flagler County School District, two weeks earlier than last year, but with a new calendar that enables students to complete their coursework ahead of high-stakes exams, that ends quarters more logically with holidays, and that restores a full week's holiday around Thanksgiving, Nov. 21-25. See details here.
♦ Aug. 11: Flagler Votes Hob Nob, the Flagler County Chamber of Commerce's pre-election event for voters to meet candidates, from 6 to 8 p.m., at the Flagler County Association of Realtors' building, 4101 E Moody Blvd in Bunnell. Participating candidates must pay $150 a table for their space, but it's otherwise free to attend. As part of their free admission, attendees will enjoy light snacks, great conversation and a ticket to vote in an electronic "straw poll," the results of which will be revealed at the end of the evening. Beer, wine and water will be available for nominal cash donations.
♦ Aug. 19: The latest pre-trial hearing in the case of Florida v. Kimberle Weeks, continued from July 22, is scheduled for 3 p.m. before Circuit Judge Margaret Hudson in Courtroom 402 at the Flagler County Courthouse. Weeks now faces nine third-degree felony counts, down from 12, stemming from allegations that she illegally recorded various individuals in her capacity as supervisor of elections and in her private life. Weeks resigned that post in January 2015.


♦ Sept. 7: The Flagler Youth Orchestra holds its open house for all new or prospective students who'd like to join the county's largest (and free) music program. The open house is at the Indian Trails Middle School cafeteria at 5:30 p.m. Any Flagler student, including homes chooled students, in grades 3-12, are eligible to enroll (must be 8 years old by Sept. 1, 2016.) Students may elect to play violin, viola, cello or doublebass. One-hour classes are held at Indian Trails Middle School Mondays and Wednesdays, from 3 to 6 p.m., with students enrolled in the hour block appropriate to their skill level and schedule. The first class for first-time students is Sept. 19. (Auditions for returning students start on Aug. 22, the first class for returning students is Aug. 31.)
♦ Sept. 10: African Art: Ancient Egypt to the Contemporary World, a pair of presentations by Bertrand Green, former chairman of African American studies at Lehman College, City University of New York. The first session is from 10 a.m. to noon, the second session from 2 to 4 p.m., at the Hilton Garden Inn, Palm Coast. $20 for PCAF members, $25 for general admission. Call 386/225-4394 or email [email protected] to reserve your seat.

America is rejecting the technocratic, hopeful politics of Barack Obama: https://t.co/C2eTEHD04u pic.twitter.com/60tgamIa9R

— The Atlantic (@TheAtlantic) July 25, 2016
Calls resume for community policing. What does that actually mean? https://t.co/0cJMASxoQ1 pic.twitter.com/gH2eAvpXQw

— The Christian Science Monitor (@csmonitor) July 25, 2016
Donald Trump said the Mexican government sends "the bad ones over." Pants On Fire! https://t.co/gPjXkkqlqQ #DemsInPhilly

— PolitiFact (@PolitiFact) July 25, 2016
Pushing boundaries https://t.co/YQGDthRG2e

— BBC News (World) (@BBCWorld) July 25, 2016
How climate disasters can drive violent conflict around the world https://t.co/AsyX2uOP4V

— The Washington Post (@washingtonpost) July 25, 2016

Fact-Checking the Knaves:


Palm Coast Construction and Development Progress Reports
The following is an update of ongoing permitting, construction and development projects in Palm Coast, through July 15 (the city administration's full week in review is here):
Click to access week-in-review-july1.pdf

Road and Interstate Construction:

Leonard Bernstein Conducts the Boston Symphony in Mozart's Symphony No. 40 in G Minor
Yesterday was the 228th anniversary of Mozart's completing the 40th Symphony, in 1788.
Previous Codas: