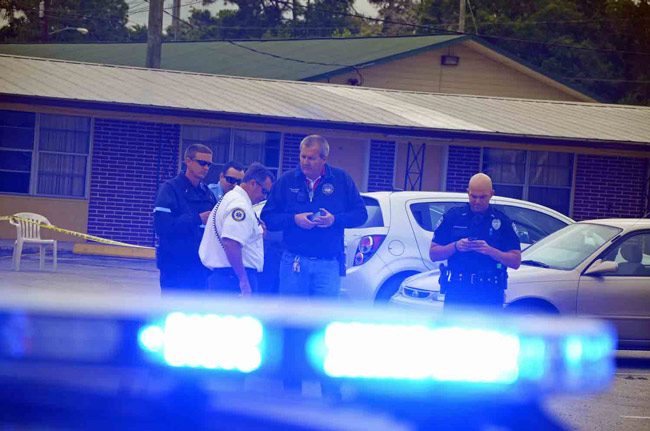 The Bunnell City Commission had gathered for a routine workshop on its general fund budget earlier this month, but commissioners knew something was up. Craig Coffey, the county administrator, was in the audience. So was Don Petito, the county fire chief. Neither would have any reason to be at a Bunnell city meeting, let alone a budget workshop.
Twenty minutes into the meeting, Commissioner Elbert Tucker revealed his latest surprise: he was proposing that Flagler County take over the Bunnell volunteer fire department and become the city's full-time fire-services provider. The savings he says, could then be used to pay for an additional Bunnell police officer in a department that lost some officers two years ago when the city was in deficit.
Tucker on three occasions in the past few years–in 2010, 2011 and in 2014–had been pushing for the city's police department to be dissolved, and for the sheriff to take over policing in the city. The commission rejected the proposal each time. Now, fresh from his re-election victory and at the beginning of what he says is his last three-year term, Tucker wants to do dissolve the fire department.
The Bunnell City Commission did not take Tucker's surprise kindly.
"The county administrator is here, but we haven't had a conversation about this, and this isn't how I like to do business, and you know that," Mayor Catherine Robinson told Tucker.
Tucker insisted the county was not initiating the proposal. He had. The county was responding to his question. The administrator and the fire chief could not have been expecting a decision that evening, as it was only a workshop, but were there to answer questions if necessary. None were asked them.
"I'm the one who brought this forward," Tucker said, telling Robinson he didn't want to be "a sacrificial lamb because I brought something up that nobody else brought up."
The city's department is officially a volunteer department, but its budget is not insignificant: its current budget is $132,000. The projected budget for next year is $117,000. The current budget includes such things as fuel ($5,000), equipment ($6,000), repair and maintenance for its vehicles ($11,000), insurance ($10,000), and Fire Chief Derek Fraser's salary ($25,400, not including benefits) and retirement contributions ($24,000).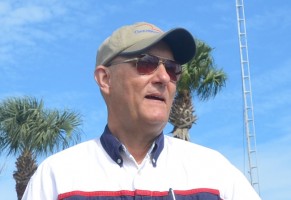 Tucker had emailed a five-page packet to his fellow commissioners a day earlier containing a letter from Coffey summarizing the talks he'd had with Tucker—but not with the county commission—and the potential benefits of consolidation. "Consider these documents as potential concepts that would allow your commission to further explore these ideas," Coffey wrote Tucker on June 13, "At the very least it will give everyone a better understanding of the issues and at the most it will provide a framework to move forward should that be the direction of the Bunnell Commission. All the details are written on paper and not stone, meaning they could be adjusted as necessary."
Coffey acknowledged in the letter that he had not broached the subject with county commissioners, though his letter was copied to them. His documents project a saving of $130,000 to $150,000 over 10 years, with the county using Bunnell's fire station as a back-up station funded by the county. A reserve ambulance would be located there.
"I'm sure it took somebody by surprise and everybody by surprise," Tucker said of his email. "To my mind we need to shift some of our funds from the fire department to the police department. We're double-taxed. We have a tax that we pay to Flagler County for their fire services and emergency services. We only pay for fire services in Bunnell because we don't have qualified staff to answer medical calls. So Flagler County is the one who answers medical calls with an ambulance to Bunnell."
There were 1,666 calls for fire services in Bunnell last year, of which all but 335 were medical calls. The 335 included 89 vehicle crashes, 63 brush fires, 18 house or structure fires, and a few other miscellaneous calls. The police department gets 18,000 calls a year, a disproportionate share, when compared with fire calls, Tucker said, thus justifying the shift of resources  to the police department.
"We got the email yesterday and I work a full-time job and I don't remember us discussing this nor going out to negotiate this or even to bring it up," Robinson said.
Tucker said he wasn't negotiating with the county, but merely seeking information. Robinson didn't agree: she saw Tucker's interactions with Coffey as negotiations. "I think this should have been discussed on the front end. I think we should talk about this if this is what we feel we need to do. But with less than 24 hours notice on this, I'm not interested in doing it." She added: "The whole process has been a little bit stifled, and I understand why."
Yet Robinson was ready to vote on the proposal that evening—the meeting was on July 14—even though it was a workshop, when commissions don't take votes, and Tucker's issue was not on the agenda. Tucker wasn't looking for a vote. He said he wanted commissioners to think about the proposal.
"I don't see the benefit of sacrificing one department for another," Robinson said. "We should have talked about this and had some sort of long-term discussion about this. What you're saying si the fire department should consolidate so the police department should have more staff."
"Well, that's right," Tucker said.
"Well, that's like saying let's shut down public works so that water and utility can have more staff," Robinson said.
"I don't want this to be an emotional thing," Tucker said. He was looking for a more analytical approach, and suggested moving the discussion to a subsequent meeting.
Commissioner Bonita Robinson and John Rogers said she hadn't had time to think about the proposal, but would agree to a discussion at a future meeting. Rogers described himself surprised at being greeted by the fire department's "fellows" as he was coming to the meeting: they were telling him they were going to be shut down. "I think we should have had this in a regular public meeting," Rogers said.
Tucker reiterated that his intention was only to start the conversation. He pressed commissioners to schedule a time. They agreed to a workshop in late August on the issue. But a date wasn't set.