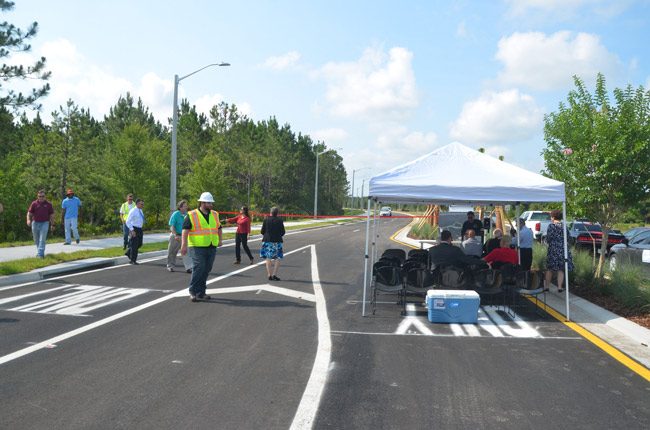 Forest Grove Drive access onto Old Kings Road North, near Matanzas High School, is closing permanently effective Tuesday morning, July 26. Motorists will no longer be able to access Old Kings Road North directly from Forest Grove.
This permanent road closure is the final step in the recent construction of the Old Kings Road extension on the west side of Forest Grove and the Palm Harbor Parkway extension on its east side, both of which were completed as part of the new Interstate 95 interchange at Matanzas Woods Parkway. As a result, traffic patterns around Matanzas High School have changed.
By closing the Forest Grove Drive access onto Old Kings Road North, Forest Grove will be turned back into a residential street as it was originally intended to be.
On Tuesday morning, crews will remove the existing asphalt within the right-of-way that previously served as a turn lane from Forest Grove onto Old Kings Road North adjacent to the high school. A fence with a gate that can be accessed only by emergency and school personnel will be installed Wednesday. Pedestrian access between Forest Grove and Old Kings Road North will be maintained via the existing sidewalk.
New signage, as well as temporary message boards, will be used to guide motorists. Motorists will be directed to get to Matanzas High School via the new signalized intersection at Matanzas Woods, Palm Harbor and Old Kings North. Motorists coming from the F Section who want to travel north on Old Kings Road North will be directed to use either the new Palm Harbor extension or the new Old Kings Road extension to get to Old Kings Road North.
For more information, please contact Palm Coast Communications Manager Cindi Lane at 386-986-3708 or [email protected].