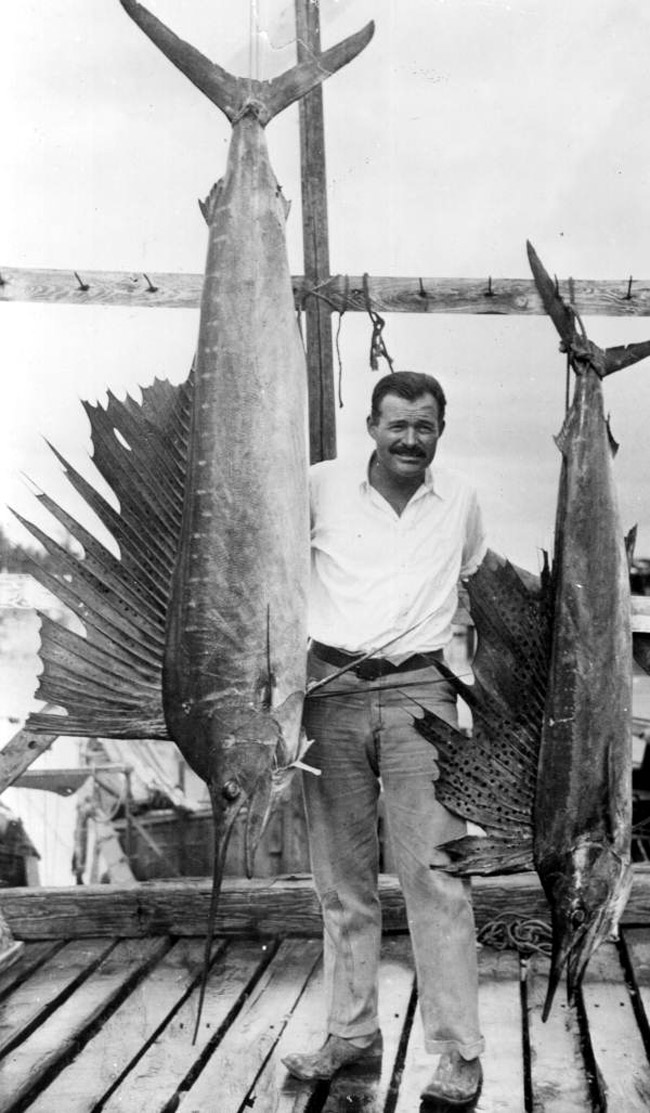 Today: Partly cloudy with a 20 percent chance of showers and thunderstorms. Highs in the lower 90s. East winds 5 mph increasing to 10 to 15 mph in the afternoon. Heat index readings 98 to 102. Tonight: Partly cloudy. Lows in the mid 70s. Southeast winds 5 to 10 mph. Details here.
Today's fire danger is moderate. Flagler County's Drought Index is at http://www.oed.com/view/Entry/149665.
Today's tides: at the beaches, at the Intracoastal Waterway.
Today's document from the National Archives.
The OED's Word of the Day: precisian, n. and adj..
The Live Community Calendar
Today's jail bookings.
Today's Briefing: Quick Links

"… and then the ridiculousness of carrying a pistol at all came over me and I soon forgot it and carried it flopping against the small of my back with no feeling at all except a vague sort of shame when I met English-speaking people."
–Ernest Hemingway, from "A Farewell To Arms" (1929)
Note: all government meetings noticed below are free and open to the public unless otherwise indicated. Many can be heard or seen live through each agency's website.
The Anna Pehota jury trial is in its second day. Pehota is accused of gunning down her husband in their Hammock home last September. Before Circuit Judge Matthew Foxman, Courtroom 401 starting at 9 a.m.
Third Annual Peers on the Pier Party in Flagler Beach: Enjoy delectable bites from several Flagler Beach restaurants, cold drinks and music from DJ Vern. Attendees will also be able to visit participating businesses, have their passports signed and turned in for prize drawings. 5:30 to 7:30 p.m. on the Flagler Beach Pier.
State Rep. Cyndi Stevenson, R-Saint Johns, and Sen. Travis Hutson, are slated to speak to the Flagler Federated Republican Women, 6:15 p.m., Hilton Garden Inn, 55 Town Center Blvd., Palm Coast.

Updated jail bookings and day and night shift incident summary reports are available here.
"A Hair Between Sanity and Insanity": Pehota's Anguished Account of Killing Husband Marks 1st Trial Day: Pehota faces a second-degree murder charge that could most likely result in a life sentence if she is found guilty, even if she were sentenced to less than 15 years in prison. Even if the jury goes with manslaughter, the sentence could make the lesser findings irrelevant. At her age, Pehota doesn't have time to bargain with. She can only hope for acquittal.
Bunnell's Michael Davis, 22, Arrested on Rape Charge Involving 15-Year-Old Boy: The victim's mother had gone into his room to check on him, but noticed him acting strange, according to Davis's arrest report. She also noticed an open window in the bedroom. She proceeded to close it. As she did so, she noticed Davis hiding by the side of the bed, naked. Davis was considered a family friend.
Circuit Judge Mark Hulsey Faces Allegation of Racist and Demeaning Comments: Hulsey in 2011 "offhandedly observed" to an aide that African Americans "should go get back on a ship and go back to Africa," according to the notice of charges.
Palm Coast Votes 3-2 Against $5,000 Hike For Jim Landon in Stinging Rebuke: The Palm Coast City Council today voted 3-2 to reject giving City Manger Jim Landon a $4,912 raise, which would have brought his base pay to $173,791. Landon, however, remains by far the highest-paid chief executive of any local government even at his current salary of $169,000. (Next is County Administrator Craig Coffey at $156,000.)
Republicans Hope Raucous Convention Distractions Pass as Gov. Scott Predicts Trump Win: So far, the Republican National Convention has seen a raucous fight over the party's rules and accusations of plagiarism against presidential candidate Donald Trump's wife. And that was from the first day.

In Florida and in State Government:
Note: Some proceedings below can be followed live on the Florida Channel.

Gov. Rick Scott, former U.S. House Speaker Newt Gingrich and U.S. Sen. Jeff Sessions, R-Ala., are expected to speak during a breakfast gathering of Florida delegates to the Republican National Convention. The breakfast comes on the final day of the convention, with presidential candidate Donald Trump slated to speak during the evening session. (Breakfast at 7:15 a.m., Embassy Suites, 5800 Rockside Woods Blvd., Independence, Ohio. Convention session, 7:30 p.m., Quicken Loans Arena, Cleveland.)
The State Board of Education will continue two days of meetings in St. Lucie County and discuss turnaround plans for low-performing schools. (8 a.m., Indian River State College, Pruitt Campus, William and Helen Thomas STEM Center, 500 N.W. California Blvd., Port St. Lucie.)
Former Gov. Charlie Crist, who is running in Congressional District 13, will tour the Jordan Park community, which has suffered from problems such as mold and rodent infestation. He then will meet with residents and community leaders. (10:30 a.m., Dr. Carter G. Woodson African American Museum, 2240 Ninth Ave. South, St. Petersburg.)
U.S. Sen. Marco Rubio, R-Fla., will meet with veterans to discuss issues related to the Department of Veterans Affairs and will tour a citrus grove affected by the disease citrus greening. State Agriculture Commissioner Adam Putnam is expected to join Rubio on the tour of the citrus grove. (Veterans event at 9:15 a.m. Central time, VFW Post 10555, 17680 Ashley Dr., Panama City Beach. Citrus tour at 4:15 p.m. Eastern time, Gapway Groves, Berkley Road and Gapway Road, Auburndale.)
Members of the Florida delegation to the Republican National Convention will be able to take part in an event at the Rock and Roll Hall of Fame and Museum before an evening convention session. (4 p.m., Rock and Roll Hall of Fame and Museum, Cleveland. Convention session, 7:30 p.m., Quicken Loans Arena, Cleveland.)
–Compiled by the News Service of Florida and FlaglerLive

In Coming Days in Palm Coast, Flagler and the Occasional Beyond:
♦ July 22: The latest pre-trial hearing in the case of Florida v. Kimberle Weeks is scheduled for 2:30 p.m. before Circuit Judge Margaret Hudson in Courtroom 401 at the Flagler County Courthouse. Weeks now faces nine third-degree felony counts, down from 12, stemming from allegations that she illegally recorded various individuals in her capacity as supervisor of elections and in her private life. Weeks resigned that post in January 2015.
♦ July 23: The annual Back to School Jam, where families can get $5 backpacks, find their bus routes and location, help with access to the district's computerized records-keeping system, meet with innumerable coordinators and directors of after-school activities and programs and a lot more, is scheduled for 10 a.m. to 1 p.m. at Flagler Palm Coast High School, in the gym.
♦ July 23: Midnight fishing on the Flagler Beach pier, from midnight Saturday to 6 a.m. $6 per person. Register at the pier.
♦ July 25: The Plantation Bay Utility Customers Community meets at 6 p.m. at Club de Bonmont, 300 Plantation Bay Drive, Ormond Beach.
♦ July 27: Heritage Crossroads: Miles of History meet at 3 p.m. in the Government Services Building, 1769 East Moody Boulevard, Building 2, Bunnell, in the 3rd Floor Conference Room. Sisco Deen of the Flagler County Historical Society will speak. The public is invited. For information call 386/439-5003.
♦ July 28: Flagler County School Board's District Strategic Plan Steering Committee meets at 5:30 p.m. in the third-floor main conference room of the Government Services Building in Bunnell.
♦ July 30: Solar Plunge to benefit the Flagler Beach National Flight Academy Scholarship. Registration will be $10 per person and includes a t-shirt and goody bag. Late registration will be from 7:30- 8:30 a.m. in Veterans Park followed by The Plunge at 8:45 a.m. After the Plunge enjoy music in the park and light refreshments.
♦ Aug. 10: School resumes for all students in the Flagler County School District, two weeks earlier than last year, but with a new calendar that enables students to complete their coursework ahead of high-stakes exams, that ends quarters more logically with holidays, and that restores a full week's holiday around Thanksgiving, Nov. 21-25. See details here.
♦ Aug. 11: Flagler Votes Hob Nob, the Flagler County Chamber of Commerce's pre-election event for voters to meet candidates, from 6 to 8 p.m., at the Flagler County Association of Realtors' building, 4101 E Moody Blvd in Bunnell. Participating candidates must pay $150 a table for their space, but it's otherwise free to attend. As part of their free admission, attendees will enjoy light snacks, great conversation and a ticket to vote in an electronic "straw poll," the results of which will be revealed at the end of the evening. Beer, wine and water will be available for nominal cash donations.


♦ Sept. 7: The Flagler Youth Orchestra holds its open house for all new or prospective students who'd like to join the county's largest (and free) music program. The open house is at the Indian Trails Middle School cafeteria at 5:30 p.m. Any Flagler student, including homes chooled students, in grades 3-12, are eligible to enroll (must be 8 years old by Sept. 1, 2016.) Students may elect to play violin, viola, cello or doublebass. One-hour classes are held at Indian Trails Middle School Mondays and Wednesdays, from 3 to 6 p.m., with students enrolled in the hour block appropriate to their skill level and schedule. The first class for first-time students is Sept. 19. (Auditions for returning students start on Aug. 22, the first class for returning students is Aug. 31.)
♦ Sept. 10: African Art: Ancient Egypt to the Contemporary World, a pair of presentations by Bertrand Green, former chairman of African American studies at Lehman College, City University of New York. The first session is from 10 a.m. to noon, the second session from 2 to 4 p.m., at the Hilton Garden Inn, Palm Coast. $20 for PCAF members, $25 for general admission. Call 386/225-4394 or email [email protected] to reserve your seat.

In 'political correctness' debate, most Americans think too many people are easily offended https://t.co/BAjnhd9w4K pic.twitter.com/DayP4UeRlC

— Pew Research Fact Tank (@FactTank) July 20, 2016
Why Chinese protesters are picketing KFC and smashing iPhones https://t.co/G4pYFfqxz1 pic.twitter.com/gAfjmsbyjR

— The Christian Science Monitor (@csmonitor) July 20, 2016
No one from the RNC has reached out to Tamir Rice's mother with understanding or compassion. https://t.co/tXY9VyypkE pic.twitter.com/hwFajM6TeD

— New York Times Opinion (@nytopinion) July 20, 2016
Plagiarism has long been one of the cardinal sins of academe. But this week it was on the lips of people nationwide: https://t.co/8FftLBD6Lh

— The Chronicle of Higher Education (@chronicle) July 20, 2016
Human brain mapped in unprecedented detail, reveals nearly 100 unidentified areas. https://t.co/W6IOlmzcQg pic.twitter.com/5TsID6aUhE

— Nature News & Comment (@NatureNews) July 20, 2016
The strange story of how Southern sympathizers decided our national anthem: https://t.co/hwas7whbEH #RNCinCLE pic.twitter.com/ORs7Rm3M3K

— The Daily Beast (@thedailybeast) July 20, 2016

Fact-Checking the Knaves:


Palm Coast Construction and Development Progress Reports
The following is an update of ongoing permitting, construction and development projects in Palm Coast, through July 15 (the city administration's full week in review is here):
Click to access week-in-review-july1.pdf

Road and Interstate Construction:

Partita No. 6 in E minor, BWV 830, Edward Neeman, Piano
Previous Codas: