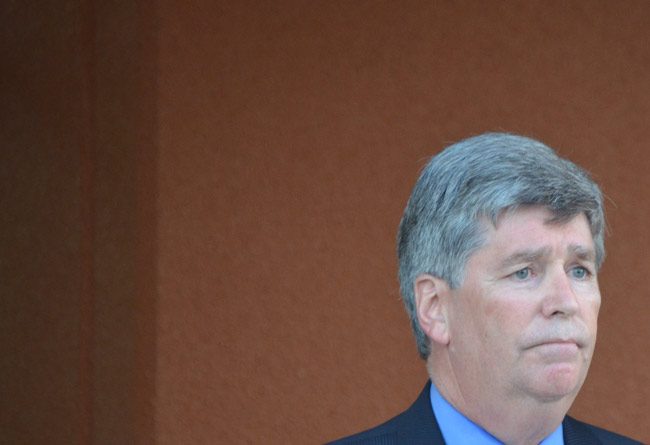 The Palm Coast City Council today voted 3-2 to reject giving City Manger Jim Landon a $4,912 raise, which would have brought his base pay to $173,791. Landon, however, remains by far the highest-paid chief executive of any local government even at his current salary of $169,000. (Next is County Administrator Craig Coffey at $156,000.)
Council members Bill McGuire and Jason DeLorenzo said the current pay is where it should be despite a commendable—if not stellar—evaluation the manager just received, his first in seven years. Both said Landon had been overpaid in previous years.
"When I came into this office," McGuire said, "I think the salary for the city manager was higher than it should have been. But be that as it may, we stayed with it, we worked with it. Now I think it's where it ought to be, and in years to come, if Mr. Landon continues to perform as he does, I think an increase in pay is certainly well due. And again I'll say the compensation the city manager makes is in keeping with what it should be."
Council member Heidi Shipley joined McGuire and DeLorenzo in the majority vote.
Mayor Jon Netts was joined, in a surprise, by Steven Nobile in the vote for a raise, though for Nobile, who's never had affection for Landon and has told others that he'd like the city manager gone, his vote came with as backhanded an endorsement of Landon as could be short of censure: "I'm going to get a lot of flack, I can just see my email, ping ping ping ping," Nobile said of his vote for a raise. "But I want people out there to forget who the city manager is. I'm focusing on the position. Just because you don't like Mr. Landon, that's not the reason for treating somebody in an improper manner as an employee that you have to deal with." He called himself "torn" over the decision.
Landon will face an entirely new council by November, with three new members joining Nobile and Shipley, suggesting that Landon's future with the city is more tenuous than it's been in his nine years in Palm Coast. But he's weathered similar–if never as acute–uncertainties before, and has not faced a similarly humiliating vote before.
---
Council members don't buy the administration's claim that Landon should be treated like any other employee.
---
Starting in March, the vote ended a long, in many ways improper and opaque process in which the council deferred much of that process to Wendy Cullen, the human resources director who directly reports to Landon. She did not hesitate to make her own recommendations for a raise and go so far as to give council members direction on how to fill out the evaluation. She had told them, in her words, "to remember that as you are adjusting and rating his service, and recognizing the fact that it's not the easiest job in the world, but also there shouldn't be any bombs, for lack of a better term, in the evaluation."
Landon, of course, is not Cullen's employee. He is not the city's employee, either: he is, aside from the city attorney, the only employee the city council itself hires, and that the city council alone—in a normal, ethically clean process—evaluates, as is usually the case in other local governments. Elected officials choose to fill out their evaluations however they deem fit, without restrictions imposed by an administrative hand representing the very person they're evaluating. (Human resources departments are routinely involved, but only in secretarial, not guiding duties.) Yet council members went along.
Cullen then framed the proposal much as Landon did: that the raise was due Landon as it would be any employee who receives a good evaluation. "The recommendation I'm making," Cullen said, "is to treat the city manager as with all other employees, he is an employee of the city, after all, treat him the same as all other employees. I recommended a 2 percent increase based on that fact, plus the annual pay plan adjustment, equivalent to that which directors received in January, the $1,535, and it worked out to be a 2.9 percent increase." She never mentioned the actual raise amount, or his base pay, or his rich, additional compensation package, all of which vastly differentiate him from "other employees."
Jim Landon's Evaluations:
---
Note: Council member Bill McGuire did not evaluate Landon in writing.
---
Landon, for example, gets to participate by contract and at the city's expense in the Mayo Clinic Executive Health Program in Jacksonville. Other employees do not. The city pays all premiums for his $338,000 life insurance policy. Other employees don't have that benefit, or have to pay their own. He gets an "auto allowance" of over $7,000 a year. Other employees do not. In addition to his base pay, the city contributes $34,000 a year, fully vested, into his 401(k) plan every year. Other employees get no such contribution. On top of that, he gets an additional $8,443 a year in deferred compensation. Other employees do not. By contract, he gets all his cell phone, computer and software expenses paid by the city. With limited exceptions, other employees do not. If he loses his job, he gets six months' severance. Other employees do not. And as DeLorenzo pointed out, the average raise for employees this year worked out to $700. "This is $5,000," he said of Landon's request.
How the evaluation form came together is problematic from a  Sunshine law perspective: Cullen said today during the council meeting that the evaluation form was developed as she first sent it to the various council members, who provided some suggestions and returned it to her. She then sent the final product back out, having compiled a final form—all out of the sunshine. Those deliberations should have been made by the council, in the open (as the school board recently did in preparing the superintendent's and the school attorney's evaluations), as the process itself reflects council deliberations going into one consensus document: any government body's consensus is to be reached in the open. Again, however, council members went along.
Bill Reischmann, the city attorney, said all the documents that went into the evaluation were public records, "and are attached to the agenda." That, too, was not the case. Only a summary evaluation, again compiled out of the sunshine by Cullen, was made available with the agenda. Individual evaluations were made available only upon request (and were immediately provided to FlaglerLive). Also not made available was a compilation of city managers' salaries across select cities in the state, which was distributed to council members (and which showed Landon's salary still among the upper crust on that list.)
The evaluation itself was less a typical evaluation than a set of prompts calibrated to emphasize the positive. In one section of the evaluation, council members could rate statements along five choices—poor, needs improvement, meets expectations, exceeds expectations, excels.
But in the narrative responses, where evaluations are fleshed out and more telling analysis can be detailed (at least by harder-working evaluators less interested in check marks and one-liners), the questions verged on sounding like the evaluation of a summer camp counselor rather than a chief executive, or a quiz of the council members' cheerleading routines: "What were the manager's most notable accomplishments during the past year?" "Which of the manager's qualities were most instrumental in fulfilling the role of City manager this past year(s)?" "What does the manager do that you would like him to continue?" (As with royalty or the papacy, the M in "manager" was capitalized at every turn.)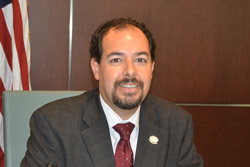 The responses were brief, with many entries left blank. McGuire, who has often been the manager's toughest critic, did not even file an evaluation at all, so the final produce—a 3.5 out of 5, half-way between "meets expectations" and "exceeds expectations"—was not a true reflection of the council's view.
When managers or attorneys have their contracts or salaries discussed, they usually leave the room. Not Landon. Besides having Cullen first frame the discussion and make a recommendation, he stayed, then lobbied the council at length with a final plea for the raise, after hearing the various members' positions. Council members went along, though Robert McDonald, a member of the public, addressed the council to say that not only Landon should not have been present, but, he said, "I have a hard time with someone from human resources proposing an increase for any employee, especially the city manager, when indirectly, the head of human resources works for the city manager." In fact, she works for him directly.
The sum total of that flawed process is what the council voted on today.
McGuire didn't buy into the Cullen line about Landon being like other employees, but it was DeLorenzo who dismissed the comparison entirely. "Yes he is an employee of the city but he's not the same type of an employee of the city," council DeLorenzo said, "because he is our contract employee. We don't have other employees that are contract, and started with a negotiated salary to start with. The rest of our employees have a salary range, they had a job description, and that job description comes with a salary range. This is not the case with Mr. Landon."
He went on, addressing Landon: "Even though you haven't received a raise in several years, your current salary range is in line with other cities of our size, and I agree that I don't support an increase, and I don't support a CPI increase either. This is our employee, it's city council's employee, it's a contract employee, negotiated salary, and the salary is in the correct place for this time."
Even Reischmann, usually an echo of all things Landon, concurred with DeLorenzo: "What everyone is saying is correct," he said, "your city manager is a charter officer, the provisions, the terms are provided for in your charter as opposed to if you will a regular employee, a regular employee being subject to the city's rules and procedures, and the city manager is not. This is a contractual process, you have a contract with him."
Toward the end of the 40-minute discussion, Landon spoke again, as he had at the beginning, this time for more than six uninterrupted minutes. "This is the most distasteful part of my job. I will tell you that of all things, put yourself in my position of being evaluated and talking about your pay publicly," he said. At times he lectured council members for wrongly comparing his pay to a salary range, as they just had ("that's not how the system is supposed to work," he said. ""If you have an employee who is meeting your expectations, you feel like they are doing a good job, there should be some additional compensation"). And at times aggrandizing himself as if to suggest that the council did not know what it has in him.
"Am I overpaid, underpaid, all those things. It is a competitive market. It should be based on the market out there. That is one criteria, he said, reminding them that he's been at it 25 years as a city manager. "Yes, you can look at what other city managers make, but to find someone with my background and experience, for what I make, won't be easy for you." He then hinted that he could leave, but has so far chosen not to, and described the city as having become a "premier organization" under his watch. "I get the politics of it. I get that he makes too much money. I get the perception. But your job is to, as a board of directors, for a municipal corporation, to make decisions based on not the public perception or politics, but what does your city manager deserve, and I would ask that you take that in consideration before you vote."
Landon's plea proved unpersuasive.