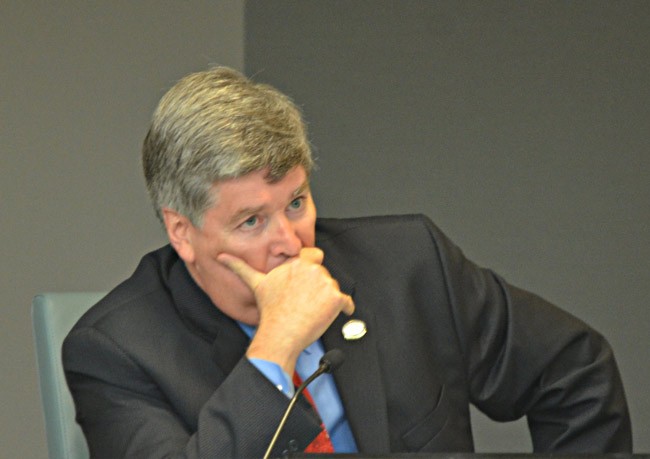 Palm Coast City Manager Jim Landon hasn't had a raise in seven years. He now wants one, he told the council, retroactive to the beginning of the year, though his current base salary of $168,878, not including other compensation and allowances that push it past $218,000—never mentioned in a half-hour discussion he led himself on Tuesday—is still well ahead of his next-closest competitor among executive hires in local public agencies.
That would be Craig Coffey, the county manager, whose base salary is $156,000, or just under $161,000 with allowances. Jacob Oliva, the school superintendent, has a base salary of $125,000, but additional compensation pushes it past $140,000. Bunnell's Dan Davis was hired at $68,500 and Flagler Beach's Larry Newsom at $88,000. (But even Coffey is not the next-highest paid public employee after Landon. That would be Al Hadeed, the county attorney, a direct hire of the county commission. His salary, which started below Coffey's, last year was $188,800. It's not clear what Palm Coast's principal attorney's salary is, as he is in private practice, though his firm's contract with Palm Coast hovers around $400,000, and the Palm Coast council just awarded it a 15 percent raise.)
Landon is proposing what would equate to a $1,500 raise this year, even without an evaluation, as required by his contract. He got resistance from the council on both counts, but no outright opposition to a raise in principle, though Mayor Jon Netts was quote opposed to any "automatic" annual increase of any sort. The council's decision on whether and how to award Landon a raise will be left to another day, though Landon, looking to ensure that he would get something, pushed hard to nail down whether the council will agree to a percentage or an actual sum.
"Let's look at the documents first," Netts said, "that will give us a clue as to how we want to proceed."
---
Landon pointed to his own self-evaluations–the annual glossy "progress report"–as his performance reviews. Council members disagreed.
---
Landon's contract does call for the potential of an annual raise, but only "on the basis of an annual evaluation and salary review" by the council. Year after year, the council has neglected to fulfill its duty in that regard, allowing Landon to make the astounding claim that his own annual progress reports—glossy presentations his staff prepares with marketing savvy to show him and the city in its best light, at his direction—is his evaluation. When FlaglerLive requested the council's evaluations of the manager, it was directed to those reports. And Landon himself, on Tuesday, willingly furthered the jive: "I've always considered the annual progress report as kind of an evaluation process," he said. And the wording of his proposed contract amendment tied his annual raise directly to the annual progress report.
Landon had stacked today's meeting ahead of his raise request with one such progress report, along with several other presentations that showed him in good light—on investments, capital improvements, "branding" the city, even children's safety. It was a nakedly heavy-handed entry into the raise discussion, but with limited effect. The council that had bought the progress-report-as-evaluation approach for years didn't buy it today.
"I don't consider the progress report the evaluation," council member Jason DeLorenzo said, recalling his last actual evaluation as dating back to his first year on the council, nearly five years ago, though he made up his own evaluation form at the time. "I think we need something more formal."
"I agree with Jason. I haven't said much about it in the last five years because of where your salary is," council member Bill McGuire said. "I don't think the annual progress report is a quantifiable measurement of your performance. It's certainly to your credit that you put together the staff that has put the city where it is, but when you're talking about an individual performance, you're talking about how did the individual performed to his individual goals. We've got a good working relationship, but I've never sat down and told you Mr. Landon, I think these should be your goals for the year."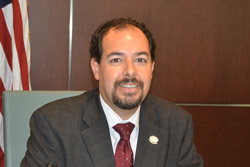 DeLorenzo's review proposal, however, was barely more transparent than what's in place now. He proposed having the human resources director hand out evaluation forms to council members' mailboxes. The members would fill it out and return it to HR. The HR director, then—who works at Landon's pleasure—would go over the evaluations with him, rather than the council, and would do so behind closed doors, even though Landon is a council hire. There would be no discussion of the evaluation by council members in an open meeting (though the evaluations would be available for public inspection).
"To me," McGuire said in contrast, "an evaluation is based upon individual goals. If I gave you a list of goals and said, here's what I want you to do in terms of performance for the next year, then at the end of the year I can sit down with you and say OK, here's how you did per those goals, and if you meet those goals, here's the max that you can expect to get, and if you don't you'll get something less than that." He referred Landon to the manager's performance review of his own staff. But he didn't mention discussing the evaluation openly, either.
Landon then himself pushed back, as if not taking responsibility for the work being done by his administration. "For someone in my position," he said, "did those goals get done, lots of times I may give direction, but I'm not actually doing the work."
"But there are more personal items, there are more behavioral items, you know what I'm saying?" council member Steven Nobile said.
Council members batted around various ideas, leaving it to an eventual blend of various evaluation documents used over the years and by different agencies.
Landon approached the matter of the raise itself in full recognition of its delicacy. He was not proposing a percentage raise, as even a small annual percentage raise would equate to a sizeable pay increase, given the size of his base pay. (A mere 2 percent cost-of-living raise, for example, would net him $3,380, compounding the next year, so that even if he were to go the next seven years with such cost-of-living raises, he'd reach $194,000.)
Rather, he proposed to increase his pay according to the dollar amount awarded his department heads. This year, the department heads got $1,535, based on a 2 percent raise. "That represents a little less than 1 percent pay raise," he said.
Council members were less concerned with the dollar amounts than with the method through which Landon would get his raise, and its political ramifications (though none discussed the retroactive nature of Landon's request). Just last month, the council, after nearly a year of debating its own pay and possible raises, at first adopted what would have amounted to a few dollars' raise, then ultimately rejected the scheme altogether, finding it not worth the potential political fallout. Landon's willingness to hit the council with his own raise request so soon after the council's flop on the issue was striking for its timing.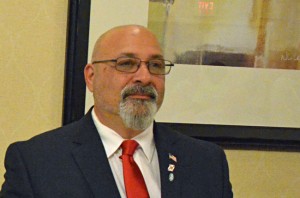 "That makes it easier for us," Nobile said of a formal evaluation process, "because I would rather there'd be a structure in there, so that I don't want to have to deal with a bad perception outside of this building—well, why did you vote for as pay raise, just an abstract pay raise."
"I would not want this to be an automatic—you're going to get 2 percent or $2,000 every year," Netts said, adding that there could be times when Landon himself might consider it unwarranted.
"Absolutely, it has to be something so you have that discretion every year of saying no, that ain't happening," Landon said.
But that's not what the proposed amendment to his contract he'd submitted to the council said. The amendment included four "shall" 's in the space of 100 words, commanding the council to award the annual raises and saying nothing about council "discretion." In fact, the amendment would have replaced the section of the contract that left it up to the council's discretion.
Landon added toward the end of the discussion: "My other request, because this is just my ethics, is, I don't want anything more than what other employees get, that's why I'm trying to tie it into something at the low end of what others [get], because the worst thing that happens, in my opinion, because it's so public, is for me to get a higher pay raise than the rest of the employees."