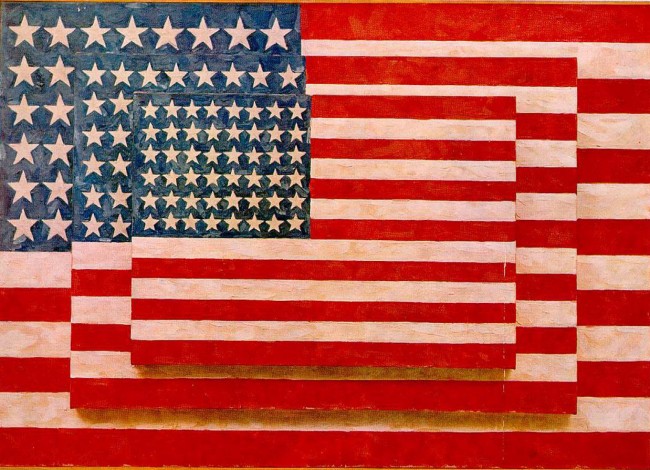 Independence Day Weekend: What do you expect? It'll be hot, humid, with chances of rain or thunderstorm in the 40 to 60 percent range each day, with nights unpleasantly muggy. Details here.
Today's fire danger is moderate. Flagler County's Drought Index is at 214.
Today's tides: at the beaches, at the Intracoastal Waterway.
Today's document from the National Archives.
The OED's Word of the Day: nostos, n..
The Live Community Calendar
Today's jail bookings.
Today's Briefing: Quick Links

Note: all government meetings noticed below are free and open to the public unless otherwise indicated. Many can be heard or seen live through each agency's website.
Closure note: All government offices and banks are closed Monday.
Friday: Free For All Friday With David Ayres on WNZF at 9 a.m. is all about Independence Day festivities, with guests including Flagler Beach City Manager Larry Newsom, Police Chief Matt Doughney, Flagler Emergency Services Manager Steve Garten, and others, starting with a commentary on the absurdity of race by FlaglerLive Editor Pierre Tristam.
Sunday: Independence Day fireworks at 9 p.m. in Palm Coast's Town Center, with pre-fireworks activities by the Flagler Education Foundation beginning at 5 p.m.
Monday: Palm Coast marks Independence Day with a ceremony at Heroes Park on Palm Coast Parkway at 8 a.m.
Friday, Saturday, Sunday, Monday: Flagler Beach marks Independence Day with a four-day celebration, starting with First Friday and running into more fun and games Saturday, Sunday and Monday, culminating with its traditional parade at 10 a.m. Monday, whose theme this year is "Land of the Free" (though it may more accurately be termed Land of Candidates: expect the parade to be significantly more populous, as the year's many innumerable political races is expected to bring out schools of candidates.) Fireworks by the pier at 9 p.m.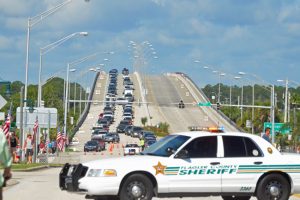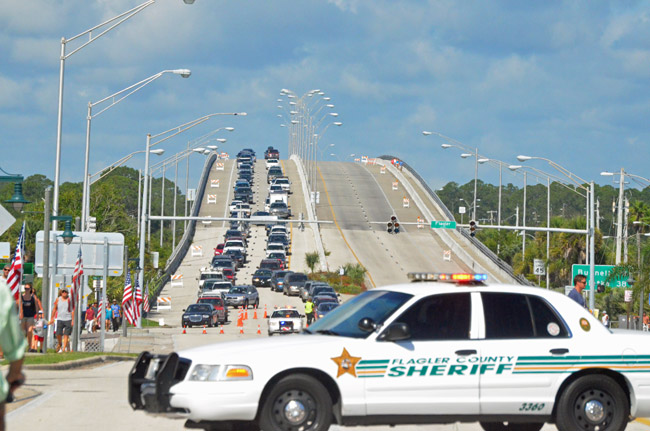 In a First, Flagler Beach Will Offer Free Parking And Shuttles On and Off Island All Day July 4: For the first time in the city's history, however, Flagler Beach is providing free shuttles all day July 4, starting at 8 a.m. and ending at 11 p.m., and free parking on the mainland, at the old Food Lion parking lot—that is, the Flagler Square shopping center—as well as on the island, at Santa Maria Del Mar Church, just north of downtown.
Monday: Choral Arts Society July 4th Concert at St Thomas Episcopal Church, 5400 Belle Terre Parkway, Palm Coast, 1 p.m. Free, but donations welcome.

Updated jail bookings and day and night shift incident summary reports are available here.
Flagler County Jail Triple Its Old Size Set To Open July 7 in Camera-Ready "Ceremony": The $17.4 million Flagler County jail, with 12 new housing pods, marks its official opening next week–on July 7–with that oddity usually reserved for new businesses, new parks, museums or great public works: a ribbon-cutting.
Man Rearrested on Burglary and Assault Charges After Allegedly Attacking Mother In Front of Her Children: Less than three years ago, Jeffery Ricky Ray, a 34-year-old resident of 10 Rosecroft Lane in Palm Coast, was released from state prison after his second stint there. He'd served four years on convictions for burglary, assault, grand theft and false imprisonment. In the early 2000s, he'd served less than two years on a drug-related conviction.
159 New Laws Kick In Friday on Domestic Violence, Bullying, Same-Sex Marriage, Abortion, Hunting: Starting Friday, clergy who don't want to marry same-sex couples will have state backing for their beliefs, high school students will have more choice over where they play sports or study, and local governments won't be able to regulate the use of Styrofoam containers. Those are among the 159 new laws that will go into effect in Florida on July 1.
Victory for Sunshine Law Rather Than Weeks as Judge Tosses 3 of 12 Charges Against Ex-Elections Supervisor: Had the judge not tossed the charges, it would have set a precedent that could have jeopardized many documents or information disclosed that way, as it would have carved out a censoring authority within open meetings that would fly in the face of established interpretation of the Sunshine Law.

In Florida and in State Government:
Note: Some proceedings below can be followed live on the Florida Channel.

No events of note.
–Compiled by the News Service of Florida and FlaglerLive

In Coming Days in Palm Coast, Flagler and the Occasional Beyond:

♦ July 5: A pre-trial is scheduled at 1:30 p.m. before Circuit Judge Matthew Foxman in Courtroom 401 at the Flagler County Courthouse in the case of Joseph Bova II, the man accused of first-degree murder in the killing of Zuheily Roman Rosado in an execution-style shooting at the Mobil Mart on State Road 100 in Palm Coast in February 2013. Pre-trail hearings have been frequently continued, however. Bova has been held without bond at the Flagler County jail since May 11, 2015, when he returned from a state psychiatric hospital.
♦ July 6-8: Navy training schedules indicate that inert bombing and helicopter operations will take place at the Pinecastle Range Complex located in the Ocala National Forest as follows: July 6, 10:30 a.m. to 10 p.m., helicopter operations. July 7, 10 a.m. to 10 p.m., helicopter operations and inert bombing runs from 2 to 3:30 p.m. July 8: helicopter operations from 9:45 a.m. to 3:45 p.m. The telephone number for noise complaints is 1-800-874-5059, Fleet Area Control and Surveillance Facility, Jacksonville, Fla. For additional information, call (904) 542-5588.
♦ July 7: Flagler County Sheriff Jim Manfre and the County Commission hold a ribbon-cutting at the expanded county jail at 10 a.m., 1002 Justice Lane, Bunnell. There will be limited tours.


♦ July 7: U.S. Senate candidate Carlos Beruff, a Republican running for Marco Rubion's seat, is be the guest speaker at the Flagler County Young Republicans Club meeting, which is open to the public. 7 p.m., Hilton Garden Inn, Palm Coast. Beruff, 58, is a Manatee County developer and major contributor to more than 100 political candidates since 2002, including a few Democrats, according to the Miami Herald.
♦ July 8-9: Book Blowout: The Friends of the Library of Flagler County are holding a discounted book sale. The public is invited to attend and take advantage of these bargains. The sale is scheduled for 9 a.m. to 4 p.m. each day. All books are 25 cents each – these two days only. No limit. Books will be continually replenished. Sale will be held at the Friends Book Shop, Flagler County Public Library, 2500 Palm Coast Pkwy NW. For questions, call 386/446-6763.
♦ July 9: Art and Poetry Show, the annual exhibit sponsored by the Gargiulo Art Foundation, opens with a free reception at 6 p.m. at the Flagler County Art League at City Marketplace in Palm Coast. The exhibit runs through Aug. 9. For information, call 386-986-4668.
♦ July 14: The Flagler County Democrats host a candidate forum featuring all mayoral and Palm Coast City Council candidates , from 6 to 8 p.m. at the African-American Cultural Society, 4422 North U.S. 1 in Palm Coast. The event is free and open to all. For additional information, call 386/283-4883.
♦ July 16: North Florida Open Chess Championship, $1,000 total purse. Ramada Inn I-95 & 9150 Baymeadows Road, Jacksonville. Three Sections: Open, U1550 and U900. Prizes: $1000 (60% guaranteed) b/o 35 (paid entries). Cash prizes for best players U2000, U1800 & U1200. 5SS (5 rounds of games) 1st Round G/45;d5 all other rounds are G/55min + d5sec. $45 Walk-up Registration $35 Online price. Players in grades K-12 $25. Register here. Details here. The tournament director for this event will be our own Steve Lampkin.
♦ July 18: The trial of Anna Pehota, 77, who faces a second-degree murder charge over the alleged killing of her husband in the Hammock in September 2015, is scheduled to begin with jury selection.
♦ July 22: The latest pre-trial hearing in the case of Florida v. Kimberle Weeks is scheduled for 2:30 p.m. before Circuit Judge Margaret Hudson in Courtroom 401 at the Flagler County Courthouse. Weeks now faces nine third-degree felony counts, down from 12, stemming from allegations that she illegally recorded various individuals in her capacity as supervisor of elections and in her private life. Weeks resigned that post in January 2015.
♦ July 23: The annual Back to School Jam, where families can get $5 backpacks, find their bus routes and location, help with access to the district's computerized records-keeping system, meet with innumerable coordinators and directors of after-school activities and programs and a lot more, is scheduled for 10 a.m. to 1 p.m. at Flagler Palm Coast High School, in the gym.
♦ July 25: The Plantation Bay Utility Customers Community meets at 6 p.m. at Club de Bonmont, 300 Plantation Bay Drive, Ormond Beach.
♦ July 20: The Flagler League of Cities, a gathering of the county's mayors, meets at noon at Flagler Beach City Hall.
♦ July 30: Solar Plunge to benefit the Flagler Beach National Flight Academy Scholarship. Registration will be $10 per person and includes a t-shirt and goody bag. Late registration will be from 7:30- 8:30 a.m. in Veterans Park followed by The Plunge at 8:45 a.m. After the Plunge enjoy music in the park and light refreshments.

Cover by David Gentleman, 7 May 1987 https://t.co/1pSl5tErkQ pic.twitter.com/sUJZwgf0aJ

— London Review of Books (@LRB) July 1, 2016
Trump versus the First Amendment.
via @nytimes https://t.co/6uLSKGBeIa
via @MiamiHerald https://t.co/rbtsCKCFGG

— Michiko Kakutani (@michikokakutani) July 1, 2016
Muslim woman reveals attack and strip-searching by Chicago cops: 'The ultimate horror' https://t.co/qLbJ9FWjY8 pic.twitter.com/23Ws6zeEDF

— Raw Story (@RawStory) July 1, 2016
Ending a Pentagon policy that labeled transgender people as perverts was both right & smart. https://t.co/SmEdSJN9Wl pic.twitter.com/05lcGFAad4

— New York Times Opinion (@nytopinion) July 1, 2016
Why students need to be writing for a broad audience, too: https://t.co/OIkAQFP1rX

— The Chronicle of Higher Education (@chronicle) July 1, 2016
Most Americans aren't middle class anymore: https://t.co/aYhmsz6XTu pic.twitter.com/rnkJInGoRJ

— FiveThirtyEight (@FiveThirtyEight) July 1, 2016
In the US, minority babies are in the minority no longer https://t.co/XIJN3UmjId pic.twitter.com/02vQHCrJcd

— Mic (@mic) July 1, 2016
Most Christians believe they're being persecuted in America https://t.co/4Y6ZELrLoL pic.twitter.com/bOjLJP3FPe

— The Atlantic (@TheAtlantic) July 1, 2016

Fact-Checking the Knaves:


Palm Coast Construction and Development Progress Reports
The following is an update of ongoing permitting, construction and development projects in Palm Coast, through June 15 (the city administration's full week in review is here):
Click to access week-in-review-june-16-20161.pdf

Road and Interstate Construction:

Aaron Copland Conducts His Own Fanfare For The Common Man, After Leonard Bernstein Gives a Brief Lecture on American Music
Previous Codas: