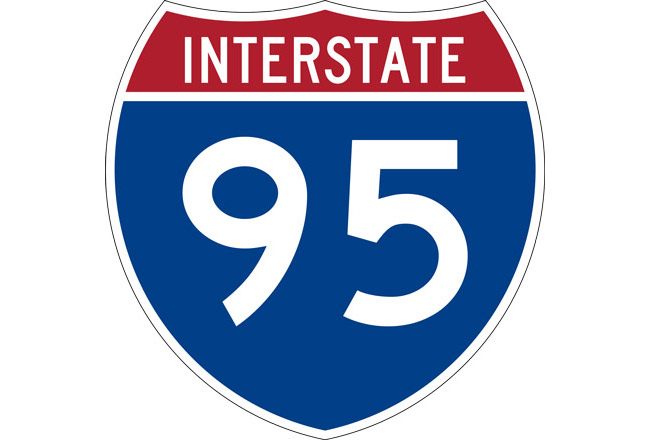 Today: Partly cloudy. Chance of showers and slight chance of thunderstorms in the morning…then chance of showers and thunderstorms in the afternoon. Highs in the lower 90s. Southwest winds 5 to 10 mph. Chance of rain 30 percent. Heat index readings 99 to 103. Tonight: Partly cloudy. Chance of showers and thunderstorms in the evening…then slight chance of showers and thunderstorms after midnight. Lows in the mid 70s. Southwest winds 5 to 10 mph. Chance of rain 40 percent. Details here.
Today's fire danger is moderate. Flagler County's Drought Index is at 243.
Today's tides: at the beaches, at the Intracoastal Waterway.
Today's document from the National Archives.
The OED's Word of the Day: supernaculum, adv., n., and int..
The Live Community Calendar
Today's jail bookings.
Today's Briefing: Quick Links


"Black people love their children with a kind of obsession. You are all we have, and you come to us endangered. I think we would like to kill you ourselves before seeing you killed by the streets that America made. That is a philosophy of the disembodied, of a people who control nothing, who can protect nothing, who are made to fear not just the criminals among them but the police who lord over them with all the moral authority of a protection racket."

–Ta-Nehisi Coates, from "Between the World and Me" (2015).
Note: all government meetings noticed below are free and open to the public unless otherwise indicated. Many can be heard or seen live through each agency's website.
The Palm Coast Planning Board continues a series of workshops on the Land Development Code, 5:30 p.m., Palm Coast City Hall in Town Center.

Updated jail bookings and day and night shift incident summary reports are available here.
Trying to Stem Hemorrhage of Green, Palm Coast Studies Patchy Golf Club Take-Over: The same lack of clarity and vision that has framed the council's oversight of the two sports operations since their inception framed its discussion on both today, resulting in a less-than-clear directive to the administration that adds up to this: KemperSports will continue managing the operations on a month-to-month basis for now, giving the administration time to prepare yet another proposal to the council. That proposal would envision yet another pitch for a third-party management company (like Kemper) to take over, but under more strict guidelines. For example, the management fee would not be paid on any given month when a profit or a break-even point isn't reached. Alternately, another proposal would have the city be more directly in charge of the two operations, while contracting out all essential services to different contractors.
Judge dismisses some charges against former elections supervisor Kimberle Weeks: A circuit court judge has thrown out three of the 12 criminal charges levied against former Flagler County elections supervisor Kimberle Weeks., the Observer reports.
Greg Lynn Jewelers Struck Again, But Detectives Track Suspect To His R-Section Home: Almost a year to the day when Greg Lynn Jewelers in Palm Coast's Flagler Plaza was vandalized and burglarized, the store was struck again early this morning. This time, Flagler County Sheriff's deputies swiftly got a suspect—a previously convicted felon for grand theft—charged and arrested him, and recovered stolen jewelry.
No More Hairpin Curve as Old Kings Road Extension Around Matanzas High Opens, Last of Big Projects: In the last of a series of recent major local road projects, county and Palm Coast officials this morning formally opened the 0.7-mile extension of Old Kings Road from Forest Grove to Matanzas Woods Parkway. The extension eliminates what had been one of the sharpest curves on a major road in the city–that 90-degree turn onto Forest Grove–and reroutes traffic away from Matanzas High School.

Flagler Beach Fireworks on July 4 Cap 4-Day Celebration; Palm Coast Fireworks on July 3: Independence Day fireworks in Flagler Beach this year–2016– will be held on Monday, July 4, at 9:15 p.m., off the Flagler Beach Pier. Flagler Beach's Holiday Parade will begin at 10 a.m., rain or shine. The parade is sponsored by the Flagler Beach Rotary. A parade entry form is available here. The deadline is July 1. The theme this year is "Land of the Free." Palm Coast fireworks are scheduled for Sunday, July 3, at Central Park in Town Center, at 9 p.m.

In Florida and in State Government:
Note: Some proceedings below can be followed live on the Florida Channel.

Workers' compensation: Associated Industries of Florida will host one in a series of meetings to discuss the workers' compensation insurance system. Business groups are urging the Legislature to address two Florida Supreme Court rulings that found parts of the system unconstitutional. (Wednesday, 9 a.m., Turnberry Isle Resort, 19999 West Country Club Dr., Aventura.)
The Florida Commission on Offender Review is slated to discuss numerous parole cases related to crimes committed in the 1970s and 1980s. (9 a.m., 4070 Esplanade Way, Tallahassee.)
Abortion: U.S. District Judge Robert Hinkle will hold a hearing in a request from Planned Parenthood to block parts of a major abortion law approved this year by Gov. Rick Scott and Florida lawmakers. Planned Parenthood filed the lawsuit June 2 and challenged the constitutionality of three parts of the controversial law. The complaint, in part, targets a section of the law that seeks to prevent state agencies, local governments and Medicaid managed-care plans from contracting with organizations that own, operate or are affiliated with clinics that perform elective abortions. The complaint also challenges part of the law that would require the state Agency for Health Care Administration to inspect at least 50 percent of abortion-clinic patient records each year. In addition, the complaint challenges a section of the law that would change the state's definition of trimesters of pregnancy. (9:30 a.m., U.S. Courthouse, 111 North Adams St., Tallahassee.)
The state Public Service Commission will continue a series of public hearings about a proposal by Florida Power & Light to raise base electric rates. The utility has proposed nearly $1.34 billion in increases over three years. (9:30 a.m., Florida Memorial University, Lou Rawls Auditorium, 15800 N.W. 42nd Ave., Miami Gardens.)
–Compiled by the News Service of Florida and FlaglerLive

In Coming Days in Palm Coast, Flagler and the Occasional Beyond:
♦ July 3: Independence Day fireworks at 9 p.m. in Palm Coast's Town Center, with pre-fireworks activities by the Flagler Education Foundation beginning at 5 p.m.
♦ July 4: Palm Coast marks Independence Day with a ceremony at heroes Park on Palm Coast Parkway at 8 a.m.
♦ July 4: Flagler Beach marks Independence Day with its traditional parade at 10 a.m., whose theme this year is "Land of the Free" (though it may more accurately be termed Land of Candidates: expect the parade to be significantly more populous, as the year's many innumerable political races is expected to bring out schools of candidates.) The parade entry form is accessible here. Flagler Beach will host its traditional day-long celebration of Independence Day, leading up to fireworks by the pier at 9 p.m.


♦ July 5: A pre-trial is scheduled at 1:30 p.m. before Circuit Judge Matthew Foxman in Courtroom 401 at the Flagler County Courthouse in the case of Joseph Bova II, the man accused of first-degree murder in the killing of Zuheily Roman Rosado in an execution-style shooting at the Mobil Mart on State Road 100 in Palm Coast in February 2013. Pre-trail hearings have been frequently continued, however. Bova has been held without bond at the Flagler County jail since May 11, 2015, when he returned from a state psychiatric hospital.
♦ July 7: Flagler County Sheriff Jim Manfre and the County Commission hold a ribbon-cutting at the expanded county jail at 10 a.m., 1002 Justice Lane, Bunnell. There will be limited tours.


♦ July 7: U.S. Senate candidate Carlos Beruff, a Republican running for Marco Rubion's seat, is be the guest speaker at the Flagler County Young Republicans Club meeting, which is open to the public. 7 p.m., Hilton Garden Inn, Palm Coast. Beruff, 58, is a Manatee County developer and major contributor to more than 100 political candidates since 2002, including a few Democrats, according to the Miami Herald.
♦ July 8-9: Book Blowout: The Friends of the Library of Flagler County are holding a discounted book sale. The public is invited to attend and take advantage of these bargains. The sale is scheduled for 9 a.m. to 4 p.m. each day. All books are 25 cents each – these two days only. No limit. Books will be continually replenished. Sale will be held at the Friends Book Shop, Flagler County Public Library, 2500 Palm Coast Pkwy NW. For questions, call 386/446-6763.
♦ July 14: The Flagler County Democrats host a candidate forum featuring all mayoral and Palm Coast City Council candidates , from 6 to 8 p.m. at the African-American Cultural Society, 4422 North U.S. 1 in Palm Coast. The event is free and open to all. For additional information, call 386/283-4883.
♦ July 16: North Florida Open Chess Championship, $1,000 total purse. Ramada Inn I-95 & 9150 Baymeadows Road, Jacksonville. Three Sections: Open, U1550 and U900. Prizes: $1000 (60% guaranteed) b/o 35 (paid entries). Cash prizes for best players U2000, U1800 & U1200. 5SS (5 rounds of games) 1st Round G/45;d5 all other rounds are G/55min + d5sec. $45 Walk-up Registration $35 Online price. Players in grades K-12 $25. Register here. Details here. The tournament director for this event will be our own Steve Lampkin.
♦ July 18: The trial of Anna Pehota, 77, who faces a second-degree murder charge over the alleged killing of her husband in the Hammock in September 2015, is scheduled to begin with jury selection.
♦ July 25: The Plantation Bay Utility Customers Community meets at 6 p.m. at Club de Bonmont, 300 Plantation Bay Drive, Ormond Beach.
♦ July 20: The Flagler League of Cities, a gathering of the county's mayors, meets at noon at Flagler Beach City Hall.
♦ July 30: Solar Plunge to benefit the Flagler Beach National Flight Academy Scholarship. Registration will be $10 per person and includes a t-shirt and goody bag. Late registration will be from 7:30- 8:30 a.m. in Veterans Park followed by The Plunge at 8:45 a.m. After the Plunge enjoy music in the park and light refreshments.

https://twitter.com/Slate/status/747939837026643968
31 scientific organizations send Congress stern message: human-caused climate change is real & poses urgent risks. https://t.co/X0XoMq6fcP

— Michiko Kakutani (@michikokakutani) June 28, 2016

https://twitter.com/BBCWorld/status/747941869976424449
When a 'Career' Barbie only came as a white doll, this husband took matters into his hands: https://t.co/Epp4Fyz5NV pic.twitter.com/X4ZuT64zXr

— The Root (@TheRoot) June 29, 2016

https://twitter.com/TheAtlantic/status/747940253617524737
Dwight Garner says Calvin Trillin's writings about race show how far we've come — and how we haven't come far at all https://t.co/ASZtcGylmy

— New York Times Books (@nytimesbooks) June 29, 2016

https://twitter.com/Salon/status/747942708963049476

Fact-Checking the Knaves:


Palm Coast Construction and Development Progress Reports
The following is an update of ongoing permitting, construction and development projects in Palm Coast, through June 15 (the city administration's full week in review is here):
Click to access week-in-review-june-16-20161.pdf

Road and Interstate Construction:

Anaïs Nin Reads from her Diary
Previous Codas: