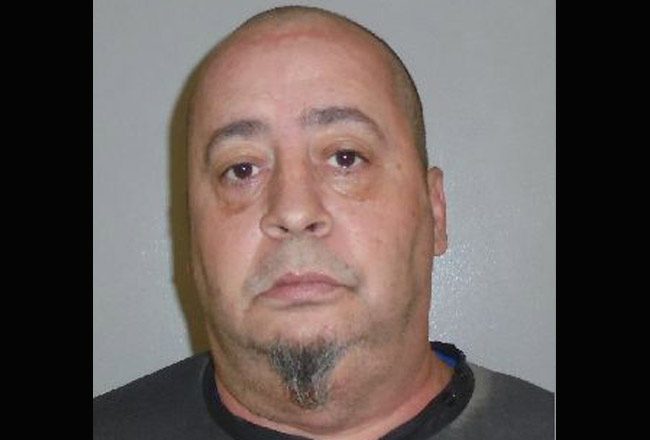 Almost a year to the day when Greg Lynn Jewelers in Palm Coast's Flagler Plaza was vandalized and burglarized, the store was struck again early this morning. This time, Flagler County Sheriff's deputies swiftly got a suspect—a previously convicted felon for grand theft—charged and arrested him, and recovered stolen jewelry.
Craig A. Chavez, a 51-year-old resident of 14 Reinhart Lane in Palm Coast, was booked at the Flagler County jail at 1:30 this afternoon on charges of burglary, criminal mischief, theft and possession of burglary tools. Bond is set at $10,000.
According to Chavez's arrest report, he is accused of using a hatchet to break into Greg Lynn's—a long-standing local family business—by smashing through several storefront glass panes, causing between $3,000 and $4,000 in damage. After initially entering the business at 6 a.m. and getting out with nothing of value, he went back in , wearing a plastic bag over his head, then allegedly stole some 13 to 15 bracelets with an estimated value of $500.
"However, he was not done," a sheriff's release issued early this evening clarified. "After driving his vehicle to a nearby business, he
was seen coming back into the business on foot for a third time. This time, he was not wearing anything over his face. Although only being in the business for a brief period of time, he was unsuccessful in taking any additional items. It is believed that he returned to see if he left his hatchet in the business."
Deputies got help from surveillance video and witnesses, which pointed to a Saturn bearing an identifiable tag number: the suspect actually opened the trunk of the Saturn, which lifted in view of the surveillance camera, thus giving detectives a sharp look at the tag. That in turn led to the Reinhart Lane address, where detectives responded, locating the suspected Saturn in the driveway. Several pieces of jewelry and a plastic Target bag were also, in the meantime, recovered not far from the store during canvassing.
At the R-Section house, detectives kept the house under surveillance for a period, then made contact with the Saturn's registered owner, Michelle Volden, 40 (who last year was charged with domestic battery after allegedly throwing a lighter at Chavez's face at the same address; she said she was sick of being verbally abused; the charge was dropped). She told detectives that she and Chavez, her boyfriend of 17 years, are the primary operators of the vehicle, and that no one else has keys. She woke up Chavez. He came outside. A detective told him that the car appeared to have been used in a crime, then read him his Miranda rights.
Chavez agreed to speak without invoking his right to an attorney. According to the arrest report, Chavez and Volden both consented to the house being entered by cops. Chavez then went to the master bedroom and picked up four bracelets, which he said—according to the report—had been stolen from Greg Lynn's, and that he left several pieces of jewelry at the scene when witnesses approached him.
A search of the Saturn produced a towel used to cover the rear window of the vehicle, a yellow t-shirt used allegedly to cover Chavez's face (the store's surveillance system takes color video) and the hatchet allegedly used to smash into the store. The clothes and sneakers Chavez wore during the alleged burglary were also recovered. He told police that "he committed this crime which he knew to be wrong" to "support his marijuana habit."
Marijuana was not the issue when he was arrested and charged with felonies last February. Chavez was charged with two felony counts of aggravated assault after an altercation with Volden, who had noticed him drinking heavily "again," according to his arrest report at the time. She emptied what was left of a bottle of whiskey down the drain, upsetting Chavez who then, according to the report, "came running out of the bedroom with [a] knife still in his hand and began screaming at her, and stated that he was going to kill her." Volden told deputies that she and her 17-year-old managed to wrestle the knife away from Chavez. But the altercation continued with the 17-year-old, resulting in a cut to the boy's leg, which required stitches.
The charges were dropped in March.
In 2005, Chavez was arrested for grand theft of over $20,000, found guilty, and sentenced to two years' probation. He made restitution and ended his probation early. If he is found guilty on today's charges, restitution is likely to be part of the sentence.