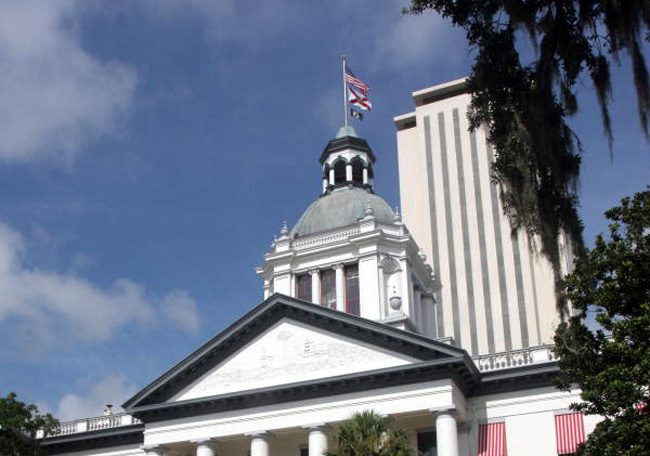 When it comes to Florida legislative races, as with most things in politics, follow the money.
Dozens of House and Senate seats are on Tuesday's ballot, but many — maybe even most — are not competitive because of factors such as incumbency and the makeup of districts.
One way to find the big races, however, is to look at where campaign cash is flowing. Donors, party leaders and political operatives don't like to toss away money on lost causes. With that in mind, here are some of the races to watch Tuesday in various regions of the state:
— TAMPA BAY: The Tampa Bay area features two of the most closely watched Senate races, including in Hillsborough County's District 18, where Sen. Dana Young, R-Tampa, is trying to fend off a challenge from House Minority Leader Janet Cruz, D-Tampa. The pair combined to raise nearly $1.5 million for their campaign accounts — and that doesn't factor in boatloads of outside money.
The other high-profile Senate race pits former Rep. Ed Hooper, R-Clearwater, and former Rep. Amanda Murphy, D-New Port Richey, who are competing for an open seat in Senate District 16 in Pinellas and Pasco counties.
House races to watch in the region include Rep. Shawn Harrison, R-Tampa, trying to hold onto his seat against well-funded Democrat Fentrice Driskell in Hillsborough's House District 63 and Republican Ray Blacklidge and Democrat Jennifer Webb battling for an open seat in Pinellas County's House District 69.
— SARASOTA COUNTY: Because of a combination of term limits and lawmakers seeking different offices, Sarasota County has four open House and Senate seats that will be filled Tuesday.
But the big-money race in Sarasota County pits two familiar figures: state Rep. Margaret Good, D-Sarasota, and former Rep. Ray Pilon, R-Sarasota. Good, who drew national attention last year when she won a special election in Republican-leaning House District 72, raised a whopping $542,000 for her re-election campaign. Pilon raised nearly $173,000 for his comeback bid.
— MIAMI-DADE COUNTY: For Democrats and Republicans, two Senate races in Miami-Dade are about holding on to seats. Sen. Annette Taddeo, D-Miami, won a fierce special election for Democrats last year in Senate District 40 and now faces a challenge from well-funded Republican Marili Cancio.
Meanwhile, with Sen. Rene Garcia, R-Hialeah, leaving office because of term limits, the GOP has poured money into efforts to elect Rep. Manny Diaz Jr., R-Hialeah, in Senate District 36. Diaz raised nearly $689,000 for his campaign and received $468,000 in in-kind contributions. Democrat David Perez, by comparison, raised $164,000 and received $103,000 in in-kind contributions.
Miami-Dade also has numerous House races, including Rep. Robert Asencio, D-Miami, facing a challenge from Republican Anthony Rodriguez in District 118. Also, Rep. Holly Raschein, R-Key Largo, raised $413,000 as she tries to win another term against Democrat Steve Friedman in District 120, which includes part of Miami-Dade and all of Monroe County.
— BROWARD AND PALM BEACH: While Broward County is a Democratic stronghold, Rep. George Moraitis, R-Fort Lauderdale, managed to keep his House seat for the past eight years. Now, with Moraitis facing term limits, Republican Chip LaMarca raised nearly $591,000 as he tries to maintain the GOP's hold on House District 93. Democrat Emma Collum, meanwhile raised about $188,000.
Up the coast, Republicans also are trying to keep control of Palm Beach County's House District 89, which is open because Rep. Bill Hager, R-Delray Beach, faces term limits. Republican Mike Caruso raised nearly $225,000 and loaned $204,000 to his campaign as he won a primary and ran in the general election. Democrat Jim Bonfiglio raised $75,000 and loaned $296,000 to his campaign — including $106,000 in loans in October.
— CENTRAL FLORIDA: Democrats have made steady gains in the Orlando area in recent years, and they are pinning their hopes on House candidate Anna Eskamani picking up a seat Tuesday. Eskamani raised about $451,000 for her campaign in House District 47 to replace Rep. Mike Miller, a Winter Park Republican who is running for Congress. Eskamani's opponent, Republican Stockton Reeves, raised $170,000.
Democrats this year have also made noise about trying to knock off Sen. Kelli Stargel, R-Lakeland, in Senate District 22 in Lake and Polk counties. Stargel raised nearly $563,000 for the race, while Democrat Bob Doyel raised about $271,000.
Another Central Florida Senate race to watch Tuesday is in District 14 in Volusia and Brevard counties. The district is Republican-friendly territory, but Sen. Dorothy Hukill, R-Port Orange, died last month of cancer. That led to the late entry of Republican Tommy Wright to run against Democrat Melissa Martin.
— NORTH FLORIDA: From the Panhandle to the Atlantic Coast, North Florida has relatively few high-profile legislative races. But the biggest-ticket race has been in Senate District 8, where Sen. Keith Perry, R-Gainesville, is trying to hold off a challenge from Democrat Kayser Enneking. The pair combined to raise nearly $1.5 million for their campaign accounts in a race that also has drawn large amounts of outside money. The district includes Democrat-heavy Gainesville but also is made up of conservative rural areas in Alachua, Putnam and Marion counties.
Perhaps the most-competitive House race in North Florida is in Jacksonville, where Republican Wyman Duggan and Democrat Tracye Ann Polson are battling in House District 15, which became open when Rep. Jay Fant, R-Jacksonville, decided against seeking re-election. Duggan and Polson have combined to raise more than $600,000, with Polson also loaning $180,000 to the campaign.
–News Service of Florida