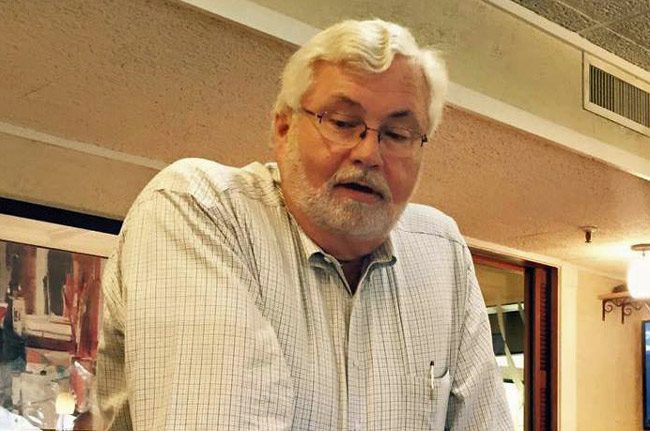 Florida Sen. Jack Latvala today resigned even as he maintained that the charges against him are "fabrications."
The resignation, effective the first week of January, follows a day after a damaging report that found probable cause that he sexually harassed a woman, a day after he said he would not address the issue until after Christmas, and hours after a second report from an independent investigator produced evidence of additional women saying he'd groped and shamed them.
Latvala, a Tampa Bay Republican who's been in the Senate for 15 of the past 23 years–he was first elected in 1994–devoted much of his resignation letter to contest the charges against him and went as far as claiming that the drive to oust him was a matter of opportunism and his failure to keep up with what he referred to with unmistakable derisiveness as "political correctness."
"Our country has been caught up in a movement to shine a spotlight on behavior that dishonors women," he wrote. "Even though I have spent my entire career helping women advance in public service, such as the 14 current female judges in the Sioxth Circuit whose campaigns I ran, my political adversaries have latched onto this effort to rid our country of sexual harassment to try to rid the Florida Senate of me. As a husband, father, and grandfather of women, I have been steadfast in my efforts to promote them professionally, but perhaps I haven't kept up with political correctness in my comments as well as I should have."
On Tuesday, a special master released a report finding that Latvala not only violated rules regarding sexual harassment but recommending that he should also be investigated for possible public corruption.
Special Master Ronald Swanson, a retired judge, found probable cause to support nearly all of the allegations lodged against Latvala by Senate aide Rachel Perrin Rogers, who accused Latvala of making inappropriate comments about her body and groping her on several occasions.
Perrin Rogers filed the complaint last month with the Senate Rules Committee, which then hired Swanson to conduct the investigation and make recommendations.
The Senate should consider "the full range of sanctions," which include expulsion, Swanson advised.
That triggered the odd succession of prickly statements from Latvala, none of them indicating that he would concede anything about the charges.
In a Facebook post Tuesday evening, Latvala said the timing of the release of the report "created special problems for me" because he is having a medical procedure this week and then is headed out of town to be with family in Mississippi.
"If there is one thing that I have learned the last couple months its the value of my family so I am not going to let their holiday be consumed by politics. I will be back in Tallahassee on Dec. 26 and will meet with my legal and political team then to consider the future. I will not have any further comment until at least then," he wrote.
By Wednesday, he had written a letter to Senate President Joe Negron, on his Senate stationery, criticizing the special master for taking the word of the accuser "over mine on every count" and going "outside the realm of the original complaint," and criticizing the fact that his fellow-senators were calling for him to resign even though he still faced "an anonymous accuser." It's not clear why he referred to the accuser as "anonymous." One is. One is not. (On Wednesday, Gov. Rick Scott also called on Latvala to resign.)
"But," he wrote, "I have had enough. If this is the process our Party and Senate leadership desires, then I have no interest in continuing to serve with you. I, therefore, will resign my seat in the Florida Senate at midnight on January 5, 2018."
Perrin Rogers, the chief legislative aide for Senate Majority Leader Wilton Simpson, accused Latvala of engaging in inappropriate acts and comments about her body over the past four years. The Senate aide alleged that Latvala hugged her in an unwelcome manner at least four times during the past two years, "assaulted" her inside an elevator this fall and touched a female lobbyist's breast in April 2017.
The allegation about Latvala's treatment of the female lobbyist was the only one that Swanson said was not supported by testimony from Perrin Rogers and other witnesses over the past few weeks.
"The evidence demonstrated a progression in conduct, over time, from unwelcome comments and nonverbal behavior to unwelcome touching," the report said.
Swanson also said testimony and text-message exchanges between the senator and an unidentified woman who was a lobbyist appear to indicate that Latvala violated ethics rules and may have violated "laws prohibiting public corruption."
The lobbyist testified that, between 2015 and 2017, Latvala "touched her and groped her in an unwelcome manner every time she went to his office."
She also said Latvala told her on multiple occasions that "if she engaged in sexual acts or allowed him to touch her body in a sexual manner he would support particular legislative items for which she was lobbying."
The woman's testimony is supported by "explicit text messages" sent from the senator to the lobbyist, Swanson wrote in the 35-page report. The most recent text message concerning the possible quid pro quo was sent in February 2016, according to the report. The woman testified that she left her work as a lobbyist "in large part to so (she) would never have to owe (Senator Latvala) anything."
Swanson recommended the allegations "be immediately referred to law enforcement for further investigation."
The Senate should also conduct "an internal review of Senate culture," Swanson advised.
"Interactions between senators, Senate staff and third-party lobbyists, both inside the Capitol and during off-site events and work-related social encounters, should be examined. This may lead to the development of additional guidelines or policy," he wrote.
And he recommended "increased and routine sexual harassment training" for senators and aides, to include "enhanced training on what elected officials must do if a staff member reports harassment by another elected official, staff member or third party."
The Senate Rules Committee will meet on Jan. 11, two days after the start of the 2018 legislative session, to consider the matter, Senate President Joe Negron wrote in a memo to the chamber.
"The allegations in the complaint are of an extremely serious and sensitive nature. The Senate is under a legal obligation to maintain the confidentiality of the identity and personal identifying information of alleged victims of sexual harassment in public records. You, as a member of the Senate, are required to protect the identity of alleged victims of sexual harassment that may be contained in the documents you may review. Failure to adhere to strict confidentiality of this information may be cause for discipline," Negron, R-Stuart, wrote. "The Senate rules are designed to ensure a fair resolution of complaints and it is important that you both understand and respect your role in this important process."
Swanson's investigation overwhelmingly supported the accusations leveled by Perrin Rogers, who accused Latvala and his backers of waging a smear campaign against her and her husband, Republican political consultant Brian Hughes who recently went to work as Jacksonville Mayor Lenny Curry's chief of staff.
Tiffany Cruz, a lawyer representing Perrin Rogers, said Tuesday that Latvala should be expelled from the Senate.
"With this report, the people of Florida now know that the Florida Senate, an august and important institution has been exposed to a terrible truth; the government they fund with their hard earned tax dollars has failed a basic obligation. It has failed to treat employees with dignity and respect by following the law. The person responsible for this sad truth is Jack Latvala," Cruz said in a statement.
The special master's report painted an ugly picture of Latvala, a veteran senator who has fervently maintained his innocence. Latvala, who announced in August that he was running for governor, enlisted the aid of Tallahassee lawyer Steve Andrews, renowned for a scorched-earth approach to defending his clients.
Testifying on Latvala's behalf, lobbyist Carole Duncanson said the senator never behaved inappropriately around her.
But even she, who called him "one of the most loyal people" she's known in more than 30 years in the Capitol, described him as "huggy and touchy-feely," while adding that, "I don't know that that's inappropriate, or that there is anything criminal or wrong with that," the report said.
Another lobbyist who worked with Latvala testified that he had made comments "which made her feel uncomfortable" and that he had "touched her waist in an unwelcome manner on three or four occasions."
And a Senate employee who was a former lobbyist said she had a close relationship with Latvala "that was, at times, intimate." When Latvala became engaged to his current wife, "she thought the sexual nature of her relationship with Senator Latvala would stop," the aide testified.
"It did not," she told Swanson.
One incident focused on doughnuts in the majority office. Camille Johnson, the office's receptionist, testified that Latvala "was very angry because we did not have donuts," Swanson wrote.
Perrin Rogers said that she met with Latvala privately in the members' lounge to address the doughnut situation, and that he "briefly squeezed on my love handle section" before she left the room.
Latvala said he may have had a discussion about the doughnuts but denied squeezing the aide.
"I find that just impossible to believe that that happened," he testified. "I wouldn't have hugged her at the end of a conversation. I wouldn't have hugged her period. I mean, I just, I don't hug Rachel. I haven't ever hugged Rachel."
–FlaglerLive and The News Service of Florida

The Special Master Report on Jack Latvala.