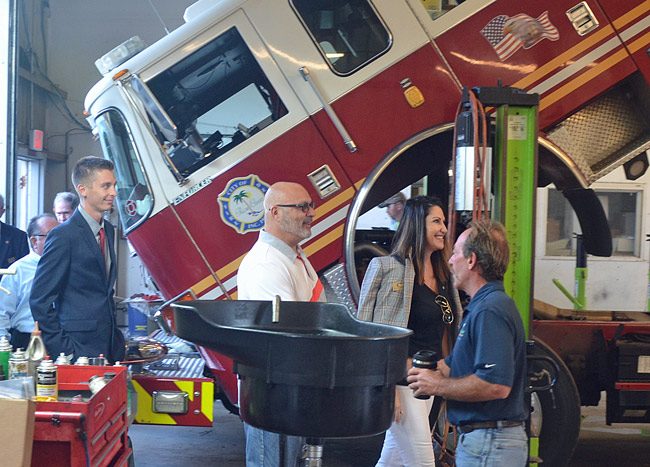 It was an at-times ugly and loud workshop this morning as the Palm Coast City Council inconclusively discussed the merits of a proposed half-hour weekly radio show hosted by Mayor Milissa Holland and paid for by taxpayers. With Holland's exception, City Manager Jim Landon had kept the proposal from council members for a month even though it would have been a $10,000 expense. The issue was unresolved today through much debating, leaving it to a divided council to vote on next Tuesday.
The discussion was at times abrasive. City Manager Jim Landon and council member Steve Nobile became offensive—Landon by framing the discussion as the result of "misinformation that can be out there all the time," an apparent attack at local media and particularly FlaglerLive, which detailed the radio proposal after Holland alluded to it on a radio show Friday. Landon provided no evidence of "misinformation," but repeatedly apologized to the council and took responsibility for not informing them.
Deep into the discussion, tempers flared as Nobile yelled—actually yelled—at council member Nick Klufas, and twice insulted him by calling him a 12 year old as Klufas was trying to make a distinction between Holland being on the show as opposed to other council members. Nobile, who had just been speaking about his disagreement with the proposal, shushed Klufas. It got uglier from there. (Klufas is 28, Nobile is 56.)
"We're going to have an adult conversation, let's just converse," Klufas told Nobile after being shushed.
"A little baby 12 year old is going to tell me we're going to have an adult conversation," Nobile said. "Say your piece and let me say my piece and don't tell me how to talk."
"Don't yell at me," Klufas replied calmly.
Nobile: "I'm yelling to you, not at you."
Klufas, still calm: "I will just ask of you to stop yelling at me."
Nobile: "I will speak how I want to speak. You done?"
Klufas: "Are you?"
Nobile: "No I'm not done I'm waiting for you to be finished so I can continue."
---
"I don't throw it on Mayor Holland at all," Council member Heidi Shipley said, looking at City Manager Landon. "I throw it on you."
---
It went on for a couple more exchanges, then the discussion about the show seemed to resume, with Holland noting that from the start she'd said she'd never necessarily seen herself as the host, then Nobile flared up again. "Don't look towards me with that tone, all right buddy?" he said, again referring to Klufas, "because I'm almost done with your childness."
At that point Bill Reischmann, the city attorney, perhaps instinctively sensing the implied threat in Nobile's words, intervened by speaking about the mechanics of the show, and council member Bob Cuff picked up the theme. (Immediately after the meeting, Nobile walked over to Klufas, shook his hand and apologized.)
"I think we're letting ourselves be cranked up here over an issue that really shouldn't have been an issue except for Bad Jim Landon not thinking about bringing it to us first," Cuff said, his reference to "Bad Jim Landon"—his second—meant with a clear note of sarcasm, though by then Landon had repeatedly acknowledged that the mishandling of the issue was his fault. "We're all getting our shorts in a twist over something that I don't see as being that big of a deal except for the fact that the media wants to make it a deal," Cuff continued. (In an interview later Cuff retreated, saying he had not meant to disparage media so much as the public reaction to the initial story, a reaction that went largely against the proposal.)
The proposed radio show may have been the subject of the discussion, but there were several subtexts to the tension and the occasional slights at media: Nobile and council member Heidi Shipley had been unhappy that the proposal was never brought to their attention, which to Nobile has been a recurring concern: he's felt left out of issues at City Hall. This was another example. The new council in the past three months, with Holland's and Klufas's arrival, has functioned well but not exactly gelled as a unit. Klufas and Holland have been almost of one mind while Nobile, who was the insurgent on the previous council, has continued in that role, in essence failing to build a coalition with the new council: Holland winning a weekly perch on the radio after just three months on the council was another indication of her greater status though he's the senior council member (with Shipley).
And Landon rarely misses a chance to deflect bad news by blaming media even as he is forced to recognize that in this case he was almost alone to blame, a point Shipley not only made explicit but noted Landon's apparent duplicity.
"I don't throw it on Mayor Holland at all," Shipley said, looking at Landon. "I throw it on you. Because I know I've asked for stuff before, even a sign somewhere, and you say 'Well, you'd better bring it to the council, you can't do anything without bringing it to the council.' So to hear that, and I know it went through a crazy way of us finding out, which is always the worst part, but I felt as though that never would have proved for me, to say, I wanted a radio show and you say, 'We'll just do it, and we'll talk to the council afterward.'"
As Landon described it, he never thought the issue would be an issue at all, because he saw the radio show as just another way to market the city. "We're constantly trying to get the word out to the community. Do we bring all that to city council?" he asked, seeing no difference between a news release or an ad about a city event and fronting the mayor in a weekly radio show. The show, he said, would have been "scripted" and would have focused on advertising city events or explaining the workings of the city—but not policy, not issues before the council. Why it was necessary to use the mayor as a weekly PR voice on the air was never made clear.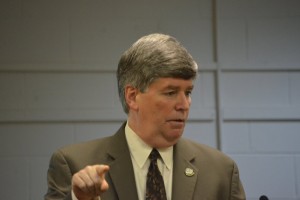 It took Landon a few stumbles and another sally at media before he first took responsibility, then claimed he was going to bring it to the council's attention all along—even though the discussions about the show started a month ago, when WNZF's general manager, David Ayres, proposed the idea to Holland, and Holland discussed it with Landon.
"I'm hearing, and you hear here, oh my god, the city is doing this bad thing," Landon said, pausing again and again, "and it's out there, blogger is going back and forth. So, but I think it has a lot to do with misinformation. So what, I, um, OK, sorry, I lost my train of thought, but, I know where I was. Is it—I made a mistake. And should have talked to you earlier. You can say that. Monday morning quarterbacking. But I can tell you we do this all the time. This is the stuff we do every day as far as how we're going to advertise. And the idea was, we were going to talk to city council because we needed more ideas. If we're going to do this once a week we needed as many ideas as possible."
"You were going to talk to us after it was a done deal about what we should put on the show," Nobile said. It wasn't a question.
"You know," Landon said, pausing again, "I think that's probably a fair thing as where we were headed, yes, and I think that's where I'm saying I made a mistake. It's not a done deal. It's, you know, there's no contract signed." He continued: "Some negative people want to try to make this negative, and then twist it as something that wasn't, um, we don't have to do it. Maybe it isn't a good idea. Love to hear your feedback and if you all don't want to do this, there's nothing signed, there's nothing committed to this, and let me know if you want me to back off and I'll be happy to back off."
Nobile repeated his objections to the idea, first spoken in an interview on Friday: he was not opposed to spending the money for marketing, but to spending it on what he called "the Milissa Holland Show," with all the pitfalls of what may or may not be discussed on the air because of Sunshine law requirements (an elected official is not restricted from talking about any item whatsoever, as long as it's not in conversation with another member of the same elected body outside of a noticed public meeting. Holland could, if she chose, discuss council issues, but only as one voice, not as a representative of the entire council.)
"If we're paying for this and do it on a weekly basis, a consistent basis, this is going to turn into a nightmare," Nobile said. "And if there is no city business discussed, 40 spots is going to turn into a propaganda machine." Addressing Landon, he termed himself "a little disappointed in what you said about the misinformation. There was no information, so when there is no information, you only get improper information." Nobile did not explain what he meant by "improper" information. (Landon did not respond to an email asking for evidence of "misinformation" in news reports.)
Landon again conceded having made errors, and again tried to justify himself in the same breath: "Once again," he said, "I've been doing this a long time, thinking I'm very politically astute, this one got by me. Doesn't happen very often. I've taken full responsibility, but this one got by me as far as the reaction that was going to come out of this. All I can say, understand, we do this every day."
Cuff and Klufas were not opposed to the radio proposal, though Klufas was more enthusiastic than Cuff, who, like Nobile, doesn't want to see the show devolve into another avenue for advertising. "There's probably a better way and cheaper way of getting that message out," he said.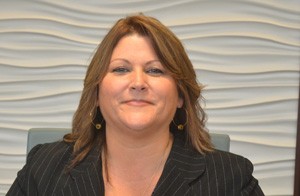 Shipley is uncomfortable about the money's uses for a show. "I just think it seems like a waste," she said. "I love that Mayor Holland is at everything, she's becoming Nate McLaughlin"—a comparison to the county commissioner that possibly had deleterious effects on Holland's usually unshakable spine. "She's at everything that goes on, and that's great. And I think people know where to find you, if there's an event, they'll find you, and they'll hear your words that way."
Still, Shipley said she might approve of a show once a month or once every three months, and Cuff was speaking of "salvaging" the idea despite his personal doubts about radio. "I think it's a good idea, terribly presented, I guess is my take," Cuff said, "and I was upset at the kind of fire and brimstone that I think got heaped on our mayor more than I'm willing to heap it on Mr. Landon." He then added with a cartoonish voice, "Bad city manager!"
"It was never, never the intent to have it the Milissa Holland show and talk about my feelings on specific issues but rather be informative and be an expansion to what I talk about day in and day out, in a powerpoint setting, for different organizations," Holland said, referring to 14 such presentations she's done so far, with three more lined up.
"I always try to find ways to help us as a legislative body get the accurate information out there," Holland continued. "The more we can inform our residents, in my opinion, the better the scenario is at the end of the day, so I'm glad I got the opportunity to set the record straight as far as how this came to be and the intent has never be nor will it ever be—I have a very strong track record respecting each of my colleagues, and not stepping outside the realm of what I think is appropriate."
It was then that Nobile said he "vehemently" disagreed with how it would not turn out to be the mayor's shows, giving one council member "undue credit" over others, leading into the clash with Klufas.
When tempers had cooled at the end of the discussion, moments before the end of the meeting, Shipley said: "This did not weaken the city council at all. This is what we do. Something comes up, we discuss it, talk about it, we debate it, and we move on."
Assuming the city manager has the foresight to bring it up.