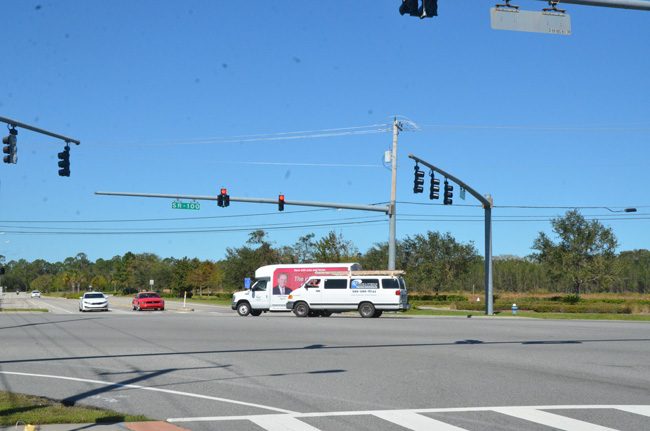 The plot of land has sat at the northeast corner of Old Kings Road and State Road 100—across from the car wash—cleared, ready for development but gapingly fallow for almost a decade, one of the many casualties of the housing bust. But its dormant years may be over.
The corner-most plot is under contract to be another RaceTrac gas station within months. And a portion of the land a few hundred feet north of that zone is being eyed for an apartment complex, with up to 136 apartments.
The Palm Coast Planning Board unanimously approved the required rezoning to enable the complex two weeks ago, from high-intensity commercial to multi-family residential. The 12-acre site for that development stretches mostly west to east, from the east side of Old Kings Road as it makes its final bend toward State Road 100 and the 37-acre Kings Pointe subdivision, which encircles a 16-acre lake. A conservation area east of the property would remain. A road entrance to the property is already in place.
"We don't have any site plan, this property is not under contract, so there isn't a lot of detail for me to talk about," Charlie Faulkner, who represents the current property owner, said of the proposal. But the land has been in the current ownership for a quarter century, it's been marketed for a dozen years, with the rezoning appearing to be a means of making that segment more appealing.
"This would be true to form a real mixed-use opportunity," Faulkner said. "It might be hard to argue that there is a better place anywhere in the community for multi-family. It doesn't have any neighbors to really disrupt. You've got recreation and shopping, restaurant, grocery store, even an elementary school and a hospital almost within walking distance, certainly a bike ride. And we put a lot of thought into this. I've been a proponent of doing this rezoning for probably six to eight years, and now we think the market is here." He added: "If there is a deficit of any land use in our community, I think it is multi-family," meaning apartments.
"To give a comparison," Bill Hoover, a city planner, said, "if the rezoning was not approved and the property owner developed this later, like maybe with the property to the north or across the street, some of the things that we could have, just coming in for a site development plan, would be a car, RV or boat dealership. You could also have a heavy-equipment rental yard, home improvement store, gas dealership with bulk storage or animal boarding center."
With the more intense residential zoning designation, which allows up to 12 units per acres in non-wetlands, they can be developed as condos, townhouses or apartments. It's not likely that the development would total the maximum allowable 136 units. As required by law, the developer contacted all property owners within 300 feet of the development to present the proposal. The meeting drew no audience.
The subdivision was developed in 2008, with no activity since. "However, the development has heated up quite a bit," Hoover said, with a surprise announcement: "RaceTrac Petroleum has one and a half lots right at the northeast corner of State Road 100 under purchase contract, and they have already submitted a site plan, and it looks like that project will more than likely move forward and it may start construction maybe in as quick as several months from now."
That would be RaceTrac's third gas station in Palm Coast, with a recent one opening at Seminole Woods Parkway and State Road 100 and its older station on Palm Coast Parkway.
The apartment development, Hoover said, would be compatible with its surroundings and the goals of the city's comprehensive plan. There would be no transportation issue: Old Kings Road is four-laned, its level of service is rated A, meaning it's not at all stressed by traffic.
But as happens almost automatically when apartment complexes are discussed or proposed in Palm Coast or Flagler County, opposition materialized.
A resident of Hidden Lakes, a development substantially north of the property on Old Kings North (it's north of Town Center Boulevard and the Lehigh Trail), said he was concerned with the additional traffic in the area, particularly in relation to school buses. He was the first of several Hidden Lakes residents who made potentially increased traffic a focus of their concerns, along with the fact that Old Kings Road is only two lanes north of Town Center Boulevard.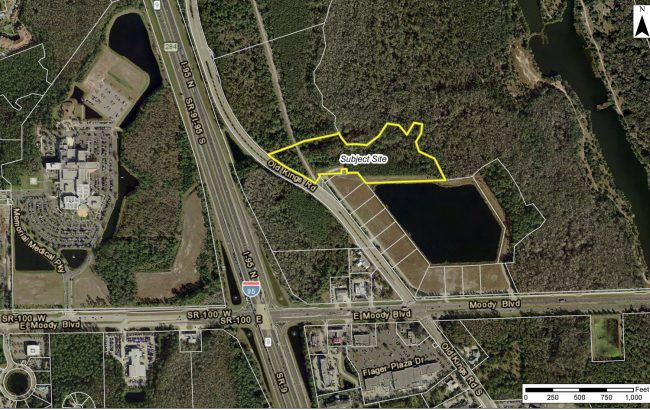 The concern was ironic, considering that the same Hidden Lakes residents are themselves already adding to the traffic patterns considerably more than would the apartment complex: they are part of a 380-lot subdivision that lets out on a two-lane road. The Institute of Traffic Engineers, the most authoritative source for this sort of information, notes that a single-family home generates about 10 trips per unit per week, compared to an apartment's 7.5 to 8 trips per units.
The apartment complex, if built, would give out on a four-lane road, adjoining another four-lane road and an interstate. But existing residents—who themselves may have been the subject of older residents' objections when their subdivision was up for permitting—typically use a few concerns, however distant from their homes or not founded in fact, as pretexts to oppose a certain kind of neighbor they just don't want. The opposition is usually based more on prejudice than on evidence. That was the case when K-Section residents opposed a proposed apartment complex south of Belle Terre Boulevard, east of U.S. 1, earlier this year. It was the case when Bunnell and Palm Coast residents opposed an apartment complex near Palm Coast's E Section. It happened again as opposition mobilized against the Old Kings re-zoning.
Carl Murphy, another resident of Hidden Lakes, asked whether the apartments would be subsidized—a reference to federal subsidies that help generally poorer residents afford rent. He then asked "why aren't apartments being built at Town Center?" In fact, Town Center does have apartment complexes.
Murphy went on, revealing his deeper concern: "Since this was all laid out as some beautiful mixed-use thing, why not put the people here, and then they can go to Belle Terre Elementary, instead of taking people from our neighborhood and busing them across the city to accommodate something that was never at all zoned to begin with. I'd like to know those answers to those questions." He said the property was being rezoned just to enable its sale, then added: "I'd like to see city council members or the developers living in these apartments for a while and see what they bring to our community. We're not equipped with the infrastructure to have these people. We don't want these people. We bought in the swamp to stay in the swamp. And we would ask simply that this be the commercial area that it was supposed to be, so that people will go home at night and the roads will be clear and they will not bring the crime or whatever it is that comes with people living on top of each other."
These people is coded language for minorities and people with lesser means. (Murphy owns a 3,000-square-foot house currently valued at $242,000, according to the county's property appraiser.) The comments are not unusual.
Tony Flores, another Hidden Lakes resident, said he moved to the community from Atlanta to escape traffic and seek "the good life." He wanted to know who would pay for the needed infrastructure. "You should have had high-end retail stores here that's going to create jobs for the community," he said. "That's what we've been wanting so we don't have to go to Daytona or Jacksonville or St. Augustine." In fact, the Kings Pointe development still has numerous available plots for just such stores, though commercial venues of the sort would generate substantially more traffic on Old Kings Road than would the apartment complex—a fact that appears to be of no concern to Hidden Lakes residents, again underscoring the nature of their opposition. In effect, an apartment complex would lower the amount of traffic on Old Kings, if the choice is between apartments and shops.
John Bockelmann, yet another resident of Hidden Trails, raised the question of "tax credits" or "anything else that might affect the rest of us taxpayers." (The developer will have to pay one-time impact fees, which are like a tax and run in the thousands of dollars per unit, to defray the impact of development on transportation, fire services, parks and so on. The impact fees don't affect existing residents. To the contrary. They are intended to shift the cost of development onto the new arrivals, so as not to overburden existing taxpayers.)
The whole zone is in a special taxing district Palm Coast established a few years ago to repay the $6.7 million debt it incurred when it rebuilt Old Kings Road to accommodate an eventual Walmart supercenter. That was before Walmart pulled out and left the city holding the bag, making the special taxing district necessary. Property owners along Old Kings are all part of that taxing district.
Faulkner stressed that there are no current plans for apartments there. "This is just the beginning," he said, referring to a series steps ahead. "So we're a long way from seeing anything built there," though he said there are four different entities from around the country interested in the site, all four with different concepts.
Faulkner then addressed their more prejudice-laced issues directly.
"Apartments or multi-family often times have a stigma that goes with them," he said. "All I can say is point out to everybody, if you take a step back from the emotion, maybe most of us at some point in our life have lived in an apartment building for a while. I did. It's when you first start out as a young professional, you don't have a lot of money saved up and you may not be bringing home that big of a salary. Apartments are a necessary and in my opinion a vital ingredient for a vibrant, healthy community. A lot of people refer to it as workforce housing. Well, that means construction guys, it also means school teachers and firemen and nurses. Not everybody at a point in their lives that needs an apartment building is a detriment to our community at large. And I'd like for everybody to keep that in mind."
Palm Coast he said, citing Helga van Eckert, the county's economic development director, is in great need of apartments for its workforce. Planning Board member Jake Scully and others noted that there are many single-family homes in Palm Coast now being used as rentals. Apartment complexes could alleviate that issue.
"Why should all the citizens universally oppose multi-family anywhere in this area?" Scully asked, after another board member echoed the residents' objections based on not knowing what the complex might look like. "That seems to be your universal stance every time multi-family comes in front of this board. I'd like to know why."
The answer is less mysterious than it may appear.
The Palm Coast City Council next takes up the rezoning matter at its Nov. 7 meeting, what would be the first of two votes before the rezoning is approved.