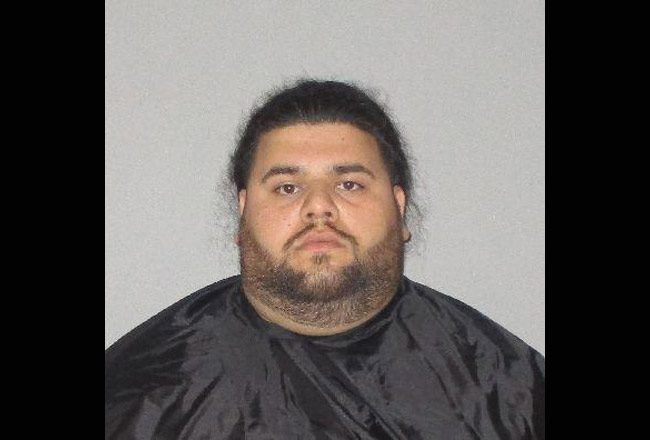 Caution: the 13th paragraph contains offensive language.
Tariq D. Khawaja has been a sizable blip on the Flagler County Sheriff's Office's radar since last fall, when he was tagged as a Blood gang member. The 27-year-old resident of 6B Ryall Lane in Palm Coast was among those arrested on Oct. 2 at that house, where a small arsenal of weapons, including an assault rifle and ammunition, was seized. He faced three felony drug charges. He'd bonded out, and was due in court Wednesday for a pre-trial. The hearing was continued.
But nightfall, Khawaja was back at the county jail, and on far more serious charges, along with two other people.
Khawaja faces three charges of what's technically referred to as firing a missile into a dwelling or a vehicle, and what's more commonly known as drive-by shootings.
Wednesday evening Sheriff's deputies in Flagler were alerted to an incident in Volusia County involving Khawaja. The conducted surveillance at the R-Section house and saw him drive off in a Toyota, which they pulled over on State Road 100, arresting him on the spot on a Volusia warrant. (Two other people were in the car. Allen J. Brown was jailed on a charge of carrying a gun without a permit, and Christopher Cordova was booked on a misdemeanor charge of driving without a license.)
The incident allegedly involving Khawaja took place on Monday and again late Tuesday –two separate drive-by shootings involving the same target. The attacks were allegedly carried out by Khawaja in retaliation over a gun he said had been stolen from him. He was recorded allegedly threatening to kill a woman and keep shooting her property until the gun was returned.
A Daytona Beach resident reported hearing several gunshots. "She did not bother looking outside to investigate the noise further as the sounds are common in the area she resides," the Volusia County Sheriff's report states in reference to the address at 1502 Old Kings Road in Daytona Beach. But hours later, the woman noticed her tenant's vehicle had a shattered back windshield.
The vehicle owner described hearing the gunshots at 4:10 a.m. but was scared to investigate or call 911, but discovered the vehicle to have also been vandalized, with scratch marks down the passenger side. She told deputies that her son had been "ripping" people off recently "in the narcotics industry," and that he would likely know who might be responsible for the attack. She believed her son was the target, but that she was victimized instead. Deputies recovered three 9mm shell casings near the car and discovered five bullet holes in one of the walls to the apartments (the targeted apartment was vacant).
Her son, Daniel Madsen, accused Cordova when he spoke to deputies, only citing an issue over a girl and refusing to entertain more questions–until he found himself at the Volusia jail the next day on unrelated charges. He then claimed Cordova was in a dispute with him over a gun, and that a man with a heavy New York accent had threatened him over the phone. He suggested a "heavyset male" on Cordova's Facebook friends list could be a "person of interest." That was Khawaja, "a known Blood gang member with ties to narcotics and firearms based on a recent search warrant conducted at his residence," the sheriff's report states.
The information about Khawaja's gang status was not included in a Flagler Sheriff's news release last October, nor in his arrest affidavit. "I'm not going to let gangs move into this community.," Sheriff Rick Staly said on April 19 in a community update on local policing, "I don't want them to feel safe, so we will focus heavily on them," among other issues.
As deputies were investigating Monday's shooting, the second shooting took place on Tuesday just before midnight. That time several bullets sprayed two apartments at the same address, but one of the apartments was occupied, and residents had to take shelter in a bathroom until deputies arrived. The spoke of from five to seven gunshots.
Deputies also learned from a witness who was standing in his yard the afternoon of May 7, hours after the first shooting, that a brown or tan "suburban" type vehicle passed directly in front of the 1502 Old Kings Road property, and that a man with a "Hispanic skin complexion" in the passenger seat slammed on the roof of the vehicle and yelled at the property.
Meanwhile Madsen had agreed to do a controlled phone call to Khawaja from jail–that is, a phone call monitored and recorded by authorities.
The arrest report transcribes what happens next in the following exact terms: "Several minutes later Khawaja begins talking on the phone and says, " YO&. Listen.. This is me now you talking to blood". Madsen recognizes the strong New York accents and acknowledges he is talking to Khawaja "Brack". The two begin to argue as Khawaja claims Madsen stole his Glock 45, which Madsen denies the theft. Khawaja advised he needs the Glock back as it is registered in his name. Madsen responds, "Listen bro, I told him give me till Friday, just don't fuck with my momma no more dog". Khawaja immediately interrupts Madsen and states, "BRO. I'M SHOOTIN THAT SHIT EVERYDAY TILL MY SHIT GET BACK. EVERYDAY, THAT'S ME SENDING THEM SHOTS BRO. THAT'S ME DOING THAT NIGGA. YOU DON'T KNOW WHO THE FUCK YOU DEALING WITH NIGGA. I'M KILLING YOUR MOM TONIGHT. YOUR MOM IS GETTING SHOT IF I DON'T GET MY SHIT. The conversation continues as Khawaja continues to demand his stolen gun back. Madsen again asked for his mother to be left alone [and] Khawaja responds, "YOU DO FUCK SHIT IN THE STREETS, IT COMES WITH THE TERRITORY". During the conversation another male gets on the phone as Madsen ask who it was talking as the third male advised it's Dijion, who is known to be Dijion Russell, who also a known Blood gang member. The controlled phone call soon ends and Madsen was dropped off at a nearby side street in the area."
Deputies determined that Khawaja, no longer at the R-Section house, was now living at 2012 Pritchard Drive. Flaglert sheriff's deputies picked up the case and carried out the traffic stop on Khawaja and others.
"I am proud of our deputies for keeping eyes on the suspect and keeping constant communication with Volusia so that Khawaja could be picked up as soon as the warrant was in hand," Sheriff Rick Staly was quoted as saying in a release.