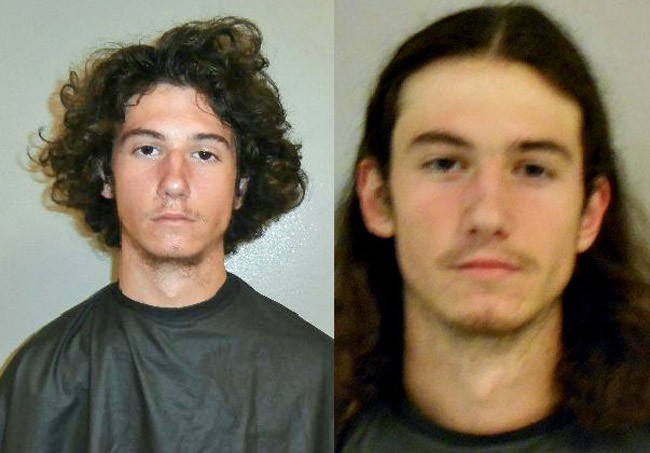 Update: Karl Westgate was sentenced to 25 years in prison and life probation as a sexual predator on May 14, 2015. The story here.
Karl Westgate, a 19-year-old resident of Palm Coast who became a father two months ago–he featured himself cuddling his new baby in a Facebook post two weeks ago, eliciting affectionate responses–was arrested Thursday on charges of raping an 11-year-old girl and exchanging nude pictures of himself and of her by phone. The rape charge is a capital felony.
Westgate, of 3 Wendell Place in Palm Coast, has been arrested twice before in Flagler in the brief time he's lived locally (he moved to Palm Coast in 2013, and is from Indiana, according to his Facebook timeline). He is being held at the Flagler County jail on $20,000 bond on three charges–computer porn, possession of child pornography and lewd and lascivious battery on a child younger than 12–and on no bond on the capital rape charge.
The Flagler County Sheriff's Office announced the arrest late Thursday afternoon in a news release, saying the arrest, which took place at 24 Westfalls Lane just before noon today, was the result of a weeks-long investigation by the sheriff's Major Case Unit.
Westgate, the release states, met an 11 year old girl through Facebook, spoke to her about drinking alcohol, smoking marijuana and about sex daily and for several hours at a time. Westgate then "requested and coerced the victim to send nude photos of herself and in exchange, sent nude photos of himself," the release states. According to his arrest report, he went as far as instructing the victim "where and how to photograph herself" in December. Matters escalated when Westgate visited the girl's home and raped her.
The arrest report, released just after 5 p.m., states that the Facebook communications took place over several months, and that the alleged rape took place the first time Westgate had enticed the girl to meet him, in January: he'd gone to her house to watch television, and while visiting her in her bedroom, began assaulting her by touching her. The girl, according to the report, asked him to stop repeatedly, every time he escalated the assault, because of the pain, trying at one point to push him off of her, but "he did not listen," the arrest report states.
"We have been investigating this incident for approximately three weeks," Sheriff Jim Manfre is quoted as saying in the release. "Our Major Case detectives worked diligently to protect this young victim."
In 2013, he was arrested and charged with burglary, petit theft and prowling. A few months after the original charges, he was arrested again for burglary, grand theft and dealing in stolen property. The two cases were combined in a plea deal. The burglary charge was dropped, adjudication was withheld on the remaining charges, and Westgate was placed on five years' probation with fines and restitution costs.
He would skate with friends at Ralph Carter Park near Rymfire Elementary School. His numerous Facebook "Likes" include numerous marijuana sites, video games, Florida State, the Chicago Bulls, "Shocking Brutal Fights" and "Shocking Street Fights," skateboarding, and they include a single like that relates to an author or a book: that of "A Child Called 'It'," the memoir of child abuse written by David James Pelzer, who also wrote "The Lost Boy," about a foster child's "search for love."