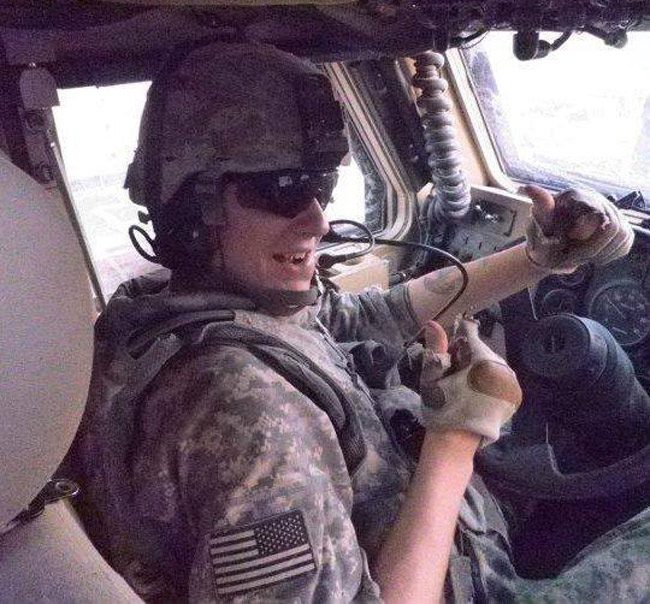 Justus Albert Leach, A 26-year-old Army veteran of the Iraq war, was found dead from a self-inflicted gunshot wound in his backyard at 71 Ft. Caroline Lane Sunday. It was the third suicide by gunshot in five days in Palm Coast.
A roommate of Leach's found him Sunday morning in a corner of the backyard, on a bench. "A tactical shotgun was also observed" near Leach, according to a Flagler County Sheriff's Office report. The gun had been moved by another roommate after he had been advised by a 911 dispatcher to attempt CPR.
But a deputy reported that by then Leach appeared to have been dead "for some time," according to the report. Leach was pronounced dead by a paramedic at 8:57 a.m. Sunday (June 11).
Neighbors did not report hearing any gunshots, according to the deputy.
Leach had studied at Florida State College in Jacksonville, according to his Facebook page, and had served in the military, in Army infantry, until his discharge in 2013. He had been posted in South Korea and served in Kuwait and Southern Iraq in 2011. From there, he had posted a note written wither by him or by a member of the Ironhorse Brigade of which he was a part, which read in part: "I am proud to say that our Troopers have performed honorably, and accomplished a mission that will serve as a significant milestone in the history of the United States and Iraq. Great progress has been made in the past 8 years since U.S. Forces took military control of Iraq in 2003, and 1st Brigade and its Troopers played a valuable role in that progress up until the very end."
Over the years, Leach wrote of several difficulties, surgeries and depression among them, finding out in 2013 that sometime during his Army days he'd broken his back. The previous year, he'd written: "i don't always hurt myself but when I do I [mess] myself up."
He always marked Veterans Day with a note to fellow-soldiers, as he did a few years ago: "Happy veterans day to my brothers and sisters who have fought for this wonderfull country, to all my friends I've lost and those that are still alive and kicking ass I'm downing beers for you today as per tradition."
He was a fan of Star Wars, "Blazing Saddles" and the Doobie Brothers, and posted freely and often about what and whom he was no fan of. He had lived at the house on Fort Caroline since February.
Last July, the Veterans Administration reported that, based on records from 2014, an average of 20 veterans per day died from suicide, accounting for 18 percent of all suicides among adults in the country, even though veterans represent just 8.5 percent of the population. That year alone, 7,403 veterans killed themselves–or 572 deaths more than the combined American combat deaths in Iraq and Afghanistan in 16 years.
In 2010, veterans accounted for 22 percent of suicides, at a time when almost one in 10 adult American was a veteran. Two-thirds of veteran suicides are the result of a gunshot.
On June 8, a 92-year-old Palm Coast resident took his life after driving to the old Players Club tennis court, and leaving a note and instructions behind for his family. He had been depressed and battling cancer. Two days earlier, a 49-year-old resident of Plantation Bay took his own life at his home. Both men died of gunshot wounds.