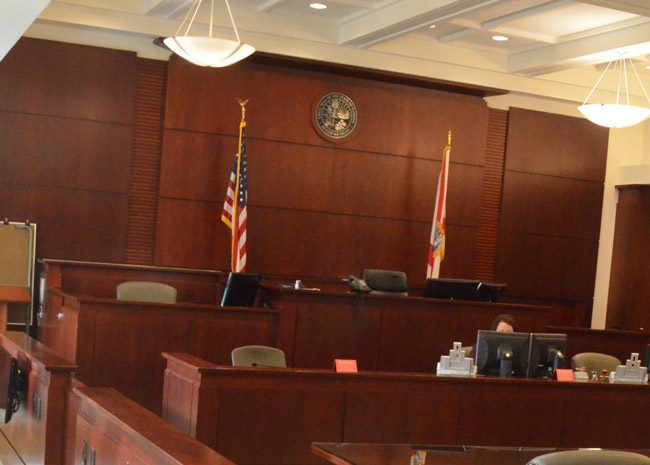 Chief Judge Raul Zambrano has ordered a reorganization of judicial assignments affecting Flagler and Putnam counties caused by the expulsion of Circuit Judge Scott DuPont from the bench as DuPont fights allegations of improprieties on the job and on the campaign trail.
Even without the DuPont affair, the Flagler Bench has resembled a set of musical chairs for the past several years, with judges seldom staying in place very long. DuPont's forced exile is precipitating more such changes. The changes are all effective April 2.
Judge R. Lee Smith, in charge of Flagler's family court division for less than two years, will be moved to Putnam County and take over that family court division.
Judge Chris France will take over family court in Flagler, moving from a civil division in Volusia County. Gov. Rick Scott appointed France to the bench in September 2016 to replace Judge Joseph Will, who resigned intentionally a few days before the deadline, a political maneuver intended to give Scott the appointment. At the time France was an assistant state attorney who lived in Palatka but managed the state attorney's office in St. Johns. He'd been at the State Attorney's Office 18 years and had unsuccessfully run for a state House seat in 2008 as a Republican (losing the primary to arch-conservative Charles Van Zant). He was sworn in as a judge in January 2017.
Circuit Judge Dennis Craig, who presides over felony court in Flagler and has been on the bench since 2010, will keep that assignment, but he will take over all the civil cases as well, which had been handled by DuPont, and will still preside over Drug Court. Craig is known as a workhorse who doesn't necessarily stick to shift whistles even during court sessions. He had previously sat on the civil bench in Flagler before moving to Volusia, then moving back to take over the felony division for Matthew Foxman.
Finally, Judge Patti Christensen will take over the civil division in Putnam County and the probate division in Flagler. Christensen was appointed to the bench by Gov. Jeb Buish in 2000.
The status of County Judge Melissa Moore-Stens is unchanged, though the budget that just cleared the Legislature includes enough money to provide one or more senior judges who will help lighten Moore-Stens's docket.
Zambrado's order does not explain the changes, it merely lists them, so it's not clear why Smith will be moved from Flagler to Putnam instead of France.
These latest changes mean that Flagler's bench will continue to have no minority representation, as has been the case in the entirety of the courthouse's history with one exception: that of Zambrano. But that's a reflection of the circuit's current demographic, at least at bench level: with Zambrano's exception, all 26 other circuit judges and 14 of 15 county court judges are white (the exception is Judge Dawn Fields, who is black), even though the circuit's population is not nearly as lopsidedly white. It's not for lack of candidates: several minorities have vied for appointments—including Regina Nunnally, the assistant public defender in Flagler—but been passed over by the governor.
Zambrano, a former felony judge in Flagler, is the chief judge of the Seventh Judicial Cicruit, which includes Flagler, Putnam, St. Johns and Volusia counties.
Meanwhile, DuPont is continuing to battle the Judicial Qualifications Commission's recommendation that DuPont be removed from the bench. The commission, issued its findings in mid-February, leaving it up to the Supreme Court to decide whether to follow the recommendation or opt for a different approach.
On Wednesday, DuPont filed his response to the findings, a 40-page pleading in which he argues that the commission did not take heed of the many character witnesses who spoke on his behalf, and claiming that "the only testimony regarding his present fitness to remain in office has been uniformly and overwhelmingly positive." He lets pass significant findings that were not nearly so glowing, such as the fact that a former chief judge, while friendly to DuPont, found it necessary never to assign DuPont to the felony bench for fear that DuPont would send too many people to prison, a reflection of the concern over DuPont's temperament.
Zambrano last month ordered DuPont out of the Putnam and Flagler courthouses pending the resolution of the case against him.