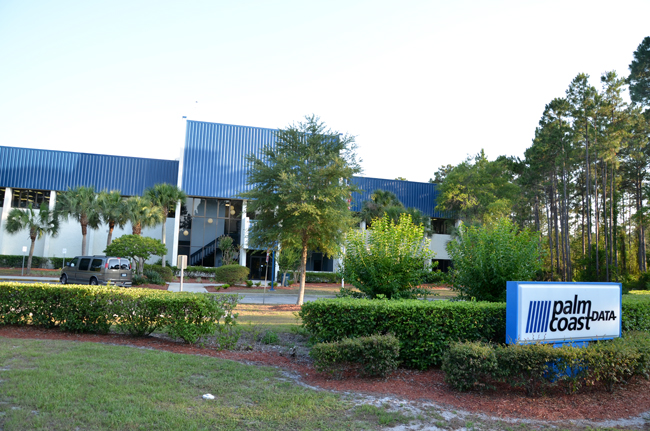 Palm Coast Data parent company Amrep Corp. today announced that John Meneough, who's been with the company and its predecessors since 1996–well before Amrep acquired the subscription fulfillment firm in 2007–has resigned. Meneough, 62, will remain with the company in an advisory capacity until next April.
Palm Coast Data, with between 1,000 and 1,100 employees, is Palm Coast's largest private-sector employer. It specializes in subscription and membership services. Its revenue peaked in the middle of the last decade, when it was processing roughly 12 million pieces of mail, and has been declining rapidly since as the magazine industry has suffered prolonged losses, losing advertisers and readers to the internet.
Meneough's salary last year, not including benefits, was $346,948.
Palm Coast Data is part of a trio of companies under the AMREP umbrella, including Amrep Southwest, a real estate holding company that;'s been battered by the housing crash. In the past three years, even as its revenue declined, Palm Coast Data became the principal revenue generator for Amrep. The company's stock peaked at $150 a share in the middle of 2006, at the height of the hosing bubble. It has since collapsed to just under $9 a share. Palm Coast Data is reportedly for sale.
"I am proud of what we achieved as part of the AMREP family of companies and want to thank the Palm Coast Data employees and clients for their support through the years," Meneough said through an Amrep release.
Meneough's resignation is part of broader changes at Amrep, which appointed Theodore J. Gaasche president and CEO, effective Monday, after serving as AMREP's vice president of corporate development since February. He was an executive cice president with Spartan Organization, Inc., a private company that advises print and publishing companies owned by Nicholas G. Karabots, who owns a majority of Amrep's shares and briefly proposed taking the company private last year.
Also, Michael Duloc, who'd been CEO of Kable Media Services, will consolidate all the company's media services under his leadership. The Company's media services businesses consist of subscription fulfillment services at Palm Coast Data and newsstand distribution, product fulfillment and specialty packaging services at Kable Media and its subsidiaries. The reorganization is an indication of the various companies' shrinking revenue and Amrep's attempt to reclaim some initiative. "This unified approach to AMREP's Media Services businesses will allow us to better meet the rapidly evolving needs of our distribution and fulfillment clients and prospects," Duloc said in the release.
Less than two weeks ago Amrep announced its full-year, 2011 revenue and profit, posting a revenue decline for the fourth successive year and an income loss for the third year in a row. Palm Coast Data revenue fell for the third successive year, but has been accounting for an increasingly larger share of Amrep's decreasing revenues.
"We want to know what we need to be spending our money on," Meneough had told clients in 2004. "For the future of Palm Coast Data and the publishing industry we must drive new revenue sources. We realize we must customize our systems to meet your needs."
The company is still on the hunt.