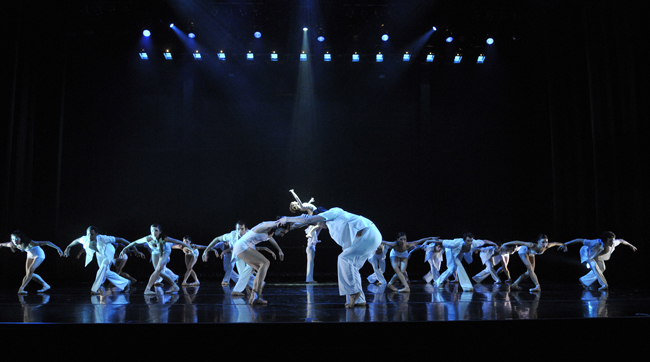 The State Fair
"Always in Tampa, Always in February" is just one of the slogans that announce the annual Florida State Fair – a salute to the best of the agriculture and equestrian industries of our State along with an incredible array of entertainment, crafts, music, rides, food and fun for 12 days from February 10th to the 21st.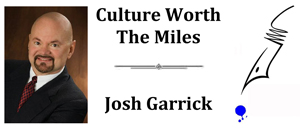 When the Fair began (in 1905) the agricultural exhibits were displayed in one building, but by 1976, the Fair moved to its current 355-acre site, at Interstate 4 and U.S. Highway 301 outside of Tampa. Now in its 107th year, the Florida State Fair contributes $171 million annually to the economy of the Tampa Bay area and hosts 100,000 square feet of indoor exhibit space. From the Racing Pigs and Sea Lion Splash to the Helicopter Trapeze Thrill Show, the Ranch Rodeo, and Circus Hollywood, the State Fair is down-home, get-the-family-together fun and entertainment.  The fair is located at 4800 Highway 301, 7 miles north of Tampa. Call 813-621-7821 or 800-345-3247.
Harbor Nights at Portofino Bay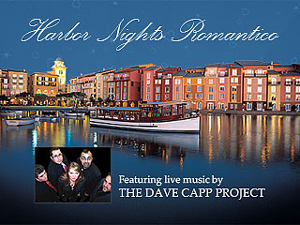 The Portofino Bay Hotel, which is an exquisite re-creation of the Mediterranean resort of Portofino, will re-open its themed "Harbor Nights" evenings on February 18 with an "oh-so-Italian" welcome of wine tasting, gourmet food and music at the Italian-themed Hotel at Universal Orlando. Those beautiful 'Harbor Nights' feature select wines, food samples, chocolate fountain, complimentary hand-rolled cigars, live jazz music performed by The Dave Capp Project, plus romantic arias and duets performed by Portofino's opera singers. Harbor Nights takes place under the stars in the Harbor Piazza at the Hotel. Featuring 750 rooms and suites, Portofino has received accolades as one of the finest hotels in the world. The up-coming Harbor Nights is set for Friday, February 18 from 6:30 to 9 pm. Visit LoewsHotels.tix.com or call 407-503-1200.
The Music of Richard Rodgers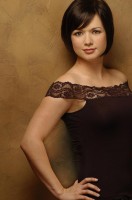 We have two chances to enjoy the artistry of the Orlando Philharmonic as they present performances of the musical genius of Richard Rodgers in a program called, My Favorite Things – The Music of Richard Rodgers. On Saturday, February 19 at 2 pm and 8 pm, the concerts are part of the Orchestra's aptly-named 'Super Series,' because they do this kind of concert exceptionally well. Music Director Christopher Wilkins says, "Melodic genius is a special kind and only a very few composers have ever had it.  Rodgers was one of them, his talent earning him several Tonys, Oscars, Grammys, Emmys, and a Pulitzer. Music from Oklahoma, South Pacific, Carousel, and The Sound of Music will be performed along with iconic songs Rodgers created with lyricist Lorenz Hart." In other words, it is a program of the most beautiful and memorable music of all time.  And as a wonderful "bonus," some of those songs will be sung by the amazingly talented singer/actress Michelle Knight. Remember – there are only two performances, and they take place at the Bob Carr. Call 407-770-0071, or visit www.orlandophil.org
Curious George at the Orlando Science Center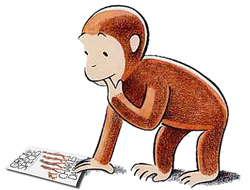 That charming monkey Curious George – who has been in the hearts of children since 1941 – is the featured 'guest' of a new exhibit at the Orlando Science Center through May 29th.  Invitingly educational, the exhibit leads young visitors on an interactive math, science and engineering-based adventure while emphasizing the role that parents play in children's learning. Based on H.A.and Margret Rey's classic stories and the PBS television series, children find themselves surrounded by familiar places, while encountering new challenges and ideas that invite them to learn … like Curious George! An accompanying screening in the Dr. Phillips CineDome is Jane Goodall's Wild Chimpanzees in a giant screen journey into the hearts, minds and world of wild chimpanzees. The film chronicles Dr. Jane Goodall's more than 40 years of legendary work among the chimps on Lake Tanganyka in Africa. For more information, call 407-514-2000 or visit www.osc.org.
A Novel Performance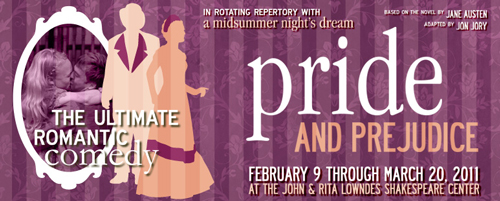 The irresistible characters of Jane Austen's Pride and Prejudice have been interpreted in movies by many of the greatest actors of generations. Now, the Orlando Shakespeare Theater, at 812 East Rollins Street, will present the novel as a romantic comedy with all the wit and romance of Austen's classic coming to life in a fast-paced new adaptation by Jon Jory. In a society in which pretense, manners and class (as determined by birth) mean everything, can the proud, but independent Elizabeth and the handsome (and "high-born") Mr. Darcy look beyond their pride and prejudice to find true and lasting love? In addition to evening performances, a "chat-back" will take place at Barnes & Noble on Thursday, February 17 at 5 pm.  (Call 407-894-6024)  Later, a "Mock Trial: Darcy V. Wickham" will take place on Tuesday, March 1st at 5:30 pm. Pride and Prejudice (the play) will run at the Orlando Shakespeare Theater through March 20th.  For tickets, call 407-447-1700 or visit OrlandoShakes.org
Ballet as a Battle of the Sexes
One year ago the Orlando Ballet Company served notice to the world that it had acquired a new Artistic Director, and that Director was going to create a Company of world premiere choreography that is edgy, unforgettable, and contemporary. One year later – just in time for Valentine's Day – the power struggle between the sexes is the subject of Battle of the Sexes II, the much anticipated sequel to last year's debut performance. Do not miss the amazing Company which has grown under the direction of Robert Hill, and do not miss the performances to take place on February 11, 12, and 13 at the Bob Carr Performing Arts Centre. Fiery, passionate, and pulsating are words to describe Hill's choreography set to music from techno violin to film soundtracks. The welcome return of former Orlando Ballet dancer Israel Rodriguez and a new work by Marshall Ellis, originally created in a Ballet and Cirque du Soleil collaboration, will be welcome additions to this evening of bravura dance. "We aim to intrigue our patrons with a blend of classical ballet with a sexy twist," says Hill. The company has also announced a "gift" to the community with tickets starting at $15. Call 407.426. 1739 or visit orlandoballet.org