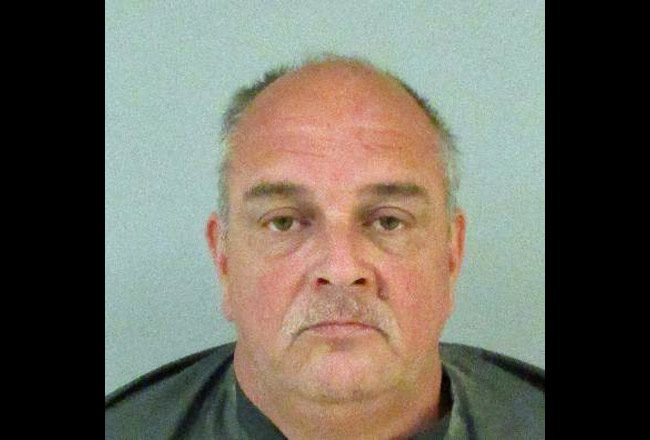 Note: This story contains expletives further down.
Jerald D. Medders, 51, of 6 Zelda Place in Palm Coast, was arrested Wednesday evening on three counts of rape on a 16-year-old girl, a first-degree felony. Medders, who also spells his first name "Gerald," was arrested at his home and booked at the Flagler County jail on $300,000 bond. He was to have his first-appearance hearing before a judge this morning.
Medders allegedly blamed his victim.
The victim, according to Medders's charging affidavit, reported to a counselor last week that Medders had allegedly been having sex with her for three months at his home on Zelda Place—in the backyard, in the garage and, the last time it occurred, in his daughter's bedroom. The girl was 15 when the alleged assaults began, after he had made several advances toward her. She had told him it wasn't right, according to a case report, but he went on.
Medders has known the victim for many years, and according to the affidavit, had been telling her that he was attracted to her since she was 13. He had a relationship with the victim's parents, and "used his relationship with her parents to get close to her." (Most instances of child sexual crimes involve perpetrators who are either family members of the victim, or who are known to the victim through friends or relatives, with the perpetrator using those relationships to get close to the child.)
Medders "would come to her house, talk to her parents, and then become 'touchy feely' with her," the victim told the Child Protection Team when she was interviewed on March 10. According to the victim, Medders "has constantly told her that she has 'provoked' him to have sexual intercourse with him, and that it would be her fault if they got caught," a common ploy among adults who prey on children. It apparently worked: the victim's mother in an email to investigators subsequently said her daughter blamed herself. The victim said she tried to walk away from the encounters, but he would encourage her to remain with him.
Flagler County Sheriff's investigators set up a controlled phone call between the victim and Medders, as the two had spoken about the sexual relationship over the phone in the past. The call was placed from the victim's home to Medders in the early evening of March 10. Somehow he knew that law enforcement had been to the victim's house recently. He asked why. He'd tried speaking with the victim's mother, but she'd walked away from him. The victim evasively told him she'd been in trouble, but that she was fine.
She then tells him that her parents have been thinking that she and Medders were "doing something," finding it strange that Medders is always around the girl. "Well, we can stop that shit," Medders tells the girl, "and be friends, you know what I mean?" Incredulous, the girl asks him how he could take back everything that had happened. Medders laughs. "Come on, man" he tells her, assuring her that there's nothing to figure out, and that the two will always be friends. When the alleged victim tells him that her parents will "figure out the whole sexual situation," Medders replies: "I don't think so."
Perhaps sensing something, he then tells her he won't speak on the phone about it anymore, tells her to speak with him in person, and hangs up. Earlier in the same conversation, Medders had told the girl that he has been "an outlaw" his entire life and that he knows law enforcement "down to a science." (Medders faced a felony charge in Flagler in 2000 for attempting to elude a cop; he completed a pre-trial intervention program and the charge was dismissed. He was found guilty of a misdemeanor charge of driving on a suspended license in 2007. In 2013, a woman filed for an injunction against him for protection against repeat violence. She was denied. Medders divorced in 2008. )
On Tuesday afternoon (March 14), the victim went to Medders's house on Zelda Place, wired, as investigators monitored her. Medders was home. She asked to speak with him outside. He complied. In the recorded conversation, the victim tells Medders that she fears being pregnant. (The fear was not unfounded: she had spoken of it to her parents.)
Medders, constantly using expletives throughout the conversation, is disbelieving. "You know all I want to do is be your friend and shit man," he tells her. "You know fucking every fucking thing that we've done is wrong baby, you know that. These motherfuckers will lock me up and throw me away the rest of my fucking life man! I fucking raised babies man, I'm in here now with my two fucking grandbabies. I mean… I… it's just, you know that's why I said, 'wait till you're 18, wait 'till you're 18,' we talked and talked and talked about that 100 fucking times." She asks him why he's blaming her. He says he's not. He suggests they should stop what they had been doing.
He tells her he's a "smart man," and, again turning the conversation to himself, said, referring to the girl's feared pregnancy, "never had this happen to me" in 20 years of marriage. He tells her he can get a pregnancy test for her, then, again deflecting responsibility, suggests medication she was taking could be causing her to have missed her period.
In the March 11 email the alleged victim's mother had written investigators, she said her daughter had asked Medders: "How do you look my parents in their face and talk to them after knowing what we've done?" His reply, the mother claimed, was: "I feel bad, but I'd do it anyway. I'm a career criminal and this is what I do."
Detectives were able to gather key forensic evidence that will be analyzed for DNA.
On March 15, Circuit Judge Dennis Craig signed a warrant for Medders's arrest. At 7 p.m. Wednesday, Flagler County Sheriff's detective George Hristakopoulos served the warrant to Medders at his house and booked him at the Flagler County jail. His initial bond had been set at $150,000, according to a sheriff's release issued Wednesday evening. After his first appearance before a judge this morning, the bond was doubled, to $300,000.