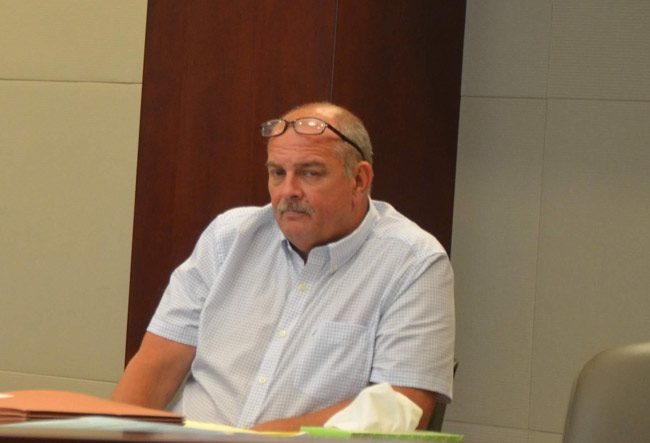 Picking a jury, one of the more challenging aspects of a trial for lawyers, usually lasts an entire day. Lawyers have to agree to a jury of eight (six jurors and two alternates) out of a jury pool of 40. It can be especially challenging when people in the pool have too much familiarity with the case they'd be sitting on–either for having heard or read about it enough to form opinions, or because they themselves have experienced issues too similar to those the defendant is being accused of.
Jerald D. Medders, 53, is a Palm Coast resident accused of four counts of illegal sex with a minor–two counts of lewd and lascivious battery, or statutory rape, a count of unlawful sexual activity with a minor, and a count of molestation. Each count carries a maximum penalty of 15 years in prison, exposing him to a potential 60 years: earlier this month, Circuit Judge Terence Perkins, before whom the case is being tried, sentenced a man on two similar charges to the maximum possible, and to consecutive terms, though the defendant's demeanor in court and during an interview with a detective had played a large role in convincing judge and jury against his veracity.
Medders sat alongside his two defense lawyers this morning–Michael Lambert and Bryan Lambert–as the judge and the lawyers, including Assistant State Attorney Melissa Clark, who is prosecuting the case, interviewed the pool of jurors, each in turn to pare down to the ideal eight. At that stage of the proceedings, the defendant always sits facing the jurors head-on, separated only by a low wood divider splitting the audience from the rest of the courtroom.
It can be startling, in such a relatively small jury pool, how many people speak of having either themselves been victims of sexual abuse or have known close members of their family to have been abused. Several today answered the judge's and lawyers' questions at times in tears, again shaken and triggered by memories of what they'd lived through as they sat within a few feet of a man accused of doing likewise to a 16-year-old girl.
"I don't think I can sit there and listen to it. I don't think I can," one potential juror who said she'd been abused by her stepfather through her middle school years in another state told the judge. Her mother did not believe her, and the man was never prosecuted, she said. Today, she was in tears as she explained–to a courtroom emptied of other potential jurors–why, despite having no opinion on the present case, she could not bear to sit through the trial, the animosity toward her stepfather still raw. That animosity could potentially be directed at the defendant.
It was even worse for the mother of a girl who she said had been assaulted three years ago, also in another state, when the girl was roughly the same age as the girl in this week's case. In that case from three years ago, the man eventually pleaded guilty. But the experience had left its deep marks on the potential juror. She said it would be a difficult case for her to put her thoughts into.
"I certainly understand that and you have my deepest sympathies in that regard," Perkins said, asking in various ways whether that would make it impossible for her to sit through trial.
"I think it would be hard for me to be present," she said, and to listen to the evidence. The judge asked her about the defendant, who was a mere few feet in front of her, looking at her, his arms crossed or leaning his head on the glass defendant's table. (Judging from his arrest report Medders has a cocky, presumptuous side that today could show itself in glares and the body language of a man feeling put-upon.)
"I can't even look at him. Sorry. It's pretty strong, but I can't," the potential juror said. She was in tears as she walked out.
Medders was arrested in March 2017 after the child reported to a school counselor that he had been having sex with her for three months, starting when she was 15. Medders was a friend of the girl's parents. According to his arrest affidavit, he'd been interested in her since she was 13. He would allegedly use his friendship with her parents to get closer to her.
Based on accounts about which the victim is expected to testify, there were distinctly manipulative dimensions to three alleged assaults at the heart of the charges. In one case, Medders allegedly asked the girl to walk him home after he'd been socializing with her parents, and engaged with sex with her in his yard. In the second instance, she had just returned from being hospitalized, and he allegedly took her to his home to give her "some of his special recipe chicken," according to court papers. In the third case, he'd asked her to come over to his house to pick up a fundraiser form for his grandchildren. Once she got there, he allegedly led her to his adult daughter's room.
Under Florida law, the alleged victim's consent is not a defense in the case.
Medders, according to his arrest report, had a propensity to blame the alleged assaults on the girl–to claim that she had provoked him, and to say he'd blame her if they ever got caught. The girl blamed herself, according to her mother. He claimed to know law enforcement "down to a science" and called himself an "outlaw" who'd outsmarted cops before, but he was not aware that the girl had been wired when she and Medders met and spoke about their encounters in a conversation the prosecution is likely to make one of the two centerpieces of its case against Medders. The other is an undergarment that belongs to the girl, and that allegedly contains DNA evidence of Medders's semen.
Medders was booked at the Flagler County jail on March 15, 2017. He posted bail once his $300,000 bond was reduced to $40,000, and was released on Sept. 29, 2017 under strict conditions, including no contact with anyone under 18 except for family members. He was forbidden from entering Palm Coast's Z Section, and has to wear a GPS monitoring device. In the original order he was to stay with his brother and was allowed only to go to work and back. Earlier this year he filed a motion to allow him to work at an unspecified residential home, where there were two children. He'd had a see-sawing relationship with Lambert–one of the region's most skillful but expensive defense lawyers–because of money troubles.
Late last year Lambert was ready to leave the case for not being paid. "My intention was to have the money before this court date," Medders told the court at a mid-December hearing. "Some things happened," he said, pulling his money "in different directions." Lambert appears to have left the case briefly, when Medders's attorney of record was Assistant Public Defender Regina Nunnally. But by the end of January, Lambert was back on the case.
Both potential jurors mentioned above were excused. As jury selection went on in the first half of the day, other potential jurors were excused when they revealed that they had already formed opinions about Medders. "It involves children, I have a teenage daughter myself, I have a granddaughter, so I have formed opinions based on that," one said, finding the state was starting a step ahead of the defense.
One juror said his daughter had been sexually abused by her mother's ex-boyfriend, but he had not reached any conclusions about the Medders case. And yet another said that she herself had been raped by an uncle in another county, and the case never went to trial. The uncle was never prosecuted. She'd gotten scared when it came time to speak to prosecutors. But she said as far as she knew, Medders was innocent until proven guilty.
Opening arguments are set for 9 a.m. Tuesday in Courtroom 401 before Perkins at the Flagler County courthouse.