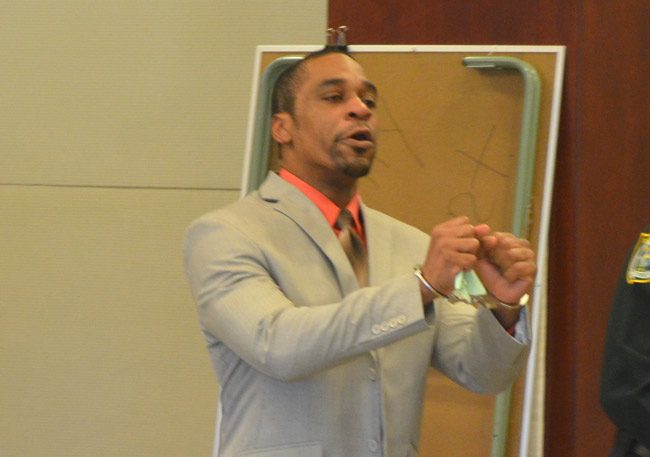 One got the feeling at the end of Public Defender Regina Nunnally's devastating, more than hour-long closing arguments to the jury in the child-molestation case against James Taylor this afternoon that she had felt as if she'd made an irrefutable case: that the child who'd made the accusation against Taylor, 11 at the time and now 14, had concocted the story with her sisters to get him in trouble because they didn't like him, monstrous though such a false accusation would have been: that he'd sneaked into her bedroom and touched her breast area over her clothes "for a couple of seconds" one night in in their Palm Coast home in late 2013. Taylor was married to the child's mother at the time.
Nunnally called the whole thing a story built on shifting sands and all but called the girl and her two older sisters (now 16 and 18) liars after comparing them to skunks and ridiculing their testimonies for their adolescent attitudes—including the story of the older girl's allegation that Taylor had raped her.
The moment the judge called a recess when Nunnally was done, before the prosecution got its rebuttal, Nunnally walked out, her in-the-zone face masking satisfaction she exuded when she returned as Taylor's family hugged and thanked her, and Taylor himself flashed smiles he hadn't shown in three days of trial. For his part Steve Gosney, Nunnally's co-counsel (there only in case an appeal was needed), didn't bothered hiding his glee, turning to Taylor's family and smiling, turning to Taylor himself and smiling. They thought they'd won.
They had not.
After just 70 minutes of deliberation, the jury of four women and two men (five white, one black) found Taylor, 39, guilty on the one count of lewd and lascivious molestation.
Taylor at first, sitting to the right of Gosney in his suit and bright orange shirt (he is a Gator fan, a fact that had figured repeatedly during testimony), at first just stared. His ex-wife, the three sisters' mother, was sitting in the first row to the left, behind the prosecution. She immediately broke down when the verdict was read and sobbed at length in the arms of a victim's advocate. None of the daughters was in the room, though the youngest one, the victim, had attended the first day of trial after her testimony. Assistant State Prosecutor Joe LeDonne had told the victim's advocate he preferred she not be in the courtroom during his closing arguments.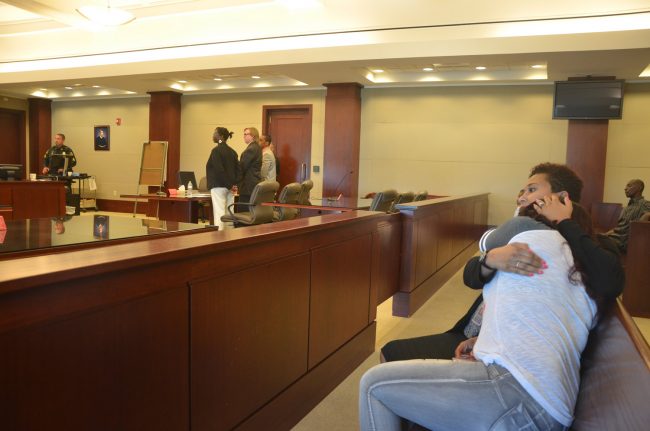 More than a dozen members of Taylor's family sat behind him (he is one of 17 siblings), including his parents, their emotions more restrained: they'd been there before, with Taylor. Perhaps they'd learned not to raise their hopes. Perhaps they put their hopes in the appeal, which is almost certain to follow as the defense raised objections to what it sees as a number of irregularities during the trial.
Though sentencing is taking place at a yet-undetermined date, Taylor now faces mandatory life in prison because of his repeat prior felonies, some of them involving rapes, one of them involving a rape against a child. He was already categorized a sex offender, and had recently spent time in state prison for failing to register as such—none of which the jury knew, or officially knew.
The information about Taylor's past had been kept out of the jury's evidence entirely. Witnesses were forbidden from uttering a word about it, as were the attorneys, and jurists ostensibly knew nothing about it. Indeed, two weeks ago Circuit Judge Dennis Craig declared a mistrial when one of the witnesses (the oldest of the three sisters) blurted out a detail about Traylor's past by mistake.
Craig did allow the 18-year-old girl to testify to her claim that Taylor had raped her when she was 12—a claim that forms the basis of a rape charge Taylor still faces in Alachua County, as that alleged incident took place in Gainesville. But the jury was instructed not to make that part of its decision on the molestation charge except to inform itself as to Taylor's intent when he touched the youngest girl, that being the whole difference between the parental touch the defense claims he was doing and the sexually-motivated touch the prosecution said he was doing.
One thing is known about the jury's deliberations: it prompted questions about the victim's testimony. Exactly fifty minutes into deliberations, jurors sent a note to the judge with this question: "We request [the victim's] testimony."
The victim had testified for an hour Tuesday. There was no immediate transcript available. The judge brought the jury in, told them, with the two sides' agreement, that they'd have to rely on their memory, and sent them back out. But then Craig had second thoughts, after reviewing case law in his chambers. He called back the attorneys and read to them from wither an appeals court or a Supreme Court case that had ruled against what the judge had just done, leading Craig and the lawyers to start discussing how to make the transcript of the testimony available in one form or another as soon as possible, even if it could merely be read to the jury. He also asked the court reporter to get started on preparing the document.
But even as the judge and the lawyers were debating the best way forward, the jury sent word that a verdict was reached, just 15 minutes after it had been sent back into the jury room.
That sequence of events is almost certain to become part of the appeal.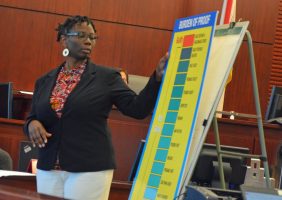 In the case against Taylor, the prosecution had little to go on aside from the testimony of the youngest girl and her next-oldest sister, who had been sleeping next to her that night, though both offered less than certain testimonies, their memory fogging over shoals of years and the wear of retellings, which they said they'd had to do innumerable times. Neither said with certainty that they'd seen Taylor's face that night, only that they had recognized his "body type" or his "build" in the shadows, and that he'd run out the moment one of them had stirred. The oldest girl's testimony Tuesday afternoon had gone even less well as she did nothing to hide her disdain for Nunnally, the questions she was posing and the memories she was required to recall.
Nunnally seized on the fogginess to then characterize the girls as false and conniving against a man they admitted they did not like, and that they'd come up with a story they knew would put Taylor away.
The younger girl had told her mother about the molestation within days of it happening in Palm Coast, in 2013, and the sheriff's office took a report, though the state attorney never filed the charge until two years later, after the girl's older sister made the allegation about the rape in Alachua, which had itself allegedly taken place sometime in 2012.
"The state brought to you a case that was on life support and they want you to resuscitate it," Nunnally told the jury. "I suggest you put it out of its misery, pull the plug, find Mr. Taylor not guilty."
Nunnally's closing had been commanding, but LeDonne's steely retort had a force of its own: "The defense has characterized these victims, these children, these witnesses at various times as skunks," he said, "essentially, as part of the state's case that needs to be put out of its misery."
Nunnally objected to LeDonne's "skunks" reference, the judge overruled, as he would several objections during LeDonne's closing.
"That's not appropriate at this point," LeDonne continued. "These are children, they're young adults who have testified in front of you, in front of strangers, in front of their abuser, who's sitting right there, staring at them, in front of his family, who's sitting there, staring at them. They're more than skunks, and they're more than people who need to be put out of their misery. They've given intimate details of their lives. At the end of the day you may choose to believe them, or you may choose not to believe them. But they deserve better than that. They deserve respect for what they've done by getting up here these past few days."
The jury chose to believe the children.