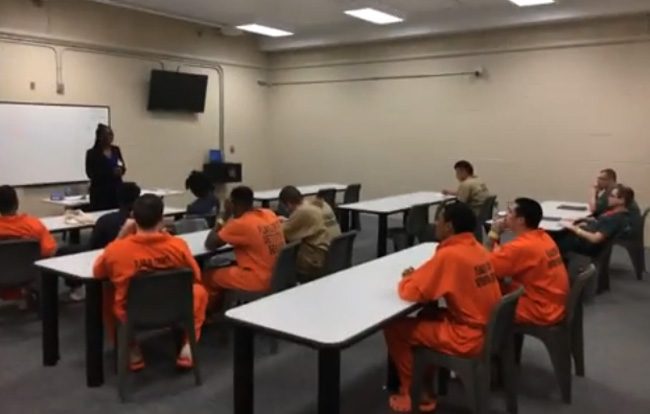 A select few inmates at the Flagler County jail will be assigned to work crews and carry out work on public property around the county, and many more inmates will get access to a GED instructor permanently assigned to the county jail, thanks to a partnership between the Sheriff's Office and the Flagler County school district.
Sheriff Rick Staly's office announced the two initiatives Tuesday and Wednesday, a continuation of related efforts to provide rehabilitative alternatives to inmates while they're at the jail, and to reduce recidivism. The initiatives are the brainchild of Becky Quintieri, whom Staly shifted from directing the jail to overseeing all jail rehabilitative programs when he took office, a position she describes as her "passion."
The GED program is part of the relatively newly created program called Stride, an acronym for "Skills, Transitional Support, Respect, Integrity, Direction and Employment." The program is a collection of services, from addiction-recovery programs to domestic violence classes and GED classes, offered many inmates who qualify. Until now, GED classes were offered by volunteers. The jail had not produced any GED graduates in the past two years.
That's expected to change with the arrival of Pearl Brazelton, an instructor at the school district-funded Flagler Technical Institute with some 25 years' teaching experience in elementary, adult, special education and other fields.
According to a district spokesman, she will be paid $500 a week through a Florida Department of Education Adult Education and Family Literacy grant, enabling her to work up to 29.5 hours a week on the GED program at the jail. It will be the second time she has taught inmates.
"People that I'm teaching," Brazelton said in a brief video interview posted by the Sheriff's Office, "are my students, regardless of where they are, where they come from, who they are or whatever, I come in here with the passion of wanting to teach them and help them to learn, how to be better to themselves, so that they can learn what they need in life, and also so that they can come back into our society as productive citizens."
"When presented with this opportunity to help provide classes for those in the jail seeking their G.E.D., Pearl Brazelton was the perfect fit," Jason Wheeler, the school district's chief spokesman, said. "She has a passion for helping others reach their full educational potential. Plus, she has previous experience working in a correctional institution setting. We applaud Sheriff Staly for launching his STRIDE initiative and are proud to offer what help we can."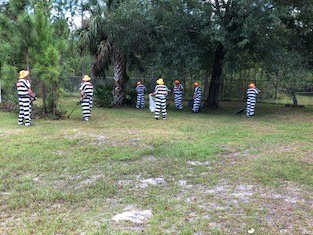 Inmates of whatever classification may take GED classes if they are not in segregation for disciplinary, mental health or medical issues. Most inmates at the county jail are held there for misdemeanors, and most are awaiting adjudication. That is, they're in their pre-trial phase.
"On average, inmates who participated in correctional education programs had 43 percent lower odds of recidivating than inmates who did not," according to a 2013 Rand study. " the odds of obtaining employment post-release among inmates who participated in correctional education (either academic or vocational programs) was 13 percent higher than the odds for those who had not participated." The study, which examined data from both prisons and jails, also found that the cost of educating inmates led to a lowering of jail and prison costs overall because by reducing recidivism, it lessened the burden on prisons and jails while enabling ex-inmates to work, earn pay–and pay taxes.
"I can't say enough about the efforts that have been made by Director Quintieri and our jail personnel along with our committed community partners who have worked with us to make our STRIDE program possible," Staly said, noting how the GED program is one more way to "help inmates turn their life around" and not return to jail.
The inmate-crew program was long promised by Staly, and is now reality. The first crew consists of seven inmates, who all volunteered for the jobs, reportedly with enthusiasm. All have been sentenced (the jail may not use inmates who are awaiting trial). They are all non-violent offenders sentenced to county time of 364 days or less. That can be for drunk driving, drug offenses, writing a bad check, violating probation and the like. They'll be working in black and white striped uniforms.
The Inmate Work Crew, according to a sheriff's release, will be responsible for cutting grass, pulling weeds, trimming hedges and other landscaping projects but only on public property. The law forbids the use of prison or jail labor on private property, a reflection of historic abuses in the notorious days of chain gangs. Flagler's work crew will work on the jail grounds, in the Flagler County Fire Rescue fire tower training area off Justice Lane near the jail, at the Sheriff's Operations Center (presumably far enough from it that they won't breathe its emanations), at the Flagler County Storage Yard, the Eagle Lake Water Plant, the Fire Flight Airport Hangar complex at the county airport, and at Old Dixie Park.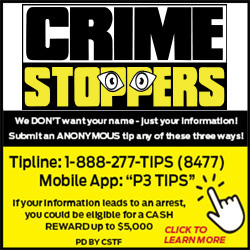 Inmates will not be paid, an issue that stirs debate among advocates for prisoners, on both sides of the issue: some call it prison slavery and a throw-back to a past lurid with abuse of prison labor, especially in the Jim Crow era, or see it as an incentive to mass-incarceration. But some embrace it.
"I couldn't wait to head to work in the kitchen of the maximum-security women's prison in Connecticut where I did six years for identity theft and related crimes," Chandra Bozelko, author of the blog Prison Diaries, wrote in the Los Angeles Times last October. "I was paid 75 cents to $1.75 a day to make and serve a lot of casserole. Yet I consider most of the criticism lobbed at prison labor — that it's a form of slavery, a capitalist horror show — unfair, and even counterproductive in the effort to reform the justice system."
She added: "My prison job made me feel like I was fulfilling my existential duty to society: I was contributing. It doesn't surprise me that prison work assignments are credited with reducing recidivism. Any change for good that happened within me while I was incarcerated grew out of my job. If I feel that way about my time making chicken a la king, an inmate who's saving lives fighting fires must feel it 10 times over."
The Sheriff's Office lists three benefits to the program: "First, inmates working on these projects will gain experience that may assist them in seeking employment upon release with a landscaping company; second, inmate labor will save county tax dollars that would normally be spent on landscaping services; and, third, the inmates are giving back to the community for violating the law."
All inmates have received training on how to operate the equipment and work and behavior expectations while assigned to the work crew. They will always be under the surveillance of a detention deputy assigned to the crew.
"The Inmate Work Crew is beneficial for everyone involved," Staly said. "The inmate labor saves tax dollars and provides work experience for the inmates," reiterating the benefit of reducing recidivism. "We do not want offenders to keep coming back. The Inmate Workforce and our STRIDE programs are used to rehabilitate offenders and encourage them to turn their lives around and provide them the tools to be successful when released from jail."