Last Updated: Monday, 7:11 p.m., with curfew reminder.

Note: do not call 911 except to report personal health emergencies or serious criminal matters. Otherwise, call the county's call-in center at 386-586-5111.
As Hurricane Irma moves toward Georgia, Flagler County is awakening to wreckage and flooding, but not devastation.
The curfew will be extended on the barrier island from Marineland to Flagler Beach, including the Hammock and Beverly Beach, and the bridges will remain closed eastbound, through 7 a.m. Tuesday, County Administrator Craig Coffey said.
Authorities need more time to clear debris and await the drainage of a lot of flooding on the island before allowing residents to freely circulate there.
The curfew on the mainland is lifted as of noon today. But the countywide curfew is again in effect from 7 p.m. Monday to 7 a.m. Tuesday. And the ban on alcohol sales countywide remains in effect, including in bars and restaurants.
So residents who have left town and who want to return to the island are asked to wait until Tuesday. Residents who have left town and are looking to return to the mainland may do so now. Most businesses, including grocery stores, gas stations and the like, are expected to open Tuesday morning.
Streets are flooded in Palm Coast, trees are littering roadways and yards, roofs have been punctured or compromised, and there are reports of a house fire that broke out after midnight in the F Section, at 60 Fountain Gate Lane. It was an occupied structure. The family appears to have gone to a neighbor's house. (Palm Coast Fire Department went out at the initial call but the wind got too serious and they had to leave.) It was caused by a tree falling on a power line, which then ignited the fire.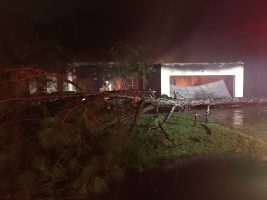 That report has been confirmed (the house was consumed by flames). But there is no systematic destruction. Moody Boulevard in Bunnell was flooded by half a foot of water, but the water appears not to have penetrated homes and businesses along the road. Parts of the R Section's roadways are river-like.
It was becoming increasingly apparent by mid-morning that the areas most seriously damaged by the storm were the south end of Flagler Beach, getting worse as you headed south from East Moody Boulevard.
Just before noon, Coffey and his team were assessing damages on the barrier island, taking a drive from south to north and back. "Some things are worse, some things are better," was his conclusion.
Surfside Estates, for example, the mobile home community, was "much worse" off than after Hurricane Matthew, when it was slammed by wind damage and water damage both. "About a block off, the water starts, and according to the commissioner it's 2 to 3 feet deeper than it was last time, so there's going to be more trailers affected," Coffey said, "and there's a lot more wind damage."
"Beverly Beach is bad, it's still under water, just past into the trailer area it starts getting bad there," he said.
---
In Flagler Beach This Morning
Further north in Sea Colony, which was severely flooded during Matthew, it looks "a lot better" than last October. "A huge swath of Marineland Acres is underwater but it's not as devastating in Marineland Acres as it was in the past," Coffey said. Again, structural damage from wind is more of an issue. But A1A is passable all the way to Marineland, with sand scraping across the surface more than water.
On Lambert Avenue, across the Intracoastal, a lot of vehicles are under water, some homes may have been affected. There was even water bubbling up from the floor at Flagler County's Fire Station 92, at the county's executive airport, an indication that the water table is entirely saturated.
There's been no serious criminal issues overnight in the county. The Rymfire special-needs shelter had an issue with a mental health patient, who had to be Baker Acted. And that shelter must keep operating, as are other shelters, both because of lack of power — special needs individuals may not be sent home when they don't have functioning electricity — and because while some people are leaving shelters, others are arriving because their homes are flooding.
---
Flagler's Health Department Has Issued The Following Advisories:
The widespread outages are "really going to drive the train about how quickly things happen for people," Coffey said.
That means schools would remain closed Wednesday, he said, as staffers will need time to get home and schools will need time to be cleaned. (The school district confirmed that schools would be closed Wednesday regardless.)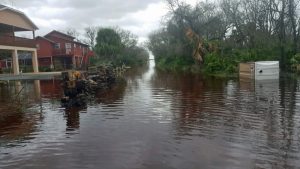 For now, Coffey said another high tide is taking place at noon, but the winds, which have switched direction, are favoring the county and the draining of the island.
School Board member Colleen Conklin lives at the south end, on the golf course, not far from the water tower. She was devastated by what she was seeing–likely the most severely hit area of the county, going by the number of homes, vehicles and people affected, as the population concentrated there is rather high.
"It is so bad, it's a river, I've never in my entire life seen anything like this, couldn't even imagine it, if you told me this was going to happen, I couldn't even imagine it," Conklin said just before 11 this morning. "We went up the street this morning in Ryan's canoe." (Ryan Conklin, her son.) "That's how deep the water is. We are about to take a couple of our neighbors out of here on the canoe, their cats, computers, whatever." See a video Conklin shot here.
"Right now we have water up to our door," Conklin said. We're probably one of four homes that don't have water. My mom and dad next door had probably up to a foot of water in theirs." Most houses along the golf course have water in them, and some of them with up to one to two feet of water. The water was still all there and apparently rising at 10:30 this morning. Power is out as well.
Conklin knocked on many doors on Ocean Palm Drive. "If there's anybody on Ocean Palm that is stuck, I don't care, put my cell phone number out there, have them contact us and we can come get them on a small boat," she said. (The number, as long as the battery holds out, is 439-0607). "I think we've got everybody but some of those houses are so boarded up. I'm just worried about some of the older folks, there's quite a few that stayed. I think we touched base with everyone, but some of them who stayed we didn't get a response when we knocked on the door, so I'm a little concerned about a few."
Conklin continued: "We checked on all of our neighbors that stayed, nobody is hurt. One house with a second story has a family that evacuated from Key Largo. They stayed on the second floor." She was hoping to take some people to A1A to be picked up by relatives, but there was uncertainty about the curfew. (In fact, no one who is attempting to get to a safer place will be kept from doing so, though in the case of Conklin's neighbors, there was uncertainty as to where to go to start with.)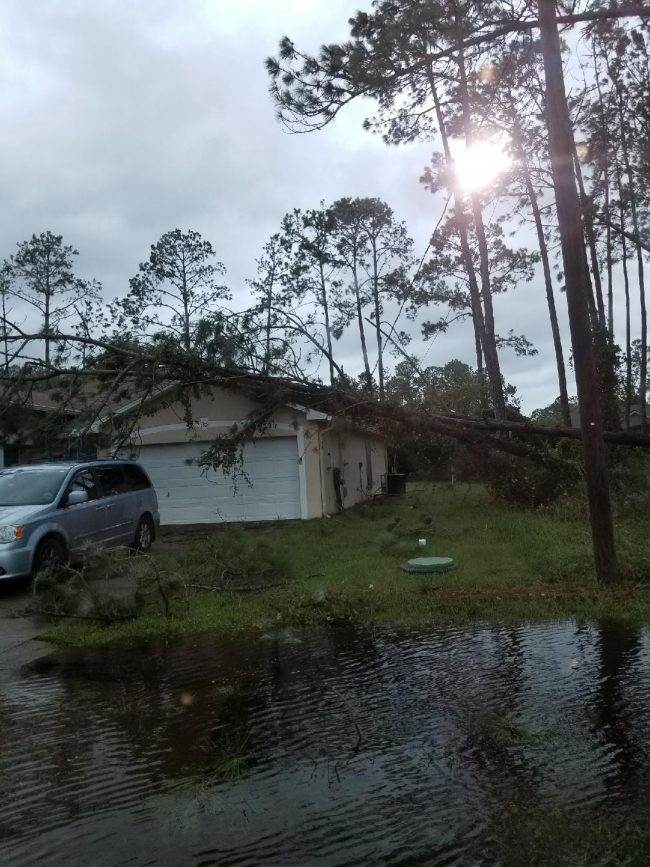 "All of these homes are lost, all of our vehicles, everybody. It's pretty wild," she said. "But you know what, everybody is fine, it's just stuff. It can be replaced."
The flooding is more serious at the south end of Flagler Beach, where up to a foot of water is covering streets and lapping into homes. A Flagler Beach city commissioner was reporting two inches of water in his house. "If I was out in the middle of the street I could be waist-deep," Commissioner Rick Belhumeur said.
"Just about every house on South Flagler" was flooded, he said just before 8 a.m. On the other hand, the pier, he said, "is intact, it blew over one of the shacks, but it's still there." And A1A "looked pretty normal after rain. It's got one little washout."
After further surveying areas of Flagler Beach, Belhumeur said: "It's really pretty simple. If anyone's house is at 6 feet of elevation or less, they're under water. Another way of putting it: a foot higher than Matthew." He was referring to water elevations from the Hurricane Matthew surge last October.
Comparatively speaking, Palm Coast appears to have been spared that extent of flooding, with water restricted to streets, swales, yards, ditches and boat docks. There were unconfirmed reports of some flooding in some homes in Palm Coast, but not extensively so.
And power cuts were affecting 87 percent of customers in Flagler, even a few hours after the brunt of the storm had passed, with over 50,000 customers out of power (out of a total of 58,000 in Flagler).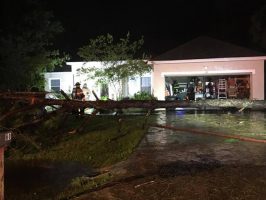 There are reports of flooding in Marineland Acres and Cypress Knolls as well as in Daytona North (also known as the Mondex), where one official described it as "a pretty decent amount of flooding."
Flooding is also serious on the west side of the county, with heavy flooding reported in Daytona North and the Bull Creek Fish Camp by Dead lake being under one or two feet of water.
Bunnell got 12 inches of rain, parts of Palm Coast were reporting 10 inches. There was a 36-inch storm surge on the coast.
"It's on its way out of here but we're not done with it yet," Bob Pickering Flagler County Emergency's weather specialist, said just before 7 this morning. "The rain is moving away but the wind is not, and the wind is going to be with us for at least several hours." He added: "Staying at home right now is the best thing you can do unless your home is threatened."
There is sporadic traffic on county roads as people are defying the curfew, scheduled to be in effect until noon. Government crews are out, chainsaws are buzzing against tree limbs impairing roads and systematic damage inventories have begun, street by street, in Palm Coast.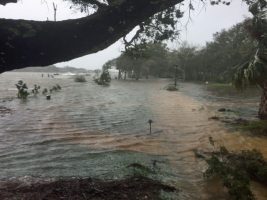 Trees were down at the intersection of Palm Coast Parkway and Colbert Lane, where Palm Coast Fire Chief Mike Beadle spoke briefly in a city video as crews cleared the road behind him. "We're asking all residents please stay indoors," Beadle said.
Authorities are asking that calls to 911 be restricted to emergency calls–not to report downed trees or traffic light or flooding, but actual personal emergencies.
The two bridges over the Intracoastal were closed until early afternoon.
Both the Hammock Dunes Bridge and the State Road 100 Bridge were then cleared by the Florida Department of Transportation and are open immediately to residents who live on the barrier island. Residents will be permitted to cross the bridges until 7 p.m.
"Anyone attempting to cross the bridge will be required to show proof of residency," Flagler County Emergency Manager Steve Garten said. "Once there, those residents will be required to drive to their homes and remain there until 7 a.m. Tuesday. The curfew remains in place."
Residents who return home are encouraged to use extreme caution as they make their way to their houses and survey their property. There are flood waters, debris and downed powerlines, as well as other potential hazards.
The Department of Transportation inspected the bridges for structural integrity before they could be reopened to the public.
The Flagler County Sheriff's Office is using its military surplus rescue vehicles on the barrier island and in Western Flagler to assess damages and perform rescues if needed, it reported this morning.
At least four deaths have been reported across Florida, for a total of 31 storm-related deaths since Irma began to churn through the Antilles, but none reported so far in Flagler.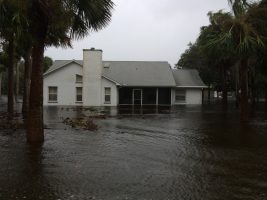 Briefly, emergency radios went down for about 10 minutes in the 2 o'clock hour or thereabout, and had to go onto the backup system, but the main channels were restored swiftly.
All Flagler County Fire Rescue crews and public works crews are on the roads, clearing roads and doing damage assessment.
South Flagler Avenue "Just about every house on South Flagler." "It's intact, it blew over one of the shacks, but it's still there." A1A "looked pretty normal after rain. It's got one little washout."
"If I was out in the middle of the street I could be waist-deep." two inches of water in the house. He estimated at least a 4 foot surge, because the lowest point on his property is 3 feet.
Cindi Lane, Palm Coast's chief spokesperson, was out on surveying streets before dawn with city directors, including the fire chief. "Lots of flooded streets, lots of trees down, I saw some trees on houses, mostly in the roadways though," Lane said just before 8 a.m., as she was preparing for a meeting of city directors to go over the day's strategy. "It's definitely not safe enough for people to be driving around at this point, the curfew is still in effect till noon. We definitely see the canals are very high, swales are full, we're glad the rain is light we need it to stop now so the system has a chance to work, keep on flowing, get the water down."
Flooding was seen on Bird of Paradise, in the E Section, the F Section, but so far on streets and in yards rather than in homes. A section of Old Kings Road is closed in the area near Oak Trail Boulevard, just north of the Graham Swamp trailhead. There's an exposed sewer main there, and the roadway is washing out next to the guard rail.
Cell service became spotty at about 7:30 a.m. It's not yet clear whether that was a fluke or if there is an issue with cell towers.
"Honestly just on our first glance it appears that the damage is not as significant as with Matthew," Lane said–at least regarding wind damage. Water damage may be harder to assess at this point. "We do have an indication of a lot of power outages, but we didn't see as many downed power lines as we did with Matthew, there's no comparison."
The wastewater system in Palm Coast is being burdened heavily at the moment, but lift stations that were surveyed were working. "It's going to be a very long day ahead of us," Lane said, with triaging going on to decide what to tackle first. Still, Lane stressed, the assessment so far is all based on first glances.
Later in the day, both Palm Coast and county officials were asking residents to reduce activities that tax sewer systems, such as laundry and showers. "We understand that everyone is tired and uncomfortable, but we are asking for the sake of the common courtesy for residents to limit activities that could create problems for our sewer systems," Garten said. "We are working very hard to get everything back to normal."
The wastewater sewer system cannot move sewage to the treatment plant without electricity, and even with generators, the system is not operating at full capacity. Tank trucks began to pump down the system Monday, and additional generators were being used by the Utility Department to provide power to lift stations that don't have permanent generators.
It is extremely important for all residents – whether they have electricity or not – to reduce water consumption with the goal of having the least amount of water going down the drain.
It is especially important for residents with PEP tanks (Pretreatment Effluent Pumping System) to drastically decrease water usage if they lose electricity. PEP tanks will not empty into the wastewater system if there is no power. If the tank fills to capacity, there is a risk it could back up into your home.
For all residents, whether you're on the gravity sewer system or have a PEP tank, do not do laundry. Flush as infrequently as possible. Put as little water down your sinks and showers as possible. Consider washing up in the yard with a hose so the water doesn't go down the drain.
If your PEP tank alarm goes off, please call Palm Coast Customer Service at 386-986-2360. A crew will be dispatched as soon as possible.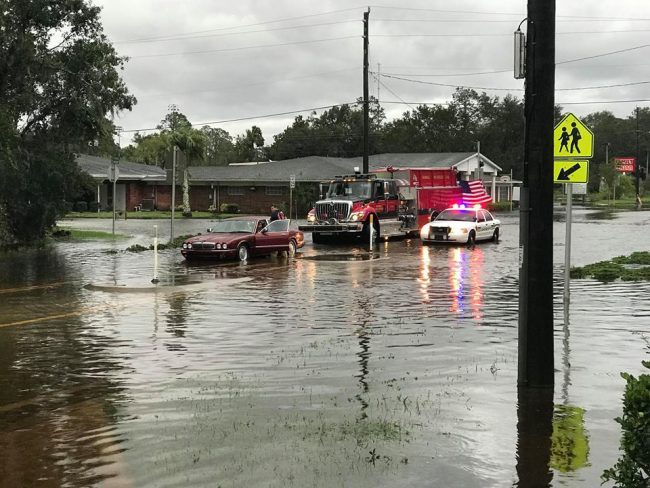 Florida Power and Light trucks are on the roads.
What not to do: violating curfew, getting in your car and driving around for the hell of it, sightseeing, getting in the way of first responders and utility workers trying to restore services for everybody as fast as possible. As Jon Hardison put it, posting an image of a Jaguar driver stuck on East Moody Boulevard in Bunnell, and requiring firefighter and deputy assistance, "Roads aren't ready for people yet. You're a total badass, but this time – just this once – stay home and safe and let the amazing emergency and municipal workers do their job without having to save you?"
Another thing to keep in mind when you're driving through heavily flooded street, especially with larger vehicles: you are creating a wake that can ripple into yards and push that water into homes that, until now, may not have been flooded.
There is some good news: after Swillerbees Craft Donuts and Coffee Bar in Flagler Beach reported its sand bags stolen, just before the brunt of the storm struck last night–a report we carried in yesterday's dispatches–someone had the good heart to bring sandbags there, under the rain and in the wind. "Someone seriously loves us," the Swillersbees owner wrote on Facebook. "My faith in humanity has been restored."
And School Board member Andy Dance reported from the special-needs shelter at Rymfire Elementary, clearly in good spirits: "Just finished serving breakfast at RES. On generator power. Buildings look great. Waiting for noon."
[This is a developing story. More soon.]