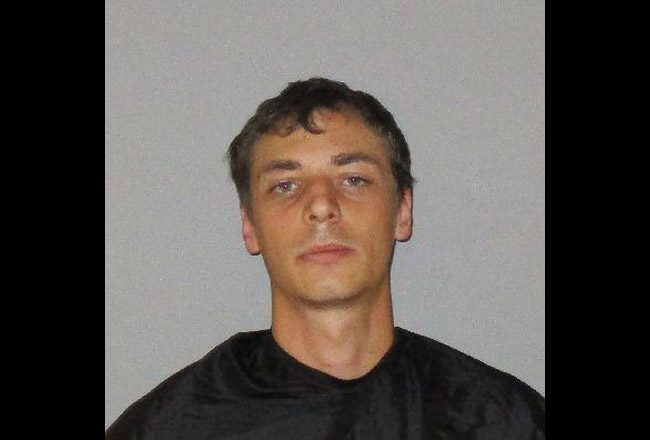 Early Friday afternoon, Flagler County Sheriff's deputies got a report of a Chevrolet stolen from a Beechwood Lane address in Palm Coast. Later that night, deputies spotted the Chevrolet in the parking lot of AdventHealth Palm Coast (the former Florida Hospital Flagler), then saw its driver get in the car and start it.
Several patrol cars swarmed the Chevrolet, emergency lights blazing.
But Yuli Ilchenko, a 29, a resident of Prescott Lane, who was at the wheel of the car, allegedly took off, leading deputies on a vehicle and a foot chase through the hospital's grounds before being apprehended–by being Tased twice.
Ilchenko initially sped south "and demonstrated wanton disregard for any citizens that would have been entering and leaving the hospital's emergency entrance, as well as the vehicles that were parked in the entrance area," his arrest report states. He fled west on Hospital Drive, took a right on Memorial Medical Parkway, going south, lost control, drove against northbound traffic, struck a curb and came to a stop.
Ilchenko then ran out and fled on foot going west. A deputy, Shane Meehan, closed in on him, yelling out verbal commands to stop. Ilchenko responded by throwing a hat at the deputy. That didn't stop Meehan from catching up to him and tackling him to the ground. Ilchenko allegedly struck Meehan in the shoulder and tried to writhe away from him, prompting the deputy to punch him on the left side of the head, according to the Meehan's account. Two other deputies arrived and tried to secure Ilchenko, but it wasn't before one of them fired two Taser stunts at Ilchenko's back that he relented.
Ilchenko was read his rights and agreed to explain why he'd run: he said he'd rented the vehicle from "an unknown male" at the Flagler County Public Library at 6 that evening and was to use it for an hour or two. He said he looked for the unknown man to return the car but couldn't find him. He ran, he said, because he knew something was wrong, according to his arrest report.
The night wasn't over for Ilchenko. After he was placed under arrest, a deputy drove him to the county jail, and there, intake deputies found a pill in his wallet that their analysis showed to be Oxycodone. In the patrol vehicle, he'd left behind a rolled elastic band and a hypodermic needle. Ilchenko said he'd gotten the pill and the elastic band from a friend he'd just been visiting at the hospital.
He was charged with four felonies and two misdemeanors, including grand theft and resisting an officer with violence. He remains at the Flagler County jail on $12,500 bond.
Twice before Ilchenko was arrested on felony charges, and twice had the charges reduced to misdemeanors.