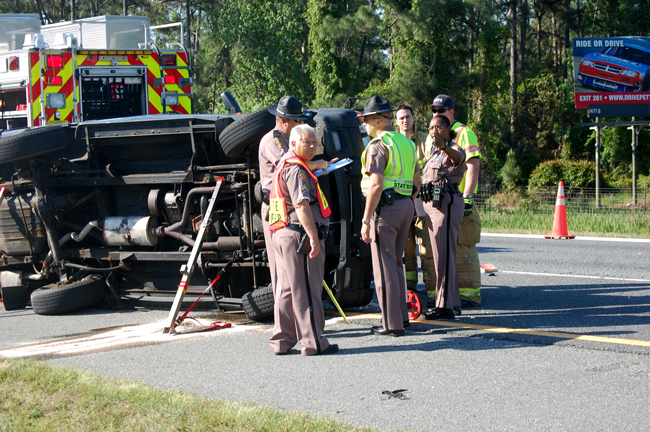 Last Updated: 2:17p
A single-vehicle wreck and a fatality closed the southbound lanes of I-95 this morning at mile marker 276 in Volusia County, just south of the Old Dixie Highway interchange. The closure had, by 10:30 a.m., led to a five-mile back-up, all the way to the State Road 100 interchange in Flagler County.
The SUV was traveling with six people aboard, all of them students attending college in Pennsylvania and heading to Miami for spring break. A 21-year-old man from New Jersey was killed, a woman was transported to the hospital in critical condition, and another woman had more minor injuries, according to the Florida Highway Patrol.
The wreck took place on a straight-away south of the I-95 interchange, where a Range Rover Discovery, registered in New York State, was on its side Friday morning. A Florida Highway Patrol trooper said the wreck involved no other vehicle, though information about the wreck, which took place just before 9 a.m., was sketchy. The medical examiner had not arrived at the scene at 10 a.m. One body, covered by a tarp, was alongside the vehicle.
A semi truck that may or may not have been involved in the wreck was parked on the western shoulder of the southbound lanes.
Traffic was being diverted from I-95 south onto Old Dixie Highway and to U.S. 1. Traffic was also backing up northbound on the interstate, on the approach to the wreck, as gawkers slowed to look at the scene.
By 11:30, lanes had reopened and traffic was moving.
More information could not be gathered at the scene: FHP troopers, particularly in Flagler County, are almost always cooperative with the press. Not in Volusia County–at least not when the FHP's Sgt. J.L. Crosby is at the scene. Although Volusia County Sheriff's deputies were cooperative, Crosby forbade a reporter to be at the scene and ticketed him for parking on a limited-access highway in a non-emergency.
Just after 11 a.m. a second wreck was being reported southbound I-95, south of SR100. Emergency personnel reported "one vehicle in the woodline. This may be a medical emergency." No further details on that wreck at this time.