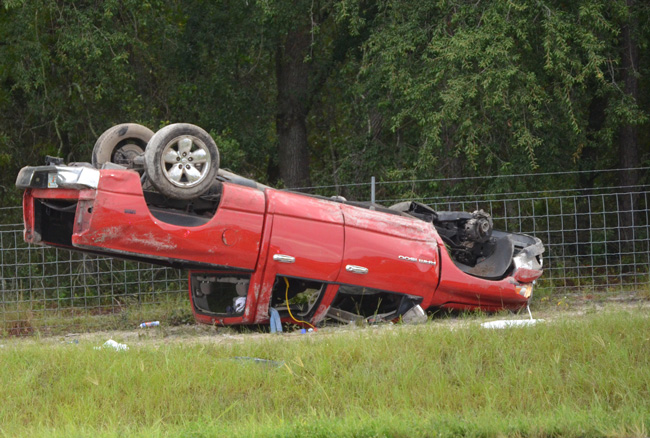 One person was killed, another critically injured in a crash at Mile Marker 297 on I-95 near the Flagler-St. Johns County line around 7 this morning (Sept. 2).
The victims were identified as Aaron Dalton, 29, who was killed, and Noah Chavez, 18, who is in critical condition. It isn't yet clear who of the two was driving.
The crash, in the northbound lanes, was causing a significant back-up into the Flagler County portion of the highway this morning as crews and investigators worked the scene.
The single-vehicle crash involved a Dodge Ram pick-up truck that, witnesses said, had been traveling north in the center lane when it swerved to the outside lane to pass another vehicle. The Dodge lost control on wet pavement and began rotating while traveling to the right of the road, according to a preliminary investigation by the Florida Highway Patrol. The Dodge flipped several times, coming to rest on its roof against a wire fence on the east side of the Interstate. Both Dalton and Chavez were ejected, FHP reported.
Chavez was taken to UF Health hospital in Jacksonville.
The three northbound lanes of I-95 were reduced to one lane as the Palm Coast Fire Police regulated traffic around the crash.
Crews from the St. Johns County Fire Department, Flagler County Fire Rescue, and the Palm Coast Fire Department responded to the crash–the first serious traffic incident of the Labor Day weekend on local roads. The Florida Highway Patrol is investigating.