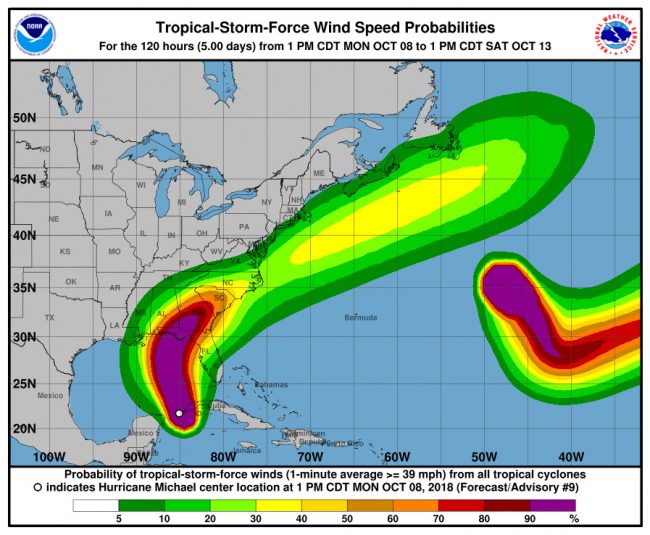 Gov. Rick Scott on Monday called Hurricane Michael a "monstrous" and potentially "deadly" storm that is barreling toward the state's Panhandle and Big Bend region.
As the storm interrupted numerous political campaigns across Florida, including his own, Scott warned it could come ashore in the next couple of days with maximum sustained winds of 110 mph.
"We've never seen a storm like this hit this (the Northwest) part of our state," Scott said after a briefing Monday afternoon at the Pasco County Emergency Operations Center in New Port Richey.
Michael has the potential to be the strongest storm in the region since Hurricane Eloise swept across Bay County in September 1975 with 110 mph winds.
Hurricane Opal carried 100 mph winds when it hit Pensacola Beach in October 1995. Hurricane Ivan made landfall near Gulf Shores, Ala., at 105 mph in September 2004. And Hurricane Dennis was at 105 mph when it hit Santa Rosa Island in July 2005.
At 5 p.m. Eastern time Monday, the center of Michael was about 30 miles southwest of the western tip of Cuba, 520 miles south of Apalachicola, with maximum sustained winds of 80 mph, according to the National Hurricane Center.
The storm was moving north at 9 mph, up from 7 mph earlier in the day.
"Steady to rapid strengthening is forecast during the next day or so, and Michael is forecast to become a major hurricane by Tuesday or Tuesday night," according to the National Hurricane Center.
The likelihood that Flagler County will receive some sustained tropical storm force winds is between 18 and 40 percent, a county-issued advisory stated in late afternoon. However the risk of damaging winds is only 5 percent. There may be nuisance flooding and an elevated risk of rip currents. Flagler is not included in the list of 35 Florida counties under a state of emergency.
Mark Wool, warning coordination meteorologist for the National Weather Service in Tallahassee, said the storm will be more damaging than Hurricane Hermine, which hit Tallahassee and other areas of the Big Bend in 2016.
"Hermine was a marginal Category 1 storm. We are talking about a significantly higher level of wind," Wool told The News Service of Florida. "In Hermine, it knocked power out to part of the city (Tallahassee) for a week. There are a lot of trees, not just in Tallahassee, but in all of the surrounding parts of the Big Bend, up into Georgia and over the Panhandle. So, power outages should be expected, and they are going to be of a lengthy duration."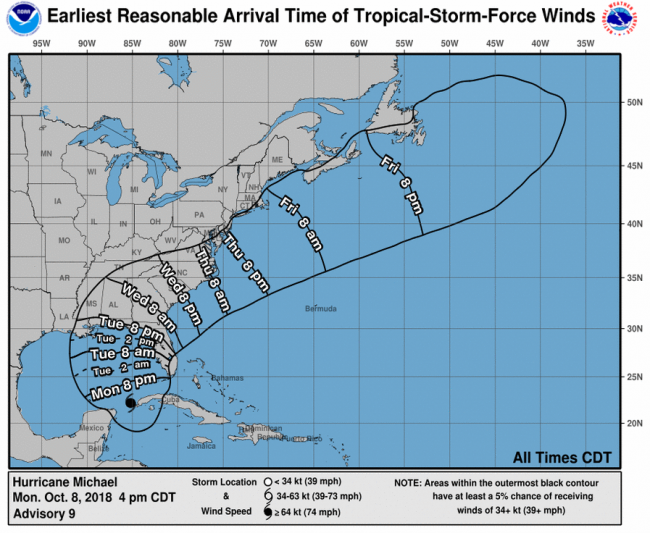 Wool raised concerns about potential storm surge in Franklin County's Apalachee Bay, which he described as the "second-most vulnerable stretch of coastline in the entire nation for storm surge, because of the shape of the coastline. It funnels the water right up in there."
Hermine made landfall in the St. Marks area and moved north through Tallahassee. While it remains unclear where Hurricane Michael will hit, Wool said it would be more powerful than other storms that have damaged the eastern Panhandle and Big Bend.
"There hasn't been a major hurricane landfall in that part of the Florida coastline since the late 1800s. So, no one alive in this part of the world will have experienced a hurricane of this strength in this part of the state," he said. "If you think, 'Oh, I rode out Hermine and I can handle it this time around,' you might want to reconsider for this one."
A hurricane warning covered Florida's Gulf Coast from the Alabama state line to the Suwannee River. A tropical storm warning was in place from the Suwannee River south to Chassahowitzka in Citrus County and for Alabama.
A storm-surge watch was in effect from the Okaloosa-Walton County Line to the Anclote River near Tarpon Springs.
With public schools closing throughout the region, Florida State University announced it was shutting down through the end of the week, and evacuation orders have been issued in Wakulla, Franklin and Gulf counties.
Attorney General Pam Bondi has activated the state's price-gouging hotline for consumers in the Panhandle and Big Bend.
The auto club AAA said Monday the projected path of Michael would keep the center of the system east of most oil-drilling rigs and refineries along the Gulf Coast. That means it shouldn't directly impact gasoline supplies or prices at the pump in Florida.
Scott has activated 1,250 members of the Florida National Guard, with another 4,250 on standby.
Agriculture Commissioner Adam Putnam said the Florida Forest Service and the Office of Agricultural Law Enforcement are preparing teams to support urban search and rescue operations.
The Florida Fish and Wildlife Conservation Commission has also designated 40 law-enforcement officers for rapid deployment.
Earlier Monday, Scott expanded the state of emergency he declared on Sunday from 26 to 35 counties. Scott also asked President Donald Trump for a declaration that would help provide federal assistance.
Meanwhile, the Division of Animal Industry has suspended restrictions on the movement of pets and livestock to allow residents to evacuate more easily.
With widespread power outages expected, Scott said he wants local governments to confirm that mutual-aid agreements with electric utilities have been signed so there is no delay in restoration.
Amy Zubaly, executive director of the Florida Municipal Electric Association, said in a news release Monday that the association has been lining up mutual-aid crews from across Florida and the Southeast.
"Our goal is to have at least 150 crew members pre-staged in Tallahassee tomorrow in advance of the storm's landfall with the remainder prepared to arrive Thursday," Zubaly said in a prepared statement.
In 2016, Scott clashed with Tallahassee Mayor Andrew Gillum, now the Democratic candidate for governor, over the city's response to Hurricane Hermine. Tallahassee operates a municipal utility.
Late Sunday, Gillum's campaign announced he scrapped campaign stops planned Monday and Tuesday in South Florida to return to Tallahassee to "focus on preparing the city of Tallahassee and residents" for the storm.
Gillum's mayoral office separately sent out a release that said he "reached out to Governor Scott with an update on the city's efforts."
Scott was asked Monday if he was purposely avoiding Gillum by going to the Pasco County Emergency Operations Center, which was outside the forecast path of the storm.
"This isn't about politics. This is about keeping people safe," said Scott, who attended Trump's midday appearance at the International Association of Chiefs of Police annual conference in Orlando.
Scott also appeared Monday at the Bay County Emergency Operations Center in Southport and traveled to the Escambia County Emergency Operations Center in Pensacola.
Incumbent U.S. Sen. Bill Nelson, who is being challenged by Scott in the November election, also visited the Bay County and state emergency-operations center Monday.
–News Service of Florida and FlaglerLive