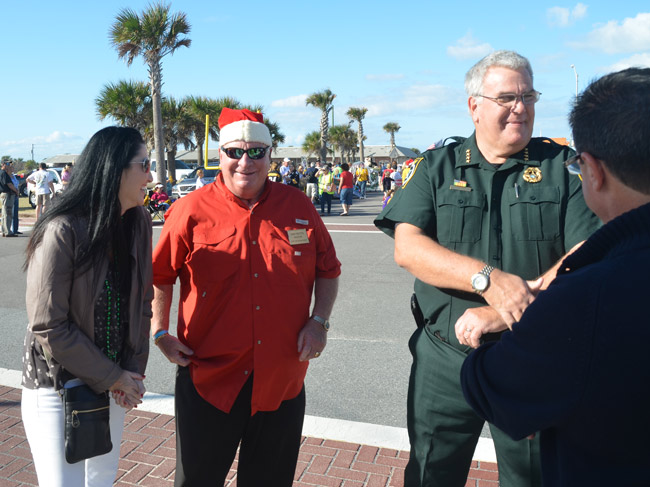 They had the right to remain silent, knowing that anything they said could and would be used to needle their privacy. But WNZF's David Ayres went Barbara Walters on David O'Brien Friday and exerted a confession, on live radio, out of Flagler County's under-sheriff, without even reaching for the waterboard: O'Brien will marry Milissa Holland, the county commissioner, in April.
What started as a traffic stop 20 years ago, when O'Brien pulled Holland over (allegedly for speeding) is culminating in an intimate outdoor ceremony at Hammock Dunes on April 21. Then it's off to Paris for their honeymoon. Let the clichés about Flagler County's most prominent power couple begin.
"David is a fantastic person," Holland said today. "He has made a huge commitment to Flagler County, as I have, so it certainly lends to a lot in common. Were both passionate about similar causes, and we both laugh a lot and love life, so it was a very easy decision."
---
The Announcement on WNZF[media id=261 width=300 height=300]
It had been an open secret. Holland and O'Brien have been inseparable for about a year, appearing at innumerable public events together, but never with adolescent effusions. The odd man out at many of those functions was Jon Netts, Palm Coast's mayor and Holland's mentor and closest public ally for many years. They appeared inseparable at many functions until the O'Brien era.
Netts, of course, will be marrying Holland and O'Brien.
They moved in together several months ago. They had no intention of making their wedding plans public. At least not yet. But word began to circulate, and Ayres, who has ways of making people talk, couldn't resist making O'Brien—Ayers' guest on Free For All Fridays last week—squirm. An audibly uncomfortable O'Brien played along, up to a point.
"She's going to be mad at you, David," Ayers' co-host Abby Romaine said, referring to Holland, after Ayres made the wedding announcement.
"I know, but this is talk radio, you know, we have to get a scoop on everything," Ayres said.
"David did it, it was not me, Milissa," Romaine said.
"I was going to say it's not me neither," O'Brien said. "Lucky thing she's in Tallahassee today." Holland didn't hear the interview. O'Brien told her about it later in the day as she was driving down.
It'll be O'Brien's third marriage and Holland's fourth. The pair is re-forming something of a Brady Bunch. They have six children between the two of them. O'Brien, 47, has three daughters—Chelsea and Kristen are grown, Brianna is 13. Holland, 40, has two sons, one of them grown, Tyler is going to be 17 this spring, her daughter Tory will soon be 16. The house, Holland said, "is full often actually between kids and their friends and other family members, it's become a very active household."
What of the potentials for conflicts of interest? As a county commissioner, Holland exerts direct oversight over the sheriff's budget. As the sheriff's office top administrator after Sheriff Don Fleming, O'Brien has a direct hand in formulating the budget. "David and I have a rule in our household," Holland said. "Our rule is that we don't discuss those sorts of things. In fact I've made some jokes with the sheriff about it just because of the fact that I take this position very, very seriously, as I have for six years, and I don't want to, nor will I ever, not only give the impression but create an issue in which it would be questioned in our discussions outside the public arena." As for the power-couple cliché, Holland recalled something her father, the late James Holland—Palm Coast's first mayor—used to say: "We all put our pants on the same way."
Holland's father will be on her mind. "I certainly think about my father often during this occasion, and will throughout that day," Holland said of April 21. "I wish he could be here. Obviously it'll be somewhat emotional for me, but no, it's more about what we're trying to make it: a celebration of us, where we are in our lives, and we wanted those around us who support us and are there day in and day out, have watched this relationship grow and progress as it is today."