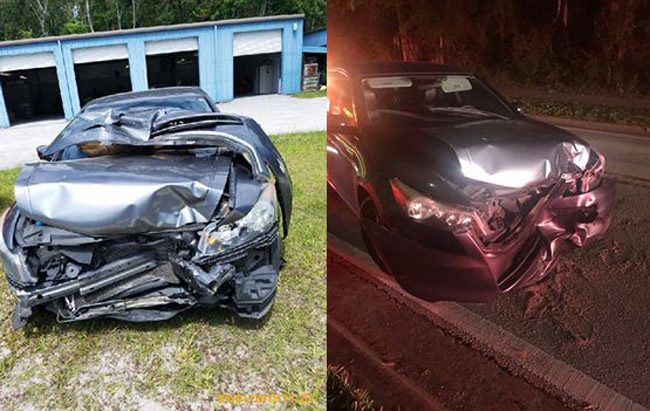 Flagler County Sheriff's deputies are seeking a hit-and-run driver who crashed into a vehicle head-on on Palm Harbor Parkway last week, and fled the scene.
Late the evening of April 27, Tiffany A. Fugit, 25, was driving her Honda Accord north on Palm Harbor Parkway. As she was negotiating a curve in the 50 block of Palm Harbor, a vehicle coming the other way was swerving into her lane, its headlights off. Fugit attempted to get out of the way. But the vehicle crashed into hers, head-on.
The swerving vehicle never stopped or checked on Fugit's condition, continuing on Palm Harbor Parkway. An independent witness followed the vehicle for a short distance, according to the sheriff's crash report, but lost sight of it near Old Kings Road and Palm Coast Parkway as the vehicle continued to drive erratically, exhibiting the telltale signs of a drunk driver.
"The driver threw beer cans out of his vehicle and took off with a smashed front end," Fugit said.
Both airbags deployed in Fugit's Accord, which sustained heavy front-end damage, rendering the car unrecognizable. A Flagler County Fire Rescue unit checked out Fugit at the scene. She declined transport to the hospital.
The witness who'd followed the other car corroborated Fugit's account of the way it had swerved onto her lane. The witness described the car as a small, silver Kia with heavy front-end damage, but had no further description. A driver's side headlamp was discovered at the scene during the investigation, confirming that the headlight belonged to a KIa. A search of the part number (92101-1mxx) revealed that it belonged to a Kia Forte, model years ranging from 2010 to 2013.
Leaving the scene of an accident with property damage but no injury is a second-degree misdemeanor. It is a third-degree felony if an injury results from the crash.
If you have any information regarding this crash and the hit-and-run driver, please contact the Flagler County Sheriff's Office at 386/313-4911 and mention Case No. 18-39289 or email [email protected]. You can also remain anonymous by calling Crime Stoppers at 1-888-277-TIPS (8477) and you could be eligible for a rewards up to $5,000.00.